Until someone at a secret lab somewhere comes up with a mobile energy miracle, charging our devices is going to be an everyday chore we can't live without. Your smartphone, tablet, headphone, earbuds, smart watch or laptop and lately your car comes with batteries in all forms and sizes that store power enough to take you at least one day. The idea is to charge your device as fast as possible to save on time spent waiting until full charge.
There are several fast-charging standards in the wild promising the fastest charging times possible for your devices. Some vendors have their own proprietary standards which they license to other smartphone vendors. For instance Oppo licenses its SuperVOOC flash charge Tech to sister companies OnePlus and Realme. USB Power Delivery is an Open standard mostly adapted by Apple and Google.
Advertisement - Continue reading below
Here's a list of Fast charging technologies;
Qualcomm Quick Charge
MediaTek Pump Express
Samsung Adaptive Fast Charging
Oppo SuperVOOC Flash Charge, are also known as Dash Charge or Warp Charge on OnePlus devices and Dart Charge on Realme devices
Huawei SuperCharge
Anker PowerIQ
USB Power Delivery
For this article, I am going to mostly dwell on three standards; Anker's PowerIQ, Qualcomm's Quick Charge and the USB-IF's USB Power Delivery.
Anker PowerIQ
Chinese company Anker is arguably the most popular mobile charging brand today and for a good reason; its products are top-notch quality and support a wide range of devices. Anker has developed a proprietary charging technology it calls PowerIQ that's supported in a myriad of its products; from power banks to wall chargers to car chargers. The latest PowerIQ version is 3.0 announced in 2019 which delivers up to 100W through USB-C to USB-C and USB-C to Lightning connector types.
PowerIQ intelligently detects your device and charging cable and supplies the appropriate Voltage/Current suitable for it. With variable voltage, PowerIQ will deliver the right voltage/current combo appropriate for your device. Anker bills its technology as "Universally-compatible high speed charging technology" because it can charge phones, tablets, laptops devices. Anker's PowerIQ products support iPhone, Samsung, Nokia, Huawei, Xiaomi, Tecno and virtually any product with Micro USB or USB-C charging ports.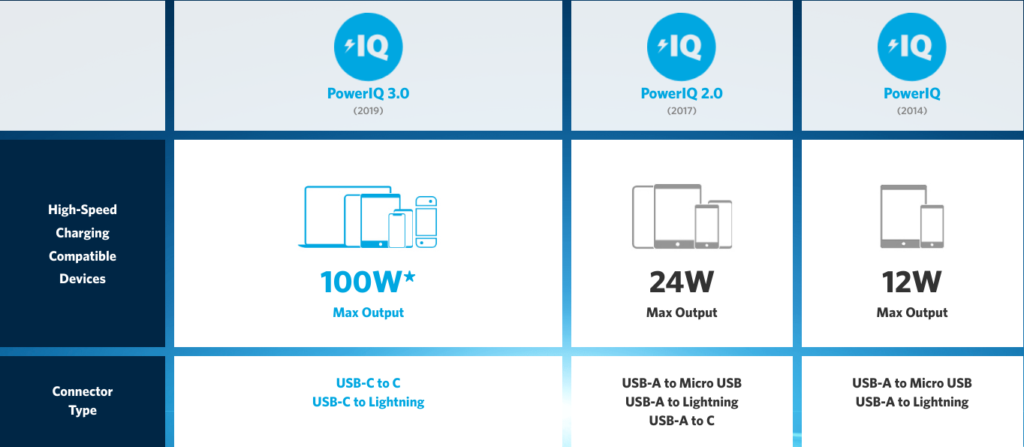 If you're looking for a good Anker Wall charger, then you can checkout the Anker 60W PowerIQ 3.0 GAN Dual-port Atom III wall charger at $28 on Amazon. It's compatible with iPhone, Samsung devices and USB-C laptops. It has one IQ 3.0 USB-C port which you can use USB-C to Lightning cable to fast charge your iPhone and another IQ 2.0 USB-A for the normal USB-A to Micro-USB/USB-C port.
Anker has other products like Car chargers and power banks that support its PowerIQ Technology.
Advertisement - Continue reading below
Qualcomm Quick Charge
Qualcomm, the chipset company that supplies most Android smartphone vendors has a charging standard of its own called Quick Charge or Q.C. The company licenses this technology who in-turn manufacture Quick Charger compliant charging products such as power banks, USB wall chargers, Car chargers, Plugs and so on. Today the Quick Charge standard has evolved from QC 1.0 to the latest QC 5.0 which supposedly delivers an astonishing charging speeds of up to 0-50% in just five minutes.
| | Voltage | Current | Max Power | Interface |
| --- | --- | --- | --- | --- |
| Quick Charge 1.0 | 5V | 2A | 10W | USB-A |
| Quick Charge 2.0 | 5V/9V/12V | 1.67A/2A | 18W | USB-A |
| Quick Charge 3.0 | 3.6V – 20V (200mV increments) | 2.5A/4.6A | 18W | USB-A |
| Quick Charge 4.0+ | 5V/9V (USB-PD), 3.6V – 20V (200mV increments) | 3A (USB-PD), 2.5A/4.6A | 27W (USB-PD) | USB-C |
| Quick Charge 5.0 | 5V/9V (USB-PD), 3.3V – 20V (200mV increments) | 3A/5A/>5A | 100W+ | USB-C |
Quick Charge 2.0 and 3.0 are still the most popular QC standards out there. They work through the USB-A interface while QC 4.0 and 5.0 are compatible with USB-PD and work through USB-C port. Some of the brands supported by QC standard include LG, Xiaomi, Nokia, Samsung, Redmi,/Xiaomi.
So which Quick Standard should you use? General rule of thumb is that both your device and charging accessory should match for the best results. If they don't align, then your device will charge as fast as the weakest point. For instance if you have a QC 3.0 Wall charger, but your phone is compatible with QC 2.0, then your phone will charge at QC 2.0 speeds. If your phone doesn't support any of the QC standard, then your phone will charge normally (5V/1A or 5V/2A). So check with your smartphone vendor first.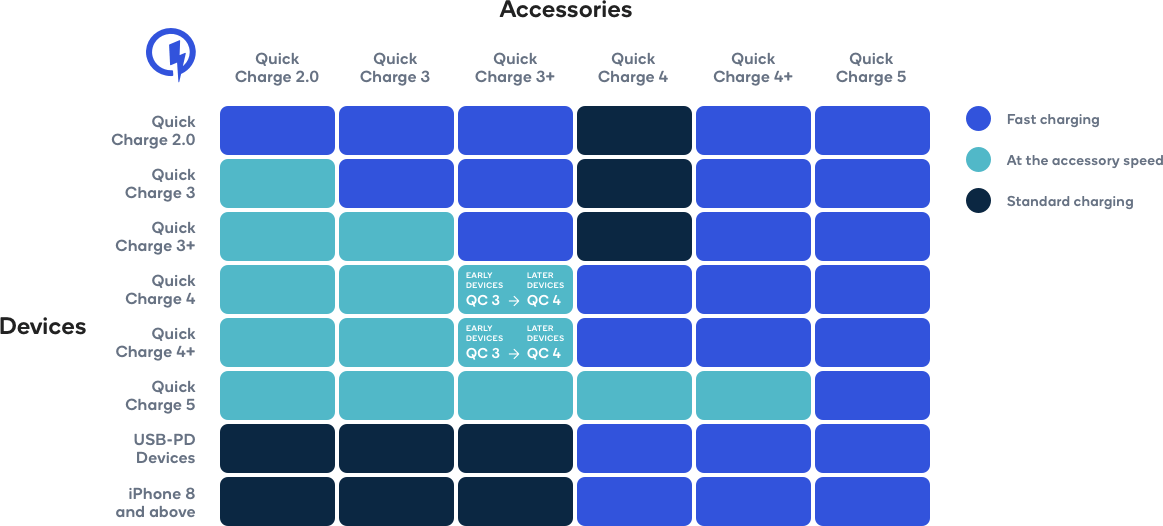 If you are on the lookout for QC chargers , then you can checkout the Anker Powerport Quick charge 3.0 39 Dual-USB wall charger for $25 on Amazon.
Another option is the Jascenic Quick Charge 3.0 adaptive wall charge at $12.99 on Amazon.
USB Power Delivery
Power Delivery (P.D) or sometimes referred to as USB PD is yet another charging technology defined by the USB Implementers Forum(USB-IF), a non-profit corporation founded by the group of companies that developed the Universal Serial Bus(USB) specification. You probably have come to know USB as a data port you use to transfer data between laptop and external hard drive. However, more people are increasing using the same port to charge their phones, headphones, power banks, tablets etc.
USB-PD standard is taking that a notch higher by treating the USB port as a first class power delivery interface delivering as much as power as 100W. The USB-PD standard specifies up to 2 A at 5 V (for a power consumption of up to 10 W), and optionally up to 3 A or 5 A at either 12 V (36 W or 60 W) or 20 V (60 W or 100 W).
Who should use PD?
Advertisement - Continue reading below
If you have an iPhone and you want fast charging, then your best bet is USB-PD compatible devices. All you need is a USB-C to lightning cable and you'll get at least 18W of power. This is a lot better than 5W offered by the stock charger that comes in the box.
If you also have laptops with USB-C port that offers Power Delivery, then you should get a PD charger. The latest Apple's Macbooks do support Power Delivery upto 65W. Basically Power Delivery charger is the one charger to rule them all; you can use it to charge both your iPhone and Macbook depending on the number of ports it has.
If you're on the look out for PD wall charger, then Aukey Swift 30W PD 3.0 wall charger is a great option for just $15.
Another option is the Anker Powerport 30W Duo wall charger. It comes with one PD port for fast charging PD-compatible devices and another USB-A port for normal devices.
What fast-charging standard should you go with?
This is a hard question to answer. Most smartphone vendors have their own proprietary technologies which is great. But if you lose the charging brick that came in the box for your phone, then you'll be out of luck. That's why an open standard is the best. USB PD is very promising and that's why Apple devices — iPhone and Macbooks — work well with it. Google is also requiring Android OEMs not to break USB PD compatibility, so we shall see more Android phones with USB-C port support the standard.
So I generally would tend to prefer USB PD but your device of course has to support it. Otherwise, you would be stuck with either your smartphone vendors power brick or go with Anker's PowerIQ which supports a wide range of products.
Image: Pixabay
Advertisement - Continue reading below