Today Google has launched the all new Chromecast 2020 via its Launch Night In online event along with the Nest Audio smart speaker and Pixel 4a 5G and Pixel 5G smartphones. This Chromecast is the biggest improvement so far to the widely popular streaming device as it comes with a whole new User Interface design — Google TV and a dedicated remote all at $49.99.
The new Chromecast follows an Oval design, away from the circular design of the previous generation. Like its predecessor, it has an attached extended HDMI dangling cable which you plug in to your TV's HDMI input. The new Chromecast measures only 1.9 oz (55 g), comes in three colors snow, sunrise and sky, supports upto 4K HDR, 60 FPS, Dolby Digital, Dolby Digital Plus, Dolby Atmos audio formats and Dolby Vision, HDR10, HDR10+ video formats.
Advertisement - Continue reading below
On connectivity, the new Chromecast supports WiFi 5 or Wi-Fi 802.11ac (2.4 GHz / 5 GHz), Bluetooth and is charged via USB-C instead of Micro USB. The device is powered by Android TV OS. However, the interface you use to interact with the Apps and streaming services is what Google has called Google TV. This shouldn't be confused with the Google TV, the predecessor to Android TV that was deprecated back in 2014.
Chromecast 2020 full specs;
Weight: 1.9 oz (55 g)
Dimensions: 6.4 in(162 mm) x 2.4 in(61 mm) x 0.5 in(12.5 mm)
Colors: Snow, Sunrise, Sky
Connectivity: Wi-Fi 802.11ac (2.4 GHz / 5 GHz), Bluetooth
Resolution: Up to 4K HDR, 60 FPS
Video Formats: Dolby Vision, HDR10, HDR10+
Audio formats: Dolby Digital, Dolby Digital Plus, Dolby Atmos
Ports: HDMI, USB-C
Dedicated remote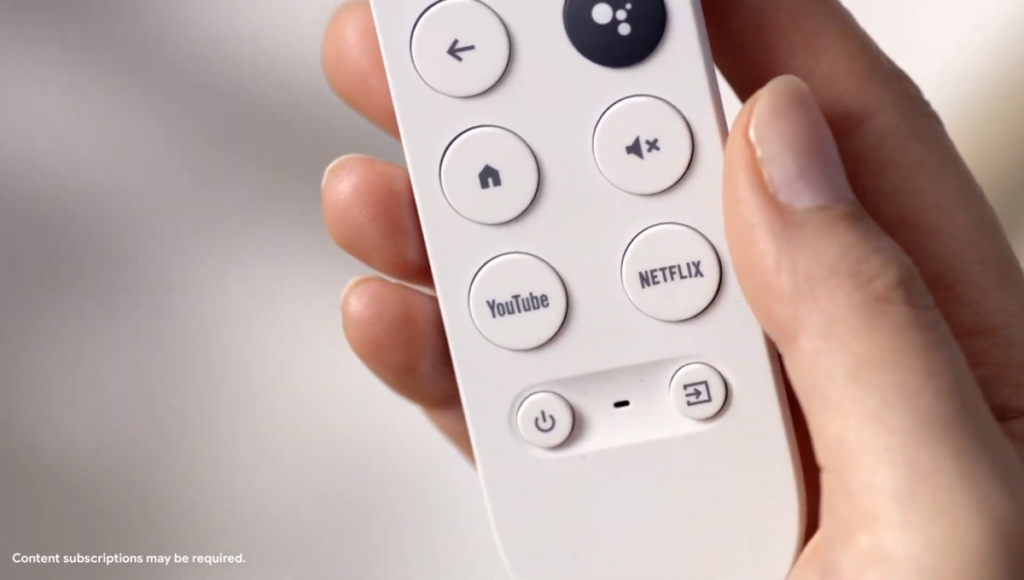 Apart from Google TV addition, the other new announcement with the Chromecast is it comes bundled with a dedicated remote. This comes as a big relief for some of us long-time Chromecast users because lack of remote has been one of the streaming device's weaknesses. With a dedicated remote, you will no-longer need your smartphone or tablet to use the Chromecast.
The Chromecast remote will offer you a way to navigate the Google TV interface with your finger or voice. It comes with two dedicated Youtube and Netflix hot keys and a dedicated Google voice assistant button. Like the Mi Box S, I believe the remote pairs with Chromecast via Bluetooth.
Google TV Features
Google TV interface that comes with the Chromecast looks a lot like Prime video if you asked me. It follows a tile design of streaming services such as Youtube, Netflix, Prime Video, Disney+, Spotify etc and a main menu at the top. Google bills the platform as "TV personalized for you" with movies and shows grouped by your interests.
Advertisement - Continue reading below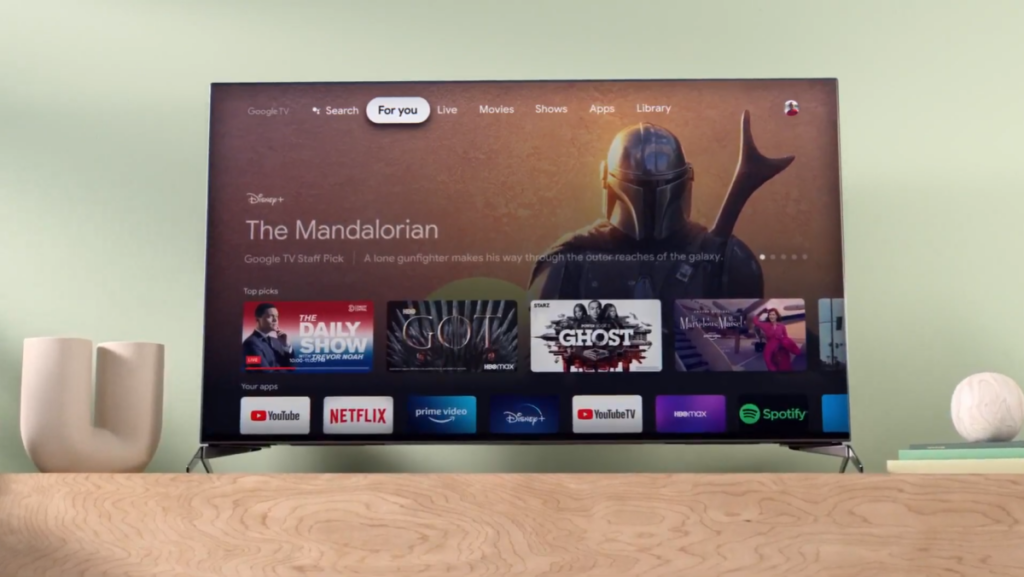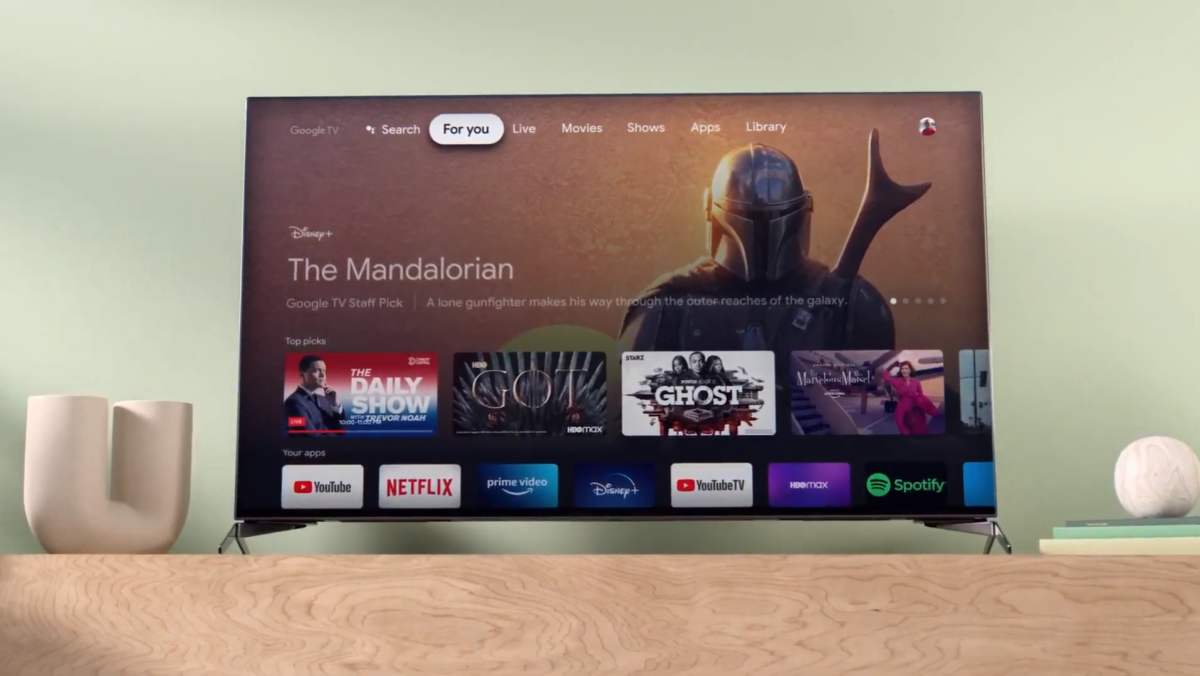 Google TV can be used to control your smart home devices such as lights right from the TV screen. It's integrated with Nest cameras so you can get a live feed video from connected cameras. With ambient mode, your TV turns into a digital photo frame with your photos streamed to the TV. And with integration with the Google Assistant, you can check the weather, live scores, play the news etc.
Watchlist is a feature that makes it easier way to bookmark shows that you want to watch later. It even works with smartphone or laptop. So you can bookmark a show/movie on your phone and then watch it later from your TV.
Google TV also comes as a stand alone App available on any Android smartphone right from the Play store. According to Google, the software will also be coming soon to future Smart TVs.
Pricing and Availability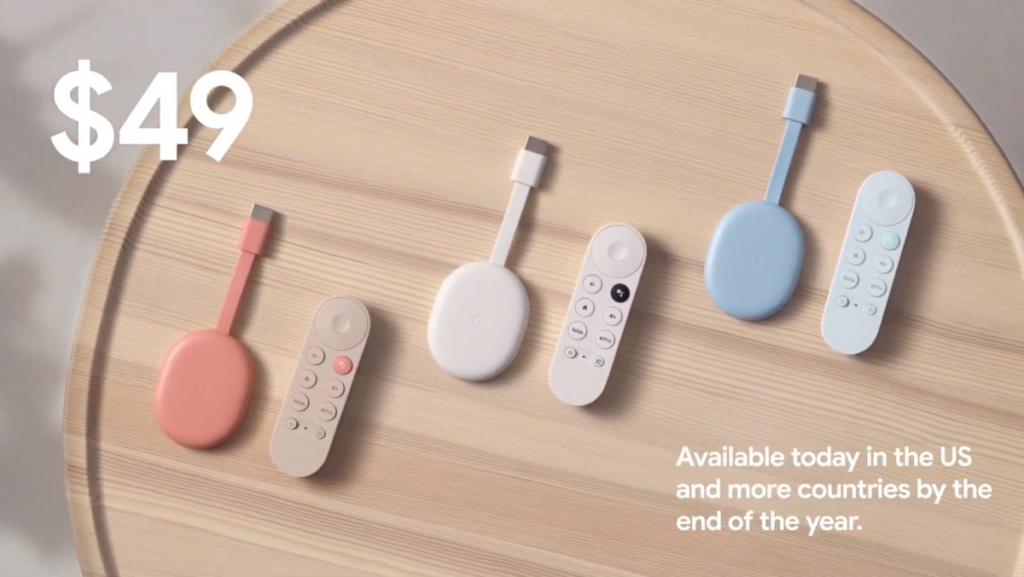 The new Chromecast is available to U.S residents starting today at $49.99 or $89.99 with Netflix bundled in for 6 months. In fact, some stores were already selling the product before its official launch. Availability in other regions will come by the end of the year.
Images: Google Youtube Channel