We live in a time where buzzword like "data is the new oil" floods the digital space and most of us can't even seem to make sense of such statements. The best place to learn about data and how you can harness its usage is from communities like DataFest Kampala 2021 edition.
The 3rd edition of DataFest Kampala was launched last Friday with a focus on exploring the role that data plays in how we navigate our world. The event will be a hybrid physical and virtual gathering with limited slots of 200 participants to attend physically at MoTIV (Bugolobi Kampala).
Advertisement - Continue reading below
Participant numbers are restricted to 20-30 per session in compliance with Covid-19 SOPs (Standard Operating Procedures).
DataFest Kampala 2021 (themed "Living with Data"), is an international community event in Africa bringing together technologists, data scientists, civil society organizations, designers, government bodies, marketers, and businesses to connect and explore opportunities for collaborations.
The Agenda/Roadmap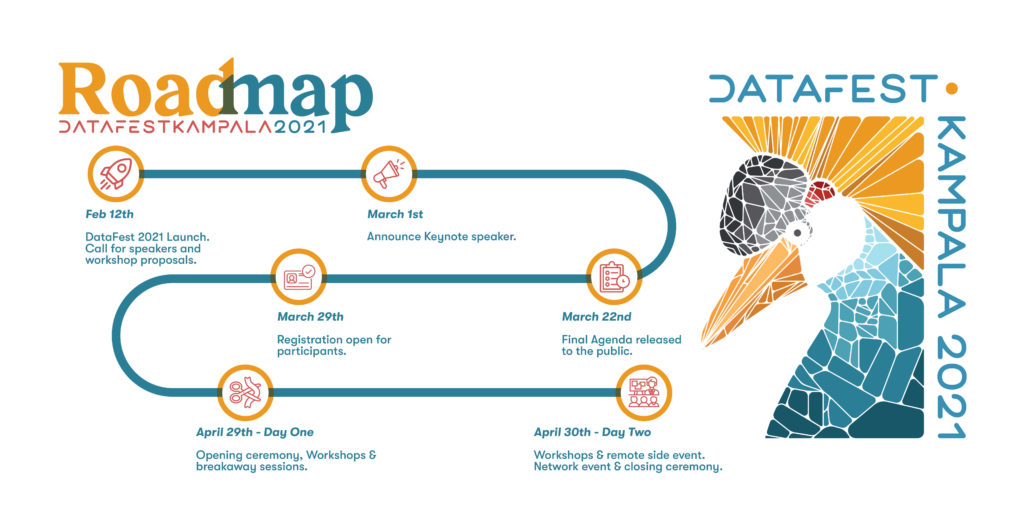 Feb 2021: Datafest 2021 launch. Call for speakers and workshop proposals.
March 1st: Announces Keynote speakers.
March 29th: Open registration for participants.
March 22nd: Final Agenda released to the public
April 29th: Day One. Opening ceremony, workshops, and breakaway sessions.
April 30th: Day Two. Workshops and remote side events, network events, and closing ceremonies.
How to Apply to Be a Speaker or Partner
Applications for interested experts or enthusiasts are online from the official DataFest Kampala website or click here to automatically apply.
Speakers are invited to give lightning talks, workshops, meetups, and tech demos under overall three major themes:
Pandemic and Data
E-Governance and Leadership
Work, Entertainment & Learning
Collaborators and partners can apply to join the event using this link.
Advertisement - Continue reading below
Related Article: How big data can create innovation-led entrepreneurship
Final Words
Data holds the answers on how to make our lives better. From entertainment to health and education; we need a reliable source of data to make decisions.
Africa has been growing as a kernel for data collection and mining, with an ever-expanding data-dependent startup sector, especially in the fintech and transportation domains.
Speaking at the launch, Arthur Kakande, the Data Products Lead at Pollicy said;
"We have seen huge increases in downloads of communication apps like
Telegram, more subscriptions for Netflix, and more Zoom classes and meetings in the past year. For each of these, volumes of data are collected which makes DataFest important. We can make people more aware of what happens to this data" Arthur noted
Data continues to be embedded in everyone's daily lives, having both subtle
and drastic impacts.
Advertisement - Continue reading below