There are hundreds of Bluetooth speaker options out there. The JBL Charge 4 stands out as one of the best options for a wireless portable speakers you can buy today. JBL is certainly one of the premium brands in the Sound and Audio department and they have built a reputation of producing the best headphones, wireless earbuds and speakers.
The JBL charge 4 is a mid-range wireless speaker with powerful sound and a built-in power bank to charge your speakers. This speaker comes with deep bass and high-capacity 7500mAh rechargeable battery. The speaker follows a rugged cylindrical design, is IPX7 waterproof making it suitable for outdoor activities.
Advertisement - Continue reading below
I am fun of portable speakers and I have used the Anker Soundcore on the low-end, the Sony SRS-X55 on the mid-range and now the JBL Charge 4. When I am buying a new portable speaker, I consider a number of things including; good battery life, good connectivity options, good bass and ruggedness. The JBL Charge 4 checks out most of these boxes starting from the design.
Design: Rugged for the outdoors
This speaker comes in a myriad of colors including red, grey, white, yellow as more. It's cylindrical in shape, but sits horizontally on a flat surface. It weighs 0.96kg(2.2lb) and measures 22 x 9.5 x 9.3 cm. The unit I have comes in black(as always). It's built with durable fabric material meshed together like a net. On the sides, it has soft grey rubber covers wrapping around the fabric material giving an overall durable feeling.
On the top are control buttons for playback and powering the speaker. You have volume up/down buttons, pause playback button, connect+ button , Bluetooth on/off and power on/off button at the center.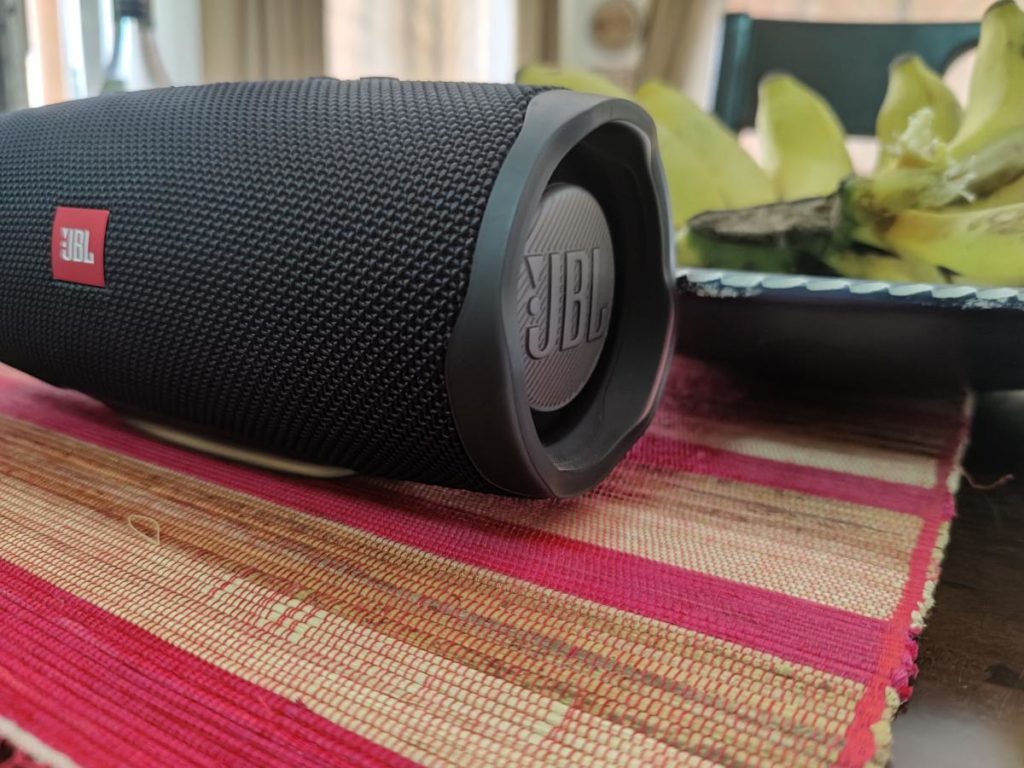 Passive radiators are included in either sides of the speaker. The speaker is IPX7 waterproof, so you can take it with you outdoors. A few splashes of water drops won't damage it.
Connectivity options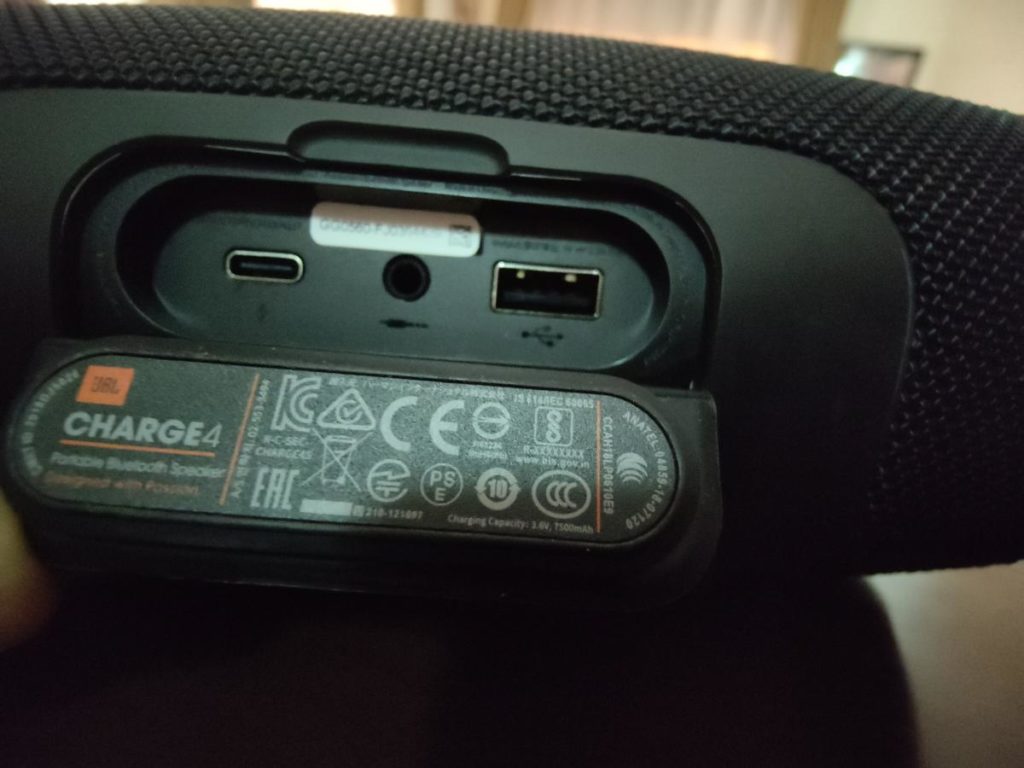 This speaker supports Bluetooth 4.2 which is a little dated. Pairing with my smartphone was really fast. You can connect upto 2 smartphones or tablets to the speaker and take turns playing music. It automatically reconnects to the last device it connected with. It's powered by USB-C port, has a USB-A output port which you can use to charge your other devices thanks to the 7500mAh battery. It also has a 3.5mm audio port that you can use to connect to the audio jack supported devices such as headphones.
This speaker supports JBL connect+ which is a way of wirelessly linking more than 100 JBL connect+ enabled speakers together for amplified sound.
Advertisement - Continue reading below
This speaker isn't smart though. It has no Voice Assistant integration such as Google Assistant or Siri or Alexa. It also has no speakerphone so you can't answer calls with the speaker.
Battery life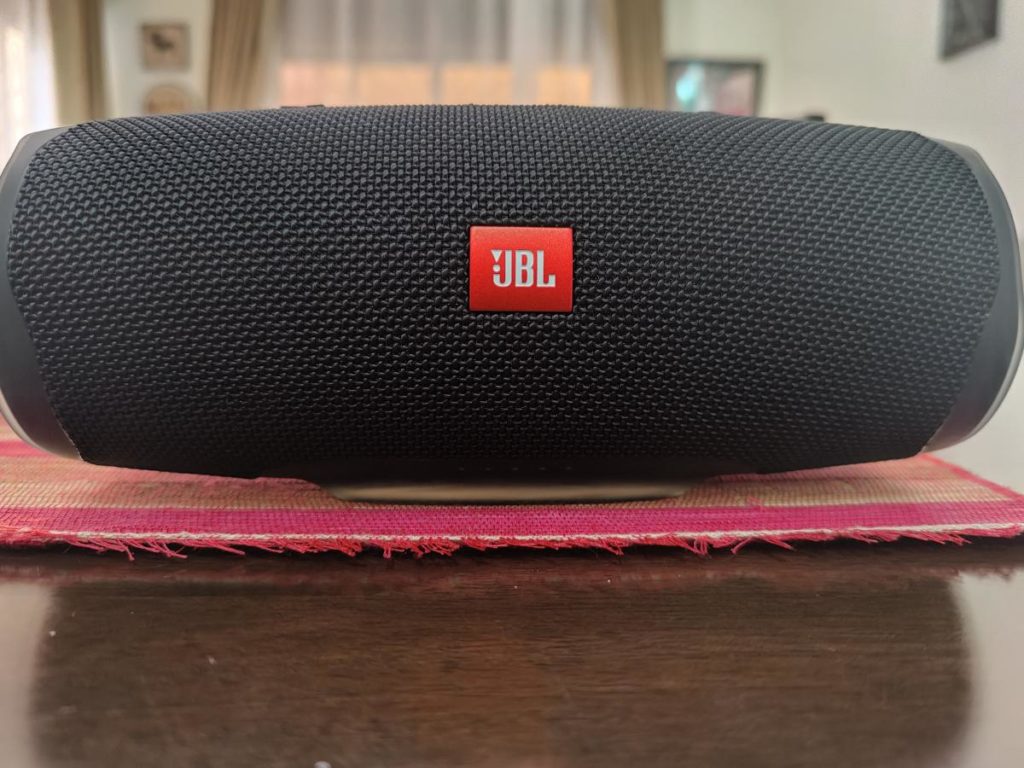 This speaker comes with a considerably big 7500mAh rechargeable battery that promises upto 20 hours of music playback time. It's recharged via a more modern USB-C port. The speaker can also act as a external portable power bank for your devices through a USB-A output port. It has 4 LED battery indicators that shows your charge level when you first turn it on.
Sound Quality
Looking for a portable mid-range speaker with deep bass, then the JBL Charge 4 could be the right choice. The lows and mids are totally accurate and clear. The vocals are great too. There isn't much distortion in the sound even when you hit the highs. This speaker can get pretty loud when you max the volume although it won't really rock the entire house or neighborhood. Some reviewers complain that this speaker doesn't really hit the highs well, so maybe you can look at the JBL Boombox 2 or JBL Xtreme.
JBL Charge 4 vs Charge 5
The next iteration of this speaker is already out and you might be wondering whether you should buy the JBL Charge 5 instead of the Charge 4. Frankly, there's isn't much noticeable differences between these two speakers.
The JBL Charge 5 doesn't have a 3.5mm audio jack aux input port. Bluetooth standard was also updated from 4.2 to 5.1. The charge 5 also got IP67 water and dust resistance rating up from just IPX7 water resistance only on the charge 4. The Charge 5 is slightly louder according to earlier reviewers.
When it comes to price, they retail at the same cost on both Amazon and JBL's official store.
Price and where to buy
If you are looking for a speaker to take out on your bike, camping, on a picnic, out in the woods or in the workshop, then this speaker is definitely a good investment.
You can get the JBL Charge 4 from amazon.com for $179.95 or from JBL's own website at the same price. The JBL Charge 5 goes for the same price of $179.95. If you live in Uganda, you can get the Charge 4 speaker for discounted price of UGX820,000  , get same-day delivery in Kampala.
Advertisement - Continue reading below