HDMI is a well-known standard for delivering both audio and video data over a single channel. Almost every modern Flat-screen TV has at least one HDMI port for connecting to external devices such as a Set-top box, decoder, Blu-ray player, home theater system, streaming players, and more.
HDMI has grown over the years to incorporate multiple functions and one of them is the ability to control connected devices. This HDMI mode is called HDMI CEC, the CEC meaning Consumer Electronic Control. With HDMI CEC you can control multiple devices using only a single remote.
Advertisement - Continue reading below
For instance, if you have a Fire TV stick or Android TV box connected to your TV, you can use the streaming player's remote to power on/off your TV without reaching out for the TV remote.
While HDMI CEC brings the convenience of using a single remote to control your connected devices, it has to be enabled. Also, HDMI CEC goes by different trade names on different TV brands making it even harder to recognize and understand. You can look up the CEC name for your TV brand in this Wikipedia page, but below are a few names for select popular TV brands.
Anynet+ (Samsung)
SimpLink (LG)
Aquos Link (Sharp)
1-Touch Play (Roku)
BRAVIA Link, BRAVIA Sync, Control for HDMI (Sony)
CE-Link, Regza Link (Toshiba)
EasyLink (Philips)
HDMI-CEC (Hitachi)
INlink (Insignia)
CEC (Vizio)
---
Related post: Beginner's guide to HDMI: Features, Specs, speeds and release dates
---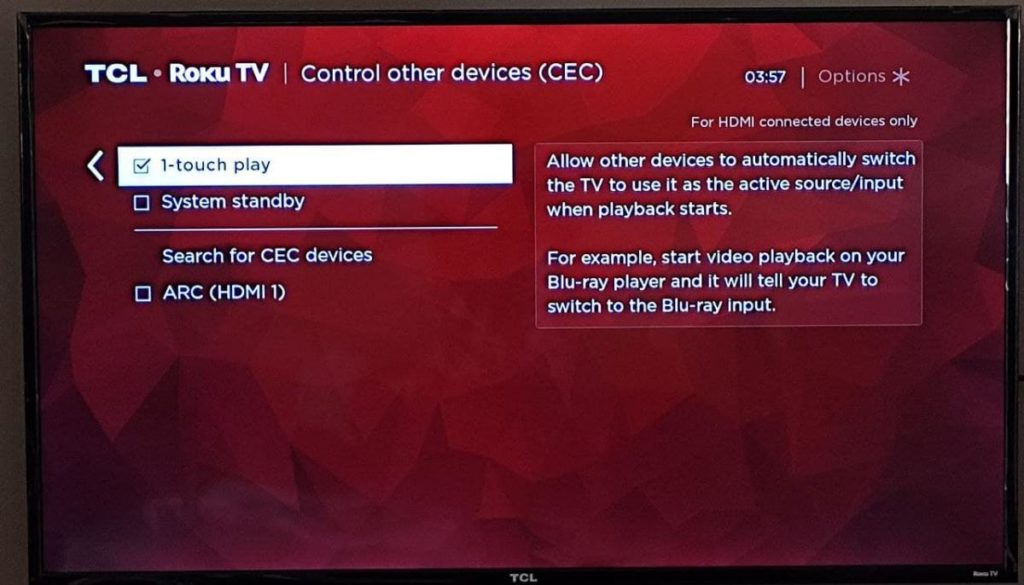 I own a Roku TCL 4 series and it's called 1-Touch Play. To enable CEC on Roku TVs, go to Home > Settings > System > Control other devices (CEC) > System audio control > 1-touch play and Check the box to enable 1-touch play. With CEC turned on, you can turn on/off the TV using the streaming stick's remote, increase/decrease volume. But you can't do the reverse. For instance, I can now turn on/off the Roku TV using the Fire TV remote. CEC has to be enabled on the Fire TV stick which it is by default. However, I can't control playback on the Fire TV stick using my Roku TV remote!
With our homes getting ever more connected with the inclusion of more and more smart devices, it is nice to see these devices playing nice with each other and this HDMI CEC is just one piece of the puzzle to a more coherent and harmonious connected home.
Does your TV support this feature? How often do you use this feature in our home setup? Tell us in the comments section below.
Advertisement - Continue reading below