The growth of technology has enabled the rise of entrepreneurship in Uganda. The last 10 years have seen a rise in the number of young entrepreneurs than has ever been recorded even though most of the growth isn't particularly documented. Technology hubs, business incubation centers have sprouted in the city and have become a habitat for many young entrepreneurs. Unfortunately, many more entrepreneurs don't get the chance to access the services these hubs and business incubation centers offer and neither do they even get any support or help in their journey. Lots of entrepreneurs' efforts and success stories actually go untold because we are generally not good at telling our own stories. We at Dignited are dedicating time and resources to making sure these stories are told.
Despite the the growth spurt, business hasn't become any easier. We have seen startups come and go as the statistics say, many young businesses do not live to celebrate their 1st birthday and If they do, they normally don't survive or even grow. 5 years ago, 3 passionate gentlemen decided to start an animation and film company with a dream of doing things differently from what was being done at the time. 5 years later we caught up with the  gentlemen to document their journey of entrepreneurship and success as a start up and below is a narrative of the Addmaya Story from Peter and Arthur.
Advertisement - Continue reading below
About Addmaya
Addmaya is a Ugandan Film, TV and Design firm specializing in Brand Identity, Promos, Commercials, Documentaries and Graphics Design across different media platforms. They have over the years built a strong portfolio of satisfied clients while pushing the boundaries in marketing communications and design.
Addmaya is a team of 10 people with 3 people on the steering wheel; Peter, Arthur and Robert.
Peter is the Creative Director who loves golf and Frank Sinatra. Arthur is the Art Director who loves Football and Hillsong and Robert is the Business Director who loves technology, gadgets, football and Formula1.
How We Started
Before we started Addmaya, Arthur and I were already doing design and working for some people. We actually started back in the day working for Solomon Benge of Elemental Edge and Watoto Church among others. We would watch YouTube videos and see what other companies globally were doing and admiring their good work. We were having fun and doing things we enjoy. Its during this time that Arthur and I developed a very good working relationship that was very fundamental to the birth of Addmaya.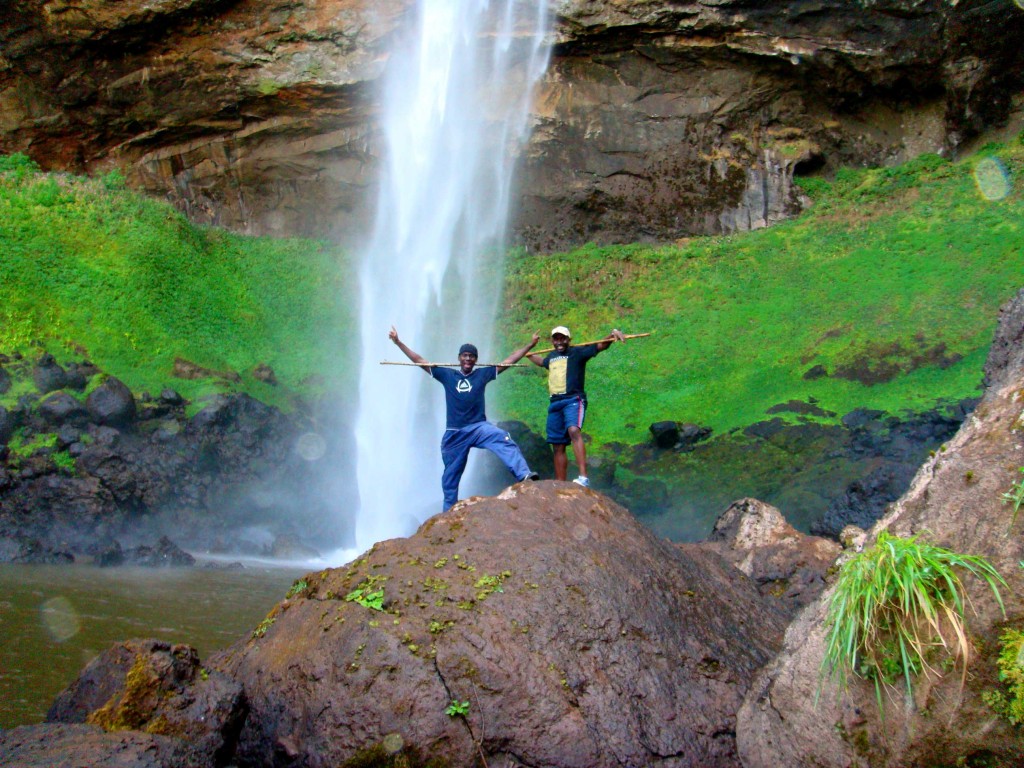 It all started when I was on leave and Robert Mukasa a friend of mine suggested that we start up a company. It was on a trip to Sipi Falls that this idea was birthed. I was skeptical as I didn't see myself self as a leader or owning my own business. I was good at following instructions but not good at giving them. So after Robert and I had talked, we spoke to Arthur as well who was then still finishing Electrical engineering at University.
In coming up with the name Addmaya, Robert had asked me to jot down everything we needed to kick off from software to hardware and there was this software called Maya that we couldn't afford but we needed. There was a slight debate in my mind as to whether we should add Maya to the list and we realized that adding Maya rhymed with Addmaya yet sounded like admire and  that's how we got the name – Addmaya.
We then borrowed some money from a relative and registered the company. I resigned my Job while Arthur was still in school and there we were with a company and no ideas on  how we were going to operate, or who was going to be part of it. It was very challenging and that was our first year. We had nothing; no equipment no seed funding nothing – All we had were the ideas because we were frustrated with what we were seeing on TV and billboards at the time. All we wanted to do was to make a difference and to make a change – we believed that our country could do better and at this point, It wasn't about us anymore it was about what great stuff can come out of our country.
Advertisement - Continue reading below
The First Client/Drumming Up Business
The first project we did after incorporation was a TV show we created with a friend called Charlotte Namirembe who walked up to us and said "I know you guys are talented and  I've seen some of your work and you are currently on leave so we can do this" I bought the idea and I interested my partners in the project and they bought the idea too.
It was hard to get jobs at this point because we had no branding in place and most of our portfolio at this point was work we had done in collaboration with others. This made people doubt if we could actually do good work on our own so It was important that we get our own work. We managed to borrow some money from a friend and we used this money to buy our first computer, hire locations and cameras. We also convinced some friends to host the show at no cost. We did the TV show on a shoestring budget and I am not sure how but we were blessed that the show actually made it to TV. This gave us the exposure that we needed. Its one of those projects that we look back at and are proud of.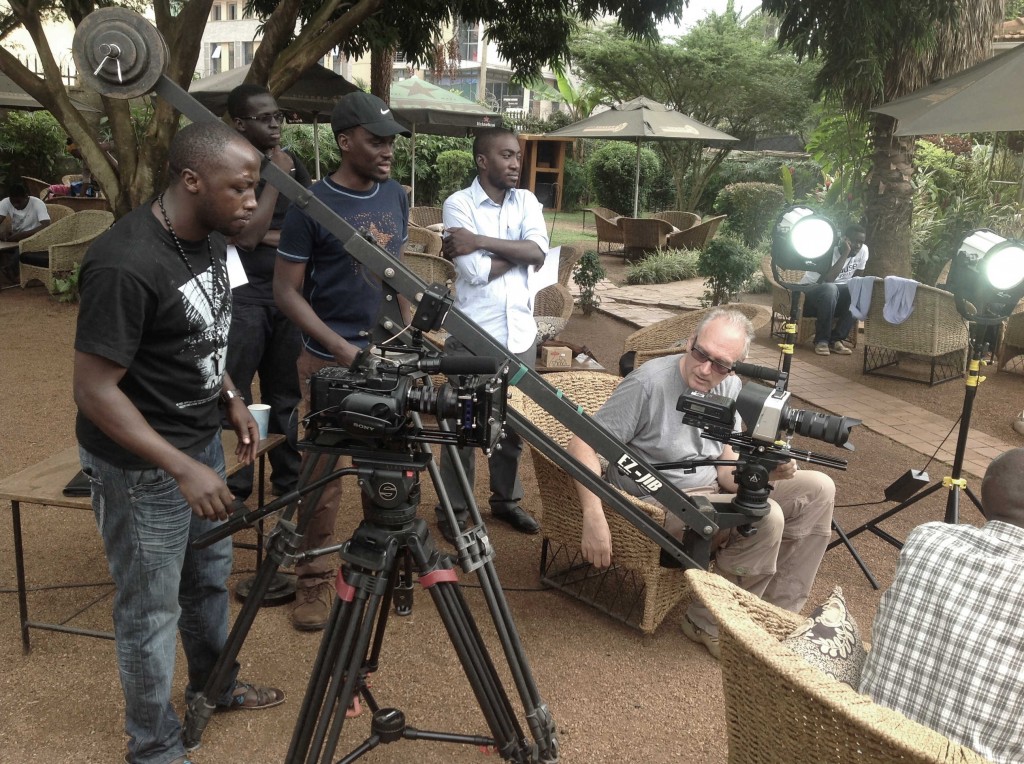 Business Through The Years
I remember leaving the Company registrars office with a document stating that on this day I and my friends had started a company. We had no premises, no computer – we had nothing. We realized we had to be smart and act fast so as to get.
I asked my friends at our apartment to let us use the dining table to place the computer for a few months. The Dining was soon filled with a computer, Displays and lots of cables. Arthur was still on campus so he would pass by on weekends or I would run to his campus room so we had some time to work through what clients wanted and he would work on it and I would do the packaging and delivery. Those were very humble beginnings.
After we grew bigger than the dinning, we decided to move to the garage. I asked my house mate who used to park his car in the garage If he would give us the spaces to set up a studio and he said it was okay. We decided to move to the garage after reading up on many great companies that started up in the garage — We are really grateful to God who allowed us to achieve so much in a dire situation where we didn't have much except the faith and belief that we could make something out of nothing.
The Valleys
In the first 2 years things were really hard and I got a call from my Dad asking me how things were going. I felt like this was my opportunity to whine and get some sympathy and after he listened to all my whining, he told me that he was glad I told him all that and that he had one word for me;
Companies Don't start small because they are small, companies start small because that is the place to Start

Advertisement - Continue reading below
From that point on we stopped looking at ourselves as a small company, but we aware that this was a startup that that had the potential to become bigger than we had ever imagined. We were literally flying this thing while building it. We were approached by many people who wanted to invest in our company but required us to give them 51% ownership. We turned them down because in life, money is important but isn't everything.
Achievements
Addmaya is about People, All the people on board believed in the Idea "You have to believe in your Idea" it's that belief that got me doing crazy things like quitting my full time job to focus on Addmaya. 5 years ago we were only two people doing most of the work and what we achieved then is simply phenomenal and I hold it dear. We are now 10 staff in total which is a testimony of how far we've come. Between 2009 and 2014, Addmaya has grown from serving 4 clients in 2009 to serving over 40 clients both local and international with a steady revenue growth of above 70% year to year.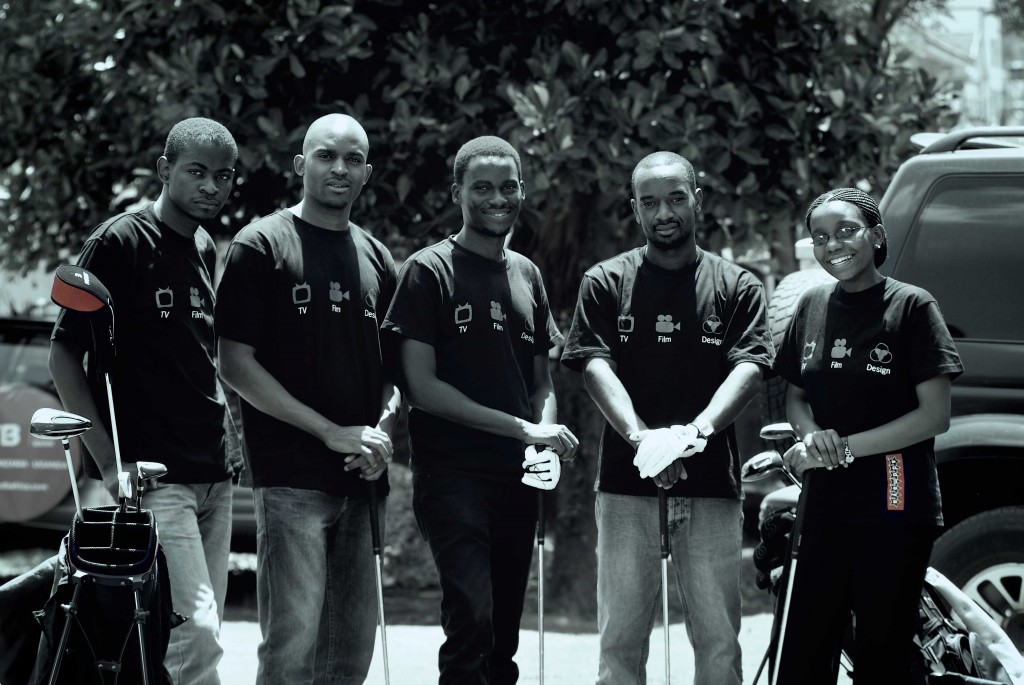 The Future
From the time we started, we knew that this wasn't a one time venture. We currently may only be a 10 man team but that doesn't stop up from being excellent in everything we do.  In the future we look forward to a couple of things like going regional – We want to serve more people globally. Go beyond Uganda and make the Addmaya brand recognized internationally.
We also want to see individual growth for each of the team members. We are going to invest in the personal development of our team members in accordance with our vision of having a world class workforce the delivers quality work. We want to grow a sustainable business that stands the test of time. We intend to continuously grow the team, the skills and invest in ventures that will grow the business. One that our parents, our fans, our friends and most importantly ourselves can be proud of. In 5 years, we could have the same team but the levels of growth will definitely rise.