The Zoom Remote Support feature gives Zoom users remote control access to other users' computers. What this means is, you can take control of another Zoom meeting participant's computer from your home – all you need to do is to get them to grant you access – or you can give control of your computer to another participant. Zoom says this feature was introduced to the platform for the purpose of support, helping, and educating other participants. For instance, you could use this feature to offer technical support to your parents who aren't tech-savvy.
In this article, we will be showing you how to take over users' computers, giving access to others to take over your computer, and enabling remote access.
Advertisement - Continue reading below
How to Enable Remote Support
Sign in to the Zoom web portal.
In the navigation menu, click Settings.
Click the Meeting tab.
Verify that Remote Control is enabled.
If the Remote Control is disabled, click the toggle to enable it. 
How it Works
Step 1: Once you have that setting enabled and you want to give someone remote access to your computer, you will first need to share your screen. If you're not familiar with screensharing on Zoom, here is a quick guide to help you through the process.
Step 2: Now, you need to select the part of your computer you intend to give access to. There's the option to share just one program or share your entire screen. Sharing your entire screen give the other user remote access to your entire desktop including other programs, files, etc.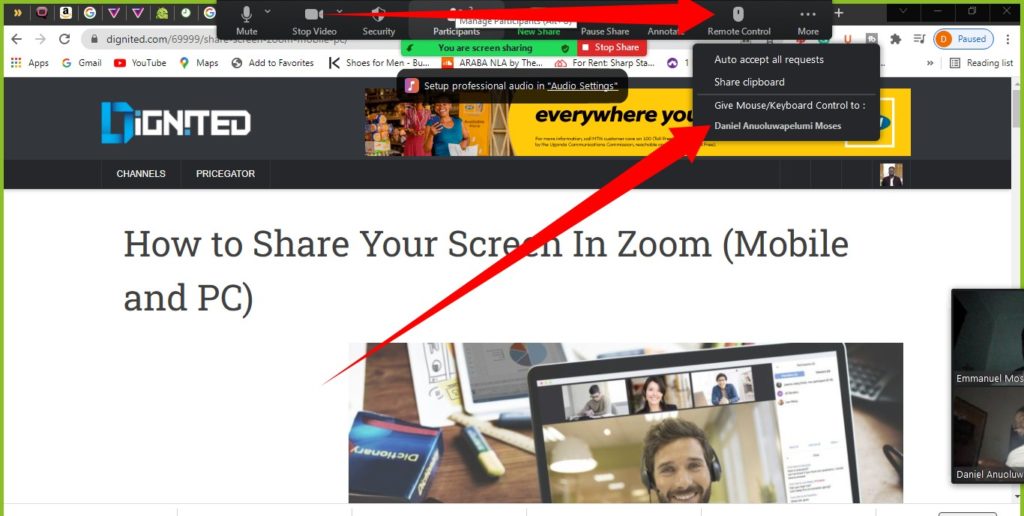 Step 3: To grant remote control access, hover your mouse at the top of the screen sharing window to bring up the menu. Then, select Remote Control from the options.
Step 4: When you select Remote Control, you should see a list of meeting participants. Select the participant you intend to give control of your screen to. They will immediatley get a notification letting them know they have access.
What You Need
In conclusion, you should remember that only a users sharing their screen can give access to other users to remotely control their computer. Also, here are the prerequisites needed to use the Zoom Remote Support feature:
Zoom Desktop Client

Windows: 5.4.3 or higher
macOS: 5.4.3 or higher
Linux: 5.4.5 or higher

Available to Free or Paid accounts
Remote support feature enabled on the meeting host's account
Advertisement - Continue reading below