The Tile tracker is a good way to keep track of your items such as keys, wallets, earbuds and so forth. I recently got myself the Tile Mate 2022 model from amazon at $25 to keep track of my keys. I keep forgetting where I placed them. So I am hoping the Tile tracker will help my memory.
Setting up the Tile Mate was surprisingly simple. In a few steps, I was already able to add my keys to the list of items I wish to keep track of using the Tile App. The Tile Mate attaches to your items like any ordinary keyholder. The tile tracker makes a high pitched sound to alert you about the location of your lost item. It works using bluetooth, which means you're limited by Bluetooth range which is about 150 feet (45m) for the Tile Sticker, 200 feet(60m) for the Tile Slim and Tile Mate, and 400 feet(120m) for the Tile Pro. Keep in mind that these distances are "line of sight", meaning without obstacles such as walls.
Advertisement - Continue reading below
Alright, the Tile trackers are battery-powered and aren't rechargeable. So they come with a built-in battery that lasts about one year after which you either buy a new tracker or replace the battery. So it's an all self-contained system. When you take it out of the box, simply attach it to the item you wish to keep track of.
To activate it, download the Tile App from Google Play store or Apple App store. From the home screen, tap on Get started > Activate a Tile. You'll be asked to sign up using your email/password if you don't already have an account. If you do, simply login.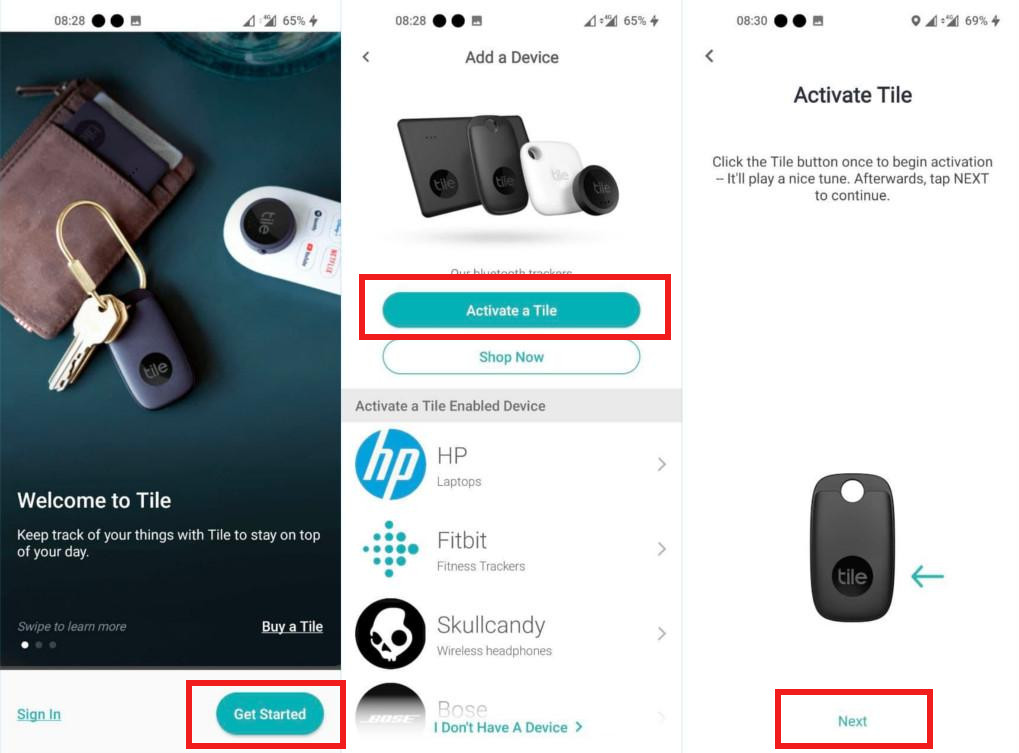 Now tap on tap on "Add a Tile" if you're already logged in otherwise, you'll be directed to "Activate Tile" page. Click on the button with the Tile logo on the Tile tracker itself. It'll play a nice sound after which you tap next. Make sure the Tile tracker is close to your phone as much as possible and that Bluetooth is enabled on your phone. The app will connect to the tile tracker in a few seconds.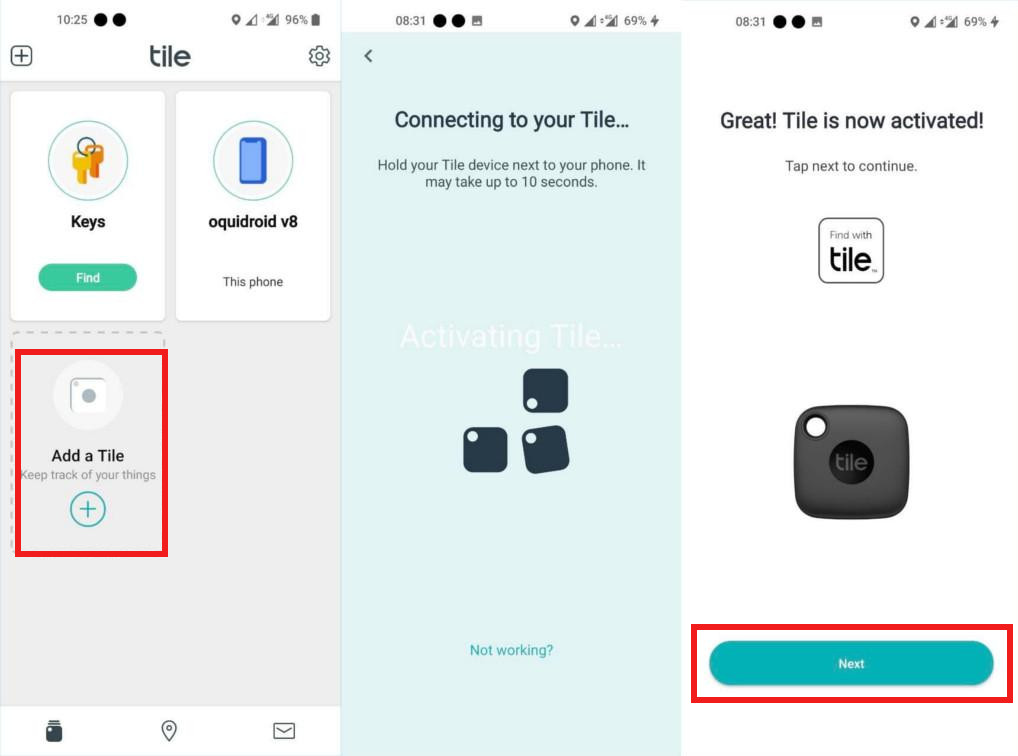 Tap next and select from any of the suggested items you wish to track such as keys, wallet, purse, phone, toy, pet. That's pretty much it. Your item is now added in the Tile App.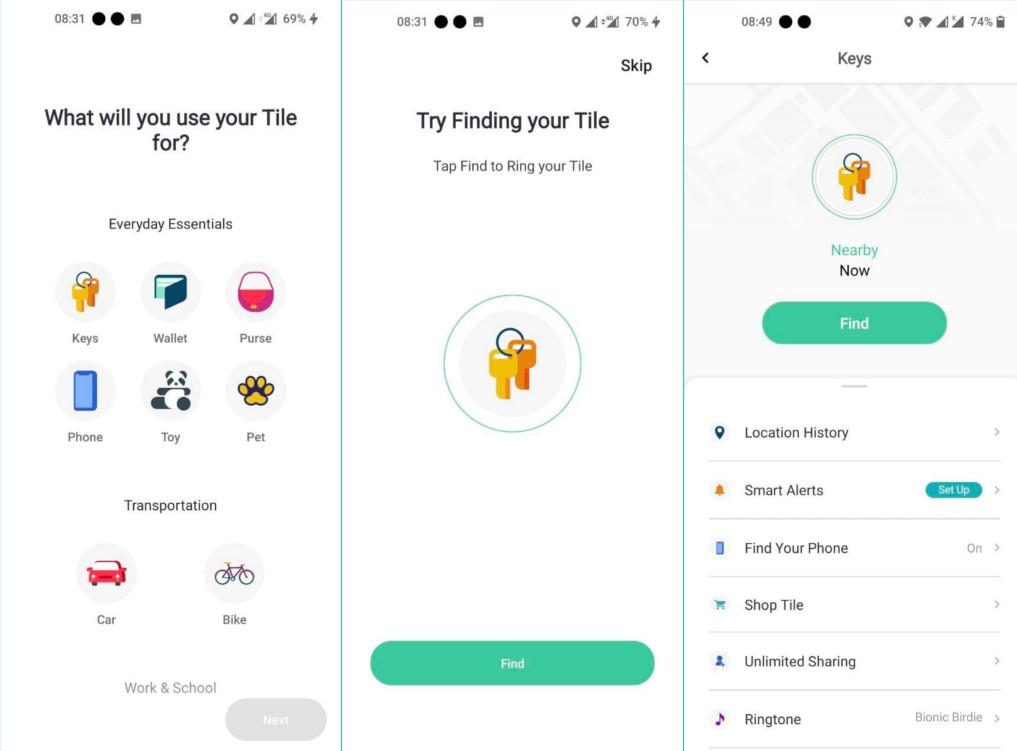 To find your item, you simply tap on it from the Tile App. You'll hear a loud pitched sound from the Tile tracker up to about 150 feet(45m) according to my tests. From the app, you can view the last known location of your item from a map. The tracker itself doesn't have a GPS, but uses your phone's GPS location to tell the last known location. You can also set up what Tile calls "Smart alerts" where you are notified in case you're leaving your house without your keys for instance. That, however, is a premium feature. You can also share a Tile with family and friends so that they too can track a shared item. And finally, you can change the ringtone of the tile tracker if you don't like the default one.
Now you can find your item with the Tile tracker. If the tracker is outside of Bluetooth range which is a few hundred feet, it can still be found using the Tile network. That relies on other people within your neighborhood having Tile trackers and Tile accounts too. Your lost Tile tracker can still talk to the closest Tile user smartphone which anonymously broadcasts its location to the Tile network. This is why the Tile App will "always allow" location permissions when you're setting it up.
Advertisement - Continue reading below