The Blink mini Smart Camera is one category of smart cameras designed by Blink, a company owned by Amazon. And as far as affordable smart security cameras go, the Blink mini smart camera is one of the most affordable and effective smart home indoor cameras you can get your hands on. We got our hands on a piece of this affordable smart camera for just $33. And after extensively using the device for weeks, here's our review.
In The Box
Blink Mini camera
1 stand (attached)
2 mounting screws
1 power adapter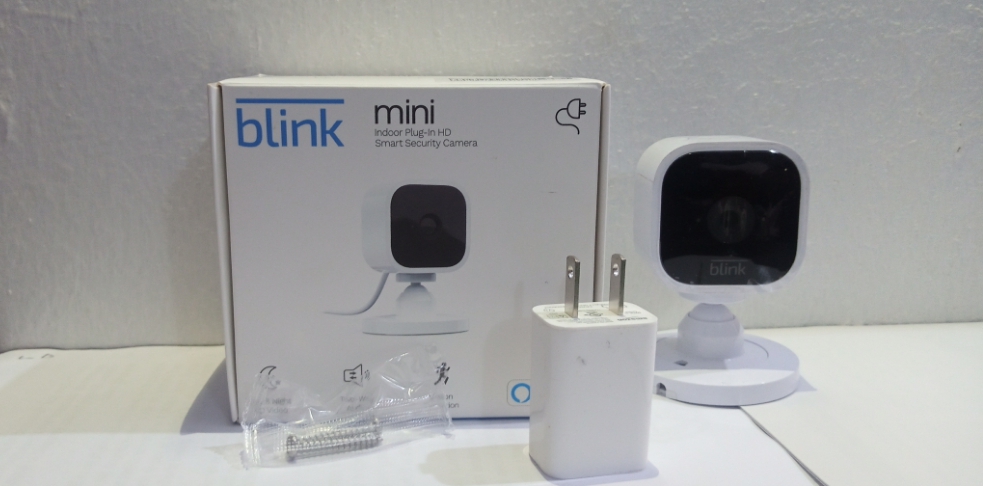 Spec Sheet
Product Name: Blink mini Smart Home Camera
Product dimensions: 50 mm x 49 mm x 36 mm
Weight: 48 grams
Camera frame rate: Up to 30 fps
Lens angle: 110°
Resolution: 1080P HD Video, Live View, Night Vision
Wireless connectivity: 2.4 GHz 802.11b/g/n.
Compatible with: iOS 12.5, Android 5.0, or Fire OS 5.1
Advertisement - Continue reading below
Design
The Blink mini smart camera doesn't have a lot going for it in the area of design. It has got this simple rounded cube shape with minimalist black and white body color. The camera lens comes mounted on a ball-and-socket joint stand, which comes with a set of screws to help you mount it on your wall. The base also lets you sit the camera on a surface (table, maybe), rather than mount it.
The Blink mini is a wired smart camera, unfortunately. The camera comes with a power brick and a Micro USB cable that is considerably long, to power up it up. So, when you're thinking about installing the camera, you should keep in mind that where you are able to mount it depends on where you have a power outlet or a USB port in your home or office.
Performance
For just over $34, the Blink Mini camera sure offers value. First off, it records video in 1080p resolution at 30fps. In daylight, pictures are offered in full color, and in low light, you'll see images in infrared (black and white). It also allows for a two-way audio chat from the Blink smartphone app to the camera. The camera is designed for indoor use and it has a 110-degree viewing angle, which is wide enough to the major part of a typical room or office space.
However, the Blink mini smart camera has its negatives. One negative of the Blink mini is in the area of storage. If you already have a Blink account with an older Blink smart camera, you get to enjoy free cloud storage. But if you are a new Blink smart camera user like myself, you will have to choose between no cloud storage and cloud storage which will cost you $3 per camera per month.
Blink App
One of the good things about the Blink mobile app is its experiences. Everything is straightforward. Setting up the Blink mini smart camera after purchase is done easily on the mobile app. After setup, whenever you open the app, the first thing you see is the live feed from your Blink smart camera. And if you have multiple Blink smart cameras set up, you'll see them all.
Features
Work with Alexa-enabled smart speakers and displays: Amazon lets you connect your smart displays to the Blink mini and you can view live feed from on it. I tested this feature with the Amazon Echo show 5, and connecting it to the blink mini camera was straight forward.
Motion detection mode: Just like with a lot of top-quality smart home security cameras, you've got two options with the Blink mini; you can decide to view the camera feed live through the Blink mobile app or have it in the motion detection mode. When in the motion detection mode, and sends a notification on the Blink mobile app when it detects movements.
Two-way audio: This lets you have an end-to-end conversation between your Blink mobile app and the camera.
Pros
Good video and audio quality
Easy to mount
Affordable
Cons
Wired Smart camera
Paid storage
Summary
Like I said earlier, my main disappointment with the Blink mini smart camera is the fact that you have to choose between no cloud service and paying for a cloud subscription plan. So, if you own a Blink mini smart camera, you will have to fork out $3 monthly or $30 a year to store all your feeds. The Blink mini smart home camera is a budget-friendly smart home camera and retails for $34.99 on Amazon
Advertisement - Continue reading below