Ride-hailing companies like Uber and Bolt have revolutionized the way we commute. But now, complaints about Uber and Bolt's lousy customer service are at an all-time high. Ugandan customers are sick of their surge pricing and negotiations outside of the app price. SafeBoda's SafeCar service tries to solve this. It provides an end-to-end solution for both riders and drivers.
They also recognized inefficiencies in the business models of Uganda's dominant ride-hailing companies. They are trying to be driver-focused rather than customer-focused, which has worked so far. We have tested out SafeCar and have been pleased with the service thus far. Please find out more in our review below.
Advertisement - Continue reading below
What You Need to Know About Safeboda's SafeCar
SafeCar, a car-hailing service offered by SafeBoda, has quickly gained popularity among customers since its launch in September 2022. According to SafeBoda, in its first few months alone, the app saw over 2,000 rides per week, showing strong demand for the service.
One of the key attributes that set SafeCar apart from competitors like Uber and Bolt is the ability of customers to avoid price negotiations with drivers outside of the app's recommended price, eliminating the need for haggling. For this to be possible, SafeCar averagely charges more than the competition for the same distances.
Drivers have also been pleased with SafeCar, as the company takes a lower commission rate of 18% per ride compared to Uber and Bolt's rate of 25%. In addition, drivers have instant access to their remuneration and the option to withdraw their earnings at any time. SafeCar also offers 24/7 support for drivers and customers in case of any issues.
SafeCar Price Compared to Uber and Bolt
As ride-hailing services become more popular, it is increasingly important to compare the prices of different services. Conventional wisdom has it that customers always want the cheapest option meanwhile balancing convenience and reliability.
When it just started, SafeCar fares were slightly higher than those of Uber and Bolt for the same distance. In fact, SafeCar fares are typically about 20% more expensive than those of its competitors. But lately, Uber and Bolt's prices have been steadily increasing to the upper echelons of the price bracket.
There are several factors that can affect pricing with SafeCar, including time of day and location. For example, SafeCar fares may be higher during peak hours or in areas with high demand, while they may be lower during off-peak hours or in less popular areas.
Advertisement - Continue reading below
Despite the higher prices, SafeCar has gained a reputation for offering a high level of safety and reliability. The company puts a strong emphasis on screening its drivers and ensuring that they are trained to provide a comfortable and safe ride experience. For many users, the added cost of SafeCar is worth it for the peace of mind that comes with knowing they are riding with a trusted provider.
Overall, while SafeCar may not always be the cheapest option on the market, it is worth considering if you value safety and reliability above all else.
Below is a price comparison of Mbalwa to Mirember Business Center. A distance of about 9KM and part of the daily commute to work. SafeCar charges between 23,000UGX and 28,000UGX. Uber fares are 22,000UGX and 28,000UGX and Bolt's cost is 24,000UGX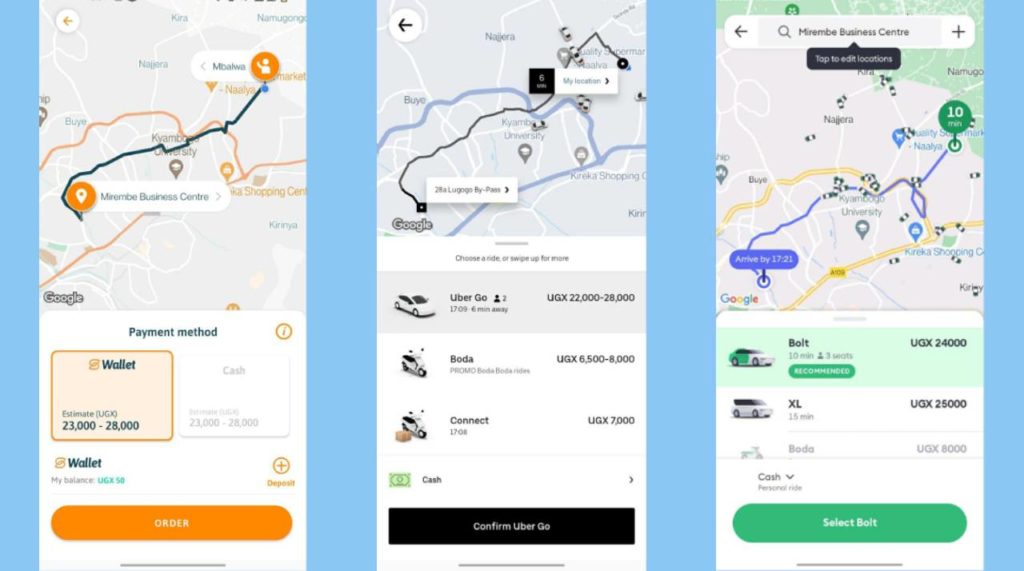 Payment Options
Customers were only expected to pay for the trip using the SafeBoda wallet. Lately, the cash option is opening up slowly to users. One of the main advantages of SafeCar is that the price listed on the app is what you usually end up paying.
Availability
From experience, getting a SafeCar from the CDB or upscale locations around Kampala has never been a problem. When I was hanging out around Bandali Rise and Acacia Avenue after midnight, I was easily matched with a driver a couple of times. The problem has been when I want a ride from my place. On this side of Namugongo, it is tricky to get a ride. I failed to get a car the first two times I tried hailing a ride from home and had to rely on Uber because it was the only company with available cars near me.
In summary, SafeCar has become a go-to option for many people who are looking for an affordable and safe way to get around. Have you used SafeCar before? Share with us in the comment section your experience and any missing features you think SafeBoda should consider.