It is that time of the year again when literally every brand out there is organizing one form of black Friday event or discount sale. Well, for those who don't already know what 'Black Friday' is, it is a shopping event (it happens globally) when goods and services from retailers (mostly online retailers) are sold at very discounted prices. In Nigeria, retail brands like Jumia have launched their Black Friday event for the year (themed "Beat Sapa"), and as days go by this November, we will see other brands unveil their black Friday deals (Konga is one such brand with its yearly Konga Friday Yakata).
---
Related: Jumia Black Friday 2022: The Best Deals You Can Get in Nigeria Today
Advertisement - Continue reading below
---
Every day is Black Friday on Konga (From Nov 11 – Dec 12)
This year, Konga's 'Yakata Friday' (Its version of Black Friday) is tagged the 'Biggest Sale Of the Year' and it will be from the 11th of November – the 12th of December, 2022. And in that period, a lot of deals will be offered to its customers. Here are some of Konga's Yakata Friday deal categories to look out for:
Cyber Mondays
Well, you guessed it, every Monday from the 11th of Nov to the 12th Dec, Konga customers will be given access to exclusive deals on consumer tech products; Computers, Mobile Phones, tablets, smart TVs, and other Gadgets. The first Cyber Monday of this year's Yakata Friday will be happening on the 14th of November. Mondays are definitely about to become exciting.
Treasure Hunts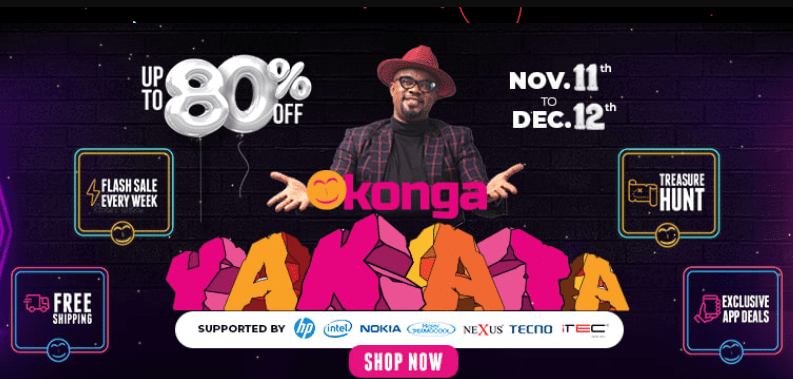 Treasure Hunt is the most exciting part of Black Friday on Jumia and Konga, and that's because you get crazy discounts on products. For instance, getting 99% off an iPhone 12 Pro Max – that's amazing. This year's Treasure Hunt on Konga will happen every Friday from Nov 11 to Dec 12, 2022, and according to Konga, customers can get the iPhone 14 Pro Max for as little as N2000.
Live Auction
This is the first of its kind in any Black Friday event in Nigeria. Konga says a wave of extraordinary deals will be available to its customers with the Konga Live Auction. Customers will be able to bid for products Live on all of Konga's social media platforms. The highest bidder goes home with the product after payment is made.
To wrap up, what makes the Konga Yakata Friday different? Well, it is available to all customers on Konga.com and in all Konga Stores across the country. Also, you can also get every ordered product delivered to you in 30 minutes – 6hours with KongaNow (This is exclusive to Lagos customers, however). 
Advertisement - Continue reading below