When you create s Google account, Google gives you 15GB of free cloud storage (Google Drive) to store your files (Photos, documents, recordings, music, email attachments, etc). At first, 15GB might seem like a lot of storage space, however, after years of use, you will exhaust that storage space.
When that happens, you will get a message from Google telling you that you are running out of space. Google will tell you to upgrade from the free storage plan to the Google One membership. The Google One membership starts at 100GB to as much as 30TB of storage with a lineup of subscription plans to choose from depending on your usage.
Advertisement - Continue reading below
While Google One is relatively affordable, you can always free up space on your account if you don't fancy upgrading to a paid plan. And in this article, we will show you how to free up space on your Google One account.
---
Related: Here's the difference between Google Drive and Google One
---
How to Free up Space on Your Google One Account
On your smartphone, open the Google One app.
Scroll to the bottom and tap Storage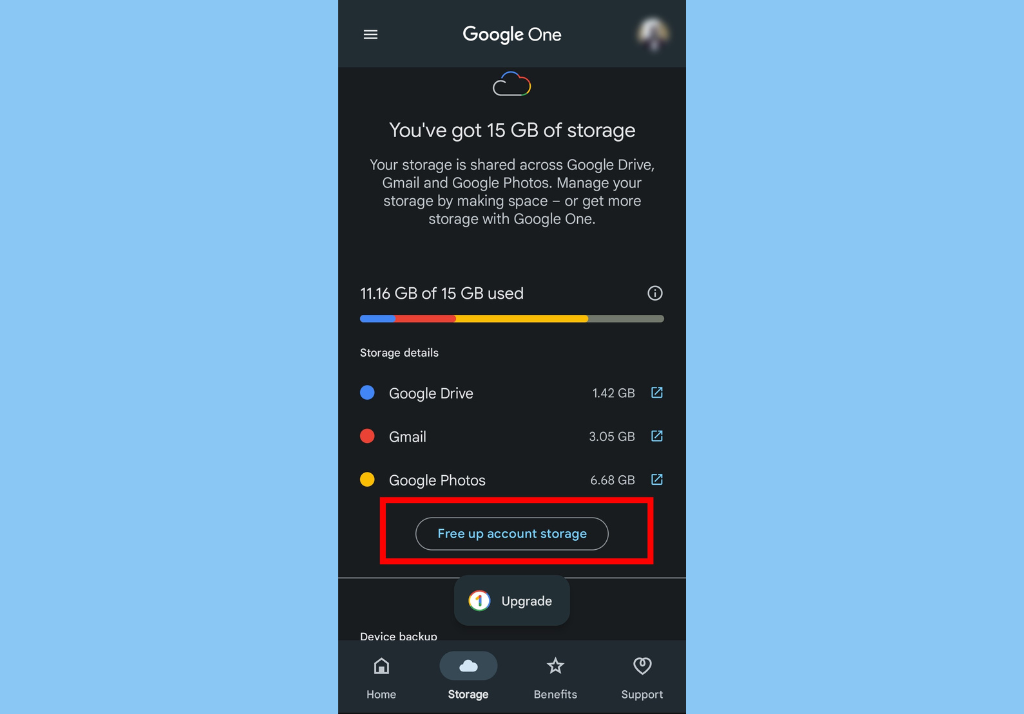 Next, tap Free up account storage.
Select the category you want to manage.
Select the files you want to remove.

To preview files before you delete them, tap on the photos, videos, and certain emails.

After you select your files, at the top, tap on the Delete icon.
In conclusion, if you free up space on your Google One and it still isn't enough, you might then need to upgrade your Google One plan. Google One plans start at $1.99 per month for 100GB of storage.
With a Google One plan, you'll get access to additional features, such as the ability to share your storage with family members and the ability to access your files offline.