After its IPO last month, Rocket Internet, German headquartered e-commerce magnate, venture and startup incubator has announced the grand plan for the next decade. Fronting their proven winners as the benchmark of success, their future is somewhat bullish.
In Rocket Internet speak, a proven winner company is that which is part of its largest and most mature companies, typically showing a last funding round valuation of at least €100 million and having a track record of at least two years. For example in Africa, Jumia, the e-commerce portal is the highest proven winner having raised $80m by November 2013 at a valuation of $270m.
Advertisement - Continue reading below
Earlier this morning, ahead of the H1 2014 results update, the company published a 107-slide presentation deck (PDF) on its website, detailing the progress of its portfolio.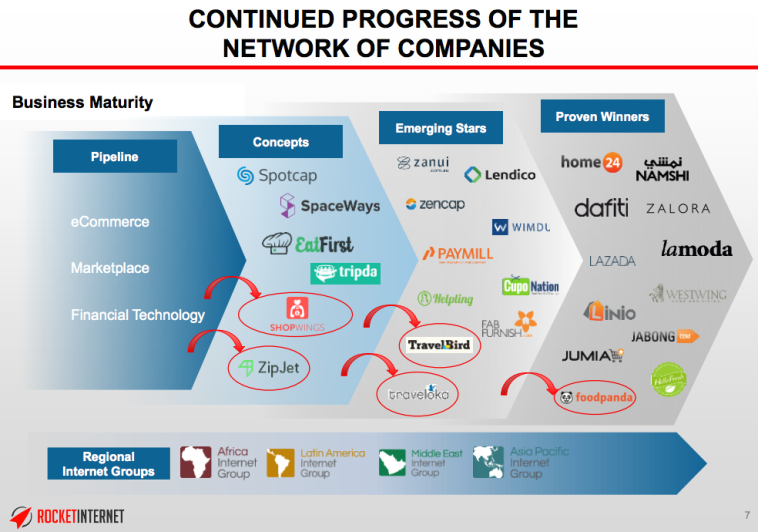 According to Reuters, the global e-commerce is on the path of launching 10 new startups in the market and it said that it would work more closely with Facebook on advertising.
Rocket Internet, whose shares have had a bumpy ride since listing last month, said its 12 most successful companies saw average growth in gross merchandise volume — a measure of sales made through online marketplaces — of 104 percent in the six months to June 30.
It also announced a global agreement with Facebook, which will involve the U.S. company helping Rocket with advertising strategy and automation of ads and giving it access to tests of new advertising features.
The internet giant is clearly on the mission of being the largest internet platform outside the U.S and China with its well articulated 4-point strategy:
Advertisement - Continue reading below
Relentless effort on being early.
Long-term effort on market leadership that short-term profitability.
Disciplined capital allocation: They aggressively back the winners and close the non-performers.
Transparency in everything they do.
Rocket expects to launch another three companies in 2014, bringing the total for the year to 10, and then start at least another 10 start-ups in 2015.
Image credit: Sergey Nivens / Shutterstock