Are you expecting a new addition to the family? An Amazon baby registry is an excellent way to keep track of the items you need to help you prepare for their arrival. It's also a nice way to get the items you truly need from your friends and family. You see, everyone will be so excited to get your baby presents, that you might need to guide them into getting helpful gifts.
Plus, you don't have to worry about getting the same presents from everyone. Once you create this registry, share it with them and have one list to check off items. In this post, we will share why you should consider hosting your baby's registry on Amazon and how to create yours in a few steps.
Advertisement - Continue reading below
Why Should I Use Amazon's Baby Registry?
While there are a lot of baby registry options available, you might be wondering what makes Amazon the go-to for expecting parents. Well, some of these reasons include;
Free returns: You can return a product if you're not satisfied with it and it's free for the first 90 days after purchase
You get notified when anyone purchases an item from your registry
Amazon is huge so you can get any type of baby supply you'd possibly need at cheaper prices even
It's a universal registry so you can add items from other stores
Get the items shipped directly to your address without even sharing it with your friends and family
Add other items that might be helpful like things for the baby's room
Get a 10-15% discount on the unbought items in your registry
You're eligible to get a welcome box from Amazon (t&c applies)
Create an Amazon Baby Registry
Ready to create your very own baby registry on Amazon? It's pretty easy. Simply follow the steps below;
Visit the Baby registry and make sure you're logged in to your Amazon account
Tap on 'Create a Baby Registry'
Fill out the form displayed with your preferences, especially the gift options. This is because here, you can sign up for the diaper fund, allow group gifting for expensive items and even gift cards where they can send a gift card instead of purchasing the item themselves.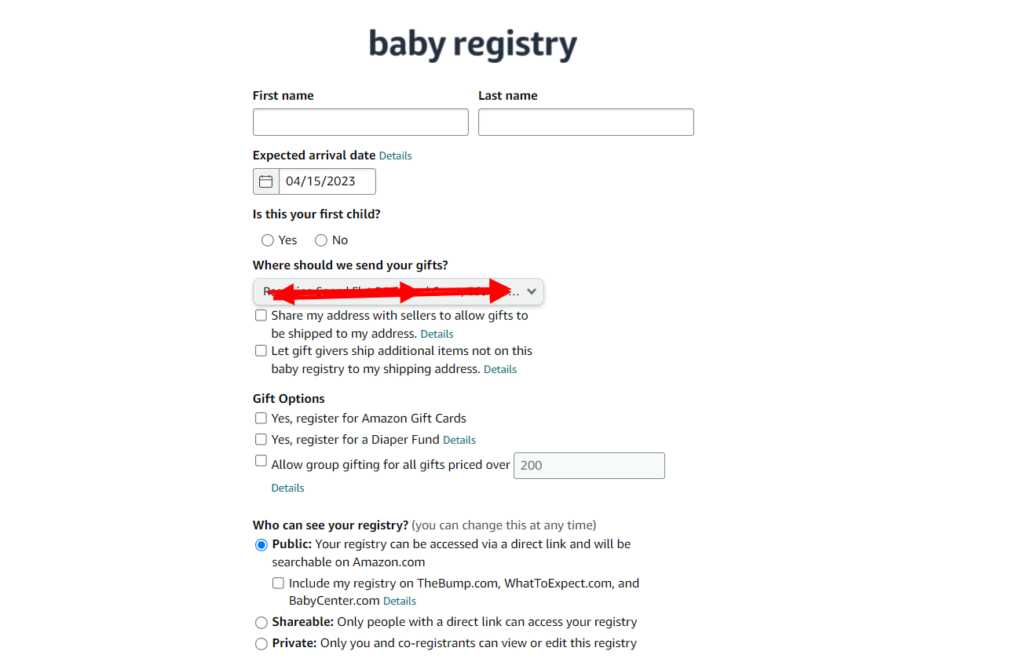 Once you're satisfied, tap on 'Create My Baby Registry'
Add items to your baby registry list by tapping on the 'Add items' section. You can also add them directly from the Amazon website when searching for items.
Depending on what you've set in your share section, you can either share the link with your close network or ask them to search for it on Amazon. Over time, if you want to transfer the ownership or personal information to your partner, you can change the name, email and other details on the settings page.
Can I Have More than One Baby Registry?
Absolutely. If you already have an existing Amazon baby registry or you want to make a more private one, you can always create a second baby registry especially if you have another kid on the way. Here's how to do this;
Visit Baby Registry
Go to the settings page
Scroll to the end of the page and tap on 'Create a new Baby Registry'
Fill out the same form and share it with your friends.
However, please note that both registries cannot be active at the same time. So if your previous baby registry was still accessible to the public, it will automatically become inactive once you launch the new one.
Should I Use the Checklist Feature?
After creating your registry, you'll see a checklist button located at the top menu. Here, you get a sort of guide with recommended items to help you prepare for your baby. This section allows you to choose items across 12 categories and multiple sub-categories.
Advertisement - Continue reading below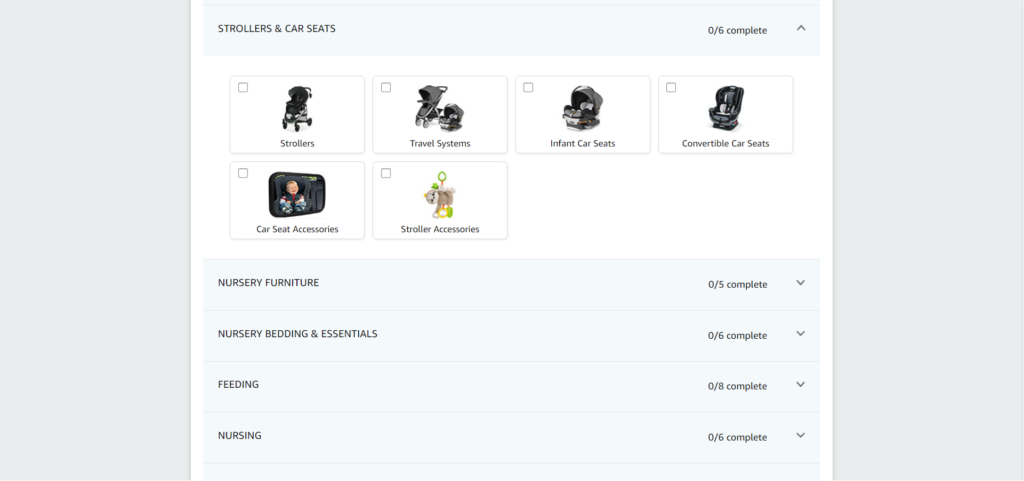 The baby registry checklist helps you keep track of the essentials and must-haves that should be included in your baby registry. So once you register the items you need, you can manually tick them off. Amazon also helps you automatically check them off when you add an item under a category.
And that's our guide on creating a baby registry on Amazon. Do share this post with any expecting parent you know who might need this.