Zofi Cash App is a mobile app that provides salary advances to employees in Uganda. The app is designed to help businesses offer their employees quick and easy access to cash when they need it without having to go through a bank or other financial institution.
In this article, we'll delve into how the Zofi Cash App is transforming workplace finances in Uganda, helping businesses provide timely salary advances to their employees, and enhancing overall financial wellness. Learn how to register as a business or an employee, their interest rates, and how to borrow money from the App.
Advertisement - Continue reading below
How to Register on Zofi Cash as a Company
Zofi Cash App works by partnering with businesses. Businesses sign up for the app and then add their employees. Employees can then apply for salary advances through the app. If approved, the money is deposited instantly into the employee's wallet, which can then be withdrawn to their mobile money accounts.
Here are the steps to register on the Zofi Cash App as a company;
Step 1: The HR or management of your company gets in touch with Zofi Cash. You can contact their dedicated team either by calling 0800200503 or by sending an email to [email protected]. This initial contact is crucial as it sets the foundation for your company's partnership with the app.
Step 2: The company signs the MoU with your management and onboard the company on the mobile app. This document formalizes your partnership and outlines key details, including who will be responsible for approving salary advance requests within your organization. It's an essential step in ensuring a smooth and efficient process for your employees.
Step 3: With the MoU in place, it's time for your employees to jump on board. They'll need to download the Zofi Cash app and complete the sign-up process. This includes verifying their identity using their National ID Number (NIN), providing a photo, and confirming their mobile number via a one-time password (OTP).
Advertisement - Continue reading below
Step 4: To request a salary advance, employees must add their employer within the app. This can be done through the "Employers" tab, where they search for and add your company. For added security, you, as the employer, will need to verify and add each employee to your profile.
---
READ ALSO: 9 Platforms to Get Quick Collateral Free Loans in Uganda
---
To illustrate how straightforward this process can be, let's share our own experience. When we registered our company with Zofi Cash, the entire journey was seamless and efficient. The Zofi Cash team visited our offices, collaborating closely with our HR department. From signing up to verifying accounts and even withdrawing funds from the app, it all took less than an hour. As a bonus, they offered a complimentary 10.00UGX to anyone who signed up that day, giving us valuable insights into the app's functionality.
How Zofi Cash Works
Zofi Cash simplifies salary advances in Uganda by providing a user-friendly platform for both employers and employees. It streamlines the loan request process, ensures responsible lending, and facilitates effortless repayment, making it an invaluable financial tool for individuals and companies alike.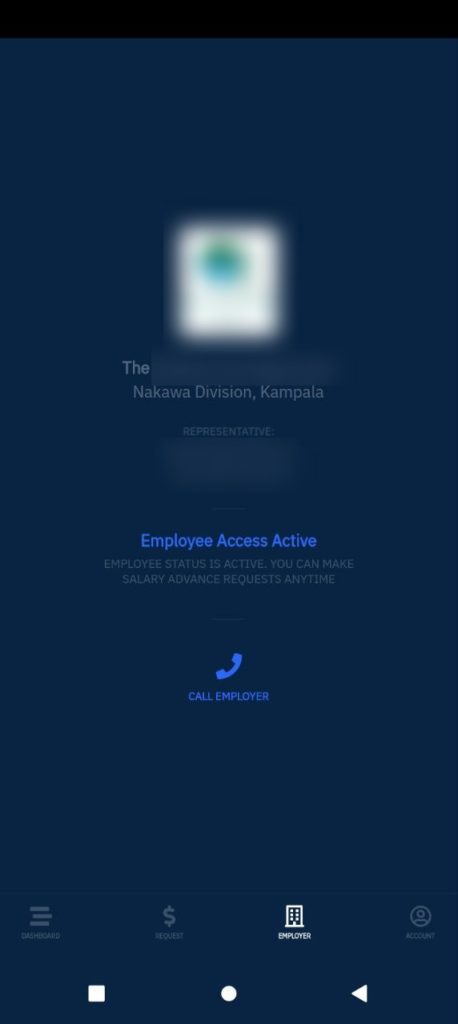 Here's a breakdown of how Zofi Cash Works in Uganda:
Profiles for Employers and Employees: Both employers and employees need to create profiles on the Zofi Cash app to get started. This has been fully discussed in the section on how to register on the app as a company.
Requesting a Salary Loan: Employees can effortlessly request a salary loan through the app. It's a straightforward process—simply input the desired loan amount.
Initial Income Details: As a one-time setup, employees provide their monthly gross and net income. These details only need to be entered once and can be updated whenever they apply for another salary advance.
Approval Process: Once a loan request is submitted, the Zofi Cash team reviews and approves it. Subsequently, the HR department or the designated authority within the employee's office gives their approval.
Accessing the Loan: With the loan approved, employees can withdraw the requested amount from the app to their mobile money account, making it readily available for their financial needs.
Repayment: At the end of the month, the HR department or company management deducts the borrowed amount, along with any applicable interest, from the employee's salary. These funds are then remitted back to Zofi Cash, ensuring a smooth and transparent repayment process.
The Interest Rates
The interest rates and fees for the Zofi Cash App are competitive with those of other salary advance apps or banks in Uganda. The Interest rates are broken down depending on the week of the month you borrow or request for your salary loan.
Here are the interest rates when borrowing from the mobile app:
| | |
| --- | --- |
| Week of the Month | Zofi Cash Interest |
| Week 1 | 12% |
| Week 2 | 8% |
| Week 3 | 6% |
| Week 4 | 4% |
My Overall Experience Using the Zofi Cash App
I have been using the Zofi Cash App to borrow money to cover unexpected expenses since June of this year, and I was impressed with the ease of the application process and the speed with which the money was deposited into my mobile money wallet. Overall, I had a positive experience borrowing money from the app, and it's one of those services I would easily recommend.
Advertisement - Continue reading below