Remember when the Telecoms offered cheap dual-sim (Katochi) phones in a desperate attempt to lure mobile subscribers to their networks? Well, they are at it again, except this time it's with cheap smartphones.
Airtel Uganda a month ago released an entry-level Android-powered smartphone dubbed Airtel Red smartphone. It seems Airtel Uganda wants to cater for the needs of the budget-sensitive everyday internet users based on the Apps pre-loaded and the price of the phone.
Advertisement - Continue reading below
The Airtel Red smartphone is a  3G dual-sim low-end Android 4.4 (Kitkat) phone with  3.5 inch screen , 512MB RAM, 4GB ROM, Qualcomm snapdragon 1.2GHz dual core processor. It comes with 2 Megapixel camera to take pictures and a tiny 1300mAh battery all for a price of Ugx 180,000.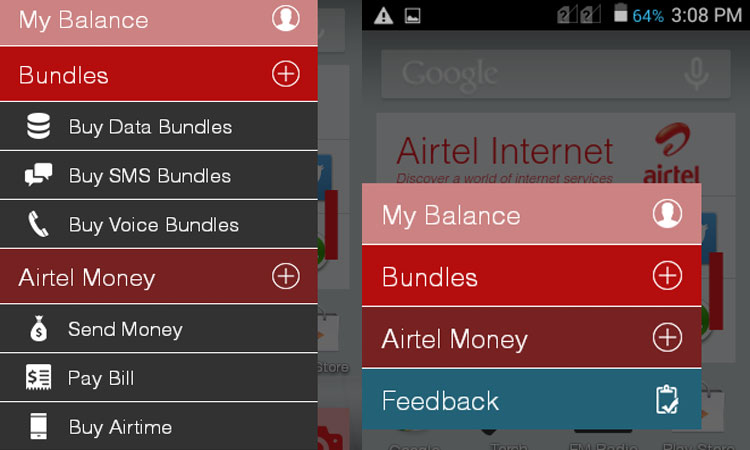 Other than adorned  with a red color theme fully loaded with Airtel services/apps, the phone also carters for the needs of the everyday internet users with apps like WhatsApp, Twitter, Facebook, Instagram, Google+, Hangouts, and Opera mini preloaded.
Speaking strictly cost and Specs-wise, while we might like the sweet price point of only Ugx 180k and a 1.2GHz dual-core processor, we are not at all impressed by 4GB internal memory and battery of only 1300mAh. That's because your phone will be filled up with photos and videos from Facebook, Whatsapp and Instagram in record time. A 1300mAh battery won't allow you to tweet or Facebook for even a half a day even though that's what the phone is meant to do.
That's all we know so far about the newly released Airtel Uganda red smartphone. But if you have used it personally, let us know of your experiences in the comments.
Advertisement - Continue reading below