Flashshare is a free Android App for sharing data between phones and to your computer. The App developed by Xender comes per-installed in Tecno and Infinix phones as "Flashshare", but the app can be installed in other smartphones as "Xender" from the Android Playstore and Apple App store.
How it works
Flashshare ( version 2.1) can be used to share all sorts of data wireless from one phone to another at high speeds. The App creates a wireless Wi-Fi hotspot on the sending smartphone which the receiving phone connects to. The downside is that the wireless hotspot is unprotected in that it's not password protected exposing your phone to security risks. This means you've to disconnect Flashshare as soon as you're done with the transfers.
Advertisement - Continue reading below
How to share files between smartphones
Flashshare is really powerful app for sharing data from your smartphone to another phone or even PC wirelessly. The app uses Wi-Fi by default, but you can also use the slower Bluetooth wireless technology to share files between phones.
Here's how to share files between phones using Flashshare.
step 1: Click connect phone
Open the Flashshare and tap "connect Phone" option at the bottom menu. To share files, one persons needs to create a group that the others can join.
step 2: Create a group
Now tap "Create group" in the second view. Your phone starts waiting for other phones to join the newly created group. Now your friends must have Flashshare installed on their devices also. The app gives you the option of "inviting" your friends which basically is a way of letting them download the App through a link shared through Twitter, Facebook, Google+, Bluetooth, or via a QR Code.
Advertisement - Continue reading below
The app will wait until the second phone presumably from a friend connects. If none connects within about 1-2 minutes, the app prompts you to disconnect. This is a security measure since as I've earlier said, the app creates a non-protected wireless hotspot.
Step3: Get second phone and tap connect phone
Now on a friend's phone, fire-up the Flashshare app, tap "connect phone", then tap "join group". Flashshare will show you available devices you can connect to. Simply tap on the sending phone. Done. The two phones are now connected.
Step4: Start sharing data
Now the hard part is done. Time to start bouncing files between your smartphones.
To share an app, tap on any app. A menu will pop-up. Now tap Send. The apk of the app will be sent to your friend's smartphone. If you wish to install the sent app, just tap on it and follow the instructions. You can share also share images from the phone camera, music from the media option, files and videos.
Transfering files is really fast compared to the good-old way of peer-to-peer bluetooth file transfer. We were for instance able to transfer a 100MB file in just 30 seconds. That means a movie would take less than 4 minutes to transfer from one phone to another without using any cables or even PC. Really cool.
More so, Flashshare can be used to switch phones. Say you've go a new smartphone and wish to transfer everything from the old phone to the new one. Flashshare has a feature they call "one key phone change" that enables you painlessly switch to your new phone with all your data using just one tap. How cool is that?
Advertisement - Continue reading below
Connect to PC
Latest versions of Flashshare let you share files between your smartphone and PC. Now, I can't really say its the best when it comes to this category. It sort of falls short compared to more polished up smarphone-to-pc apps like Airdroid. But still Flashshare delivers the basics.
Now to connect your smartphone to your PC, Flashshare requires that you be on the same Wifi hotspot. This means you're connected to the same Router or Mi-Fi at home or in the office. This is disappointing since with phone-to-phone transfers, the App creates a hotspot for you instead of requiring connection to an external network.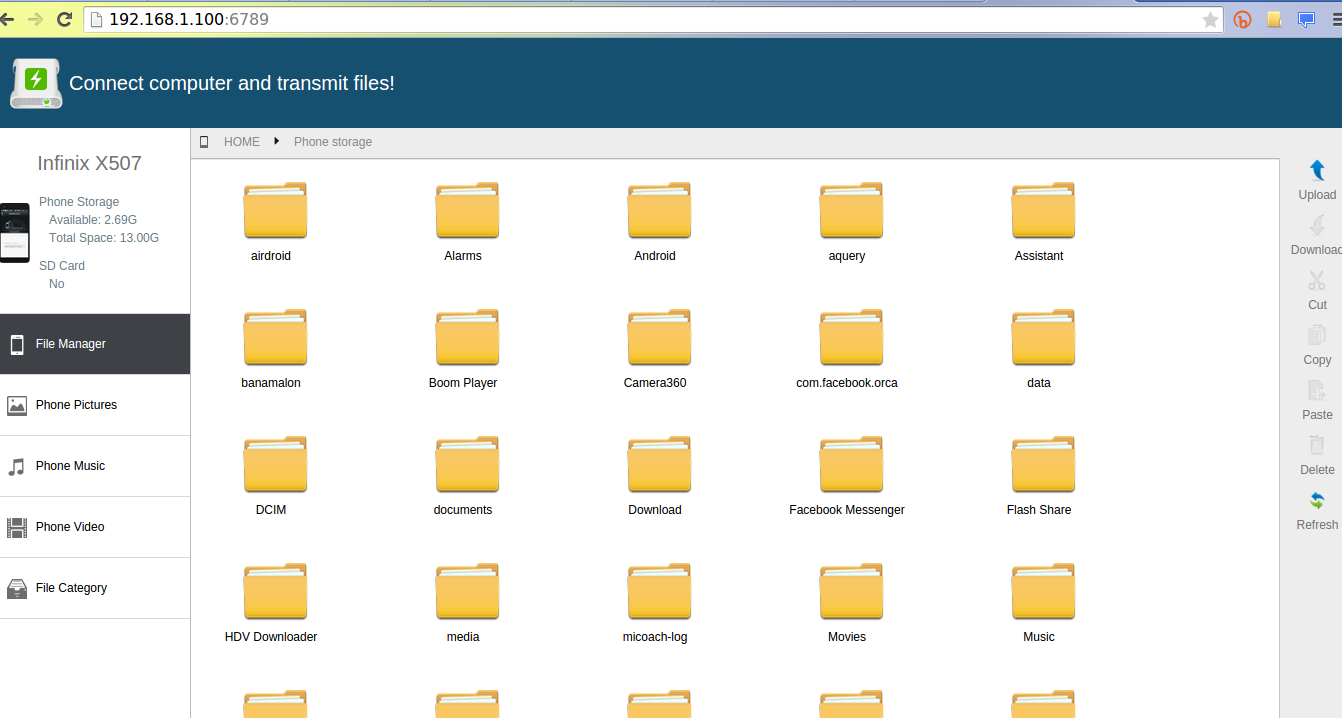 So if you have a wireless hotspot you can connect your phone and PC to, tap on "More" in the bottom menu, then "connect to PC" option in the left slide menu. Flashshare will show you an IP address and port number you can type in your PC's browser. The app also auto generates a PIN code you'll be required to authenticate with from your PC browser. Yes, I know this is rocket science for the normal user. So you're probably better off sticking to USB cables or a more user-friendly app like Airdroid if you insist on using wireless means.
Other features
The other features we found noteworthy is the ability to connect to iOS devices specifically the iPhone. You'll appreciate this feature if you're aware of a "holy war" between Android and iOS which makes file sharing between these two platforms a nightmare.
The app also shows your traffic stats, memory usage and finally you can share your cellular data with family and friends even though Android has this as a built-in feature.
Dignited Rating
Flashshare excells at phone-to-phone file and data sharing. The app is easy to use and intuitive for this purpose more than any other mobile App we've used so far. But the app falls short when it comes to phone-to-pc wireless data transfers. It's also trades security for usability when creating a link between devices.
But wholesomely this is an App we simply can't do without and it gets a whopping 4.6/5 rating from our editors.
Advertisement - Continue reading below