As of this morning, we got information that Africell Uganda is slashing it's internet rates. This is probably the first adjustment to internet rates since they took over from Orange Uganda. The new rates show reduced and more affordable internet for those who load smaller bundles. There also was an introduction of new weekly and monthly bundles. These rates have already taken effect as confirmed when you dial the *133# code to buy a bundle. The Africell website still shows the old rates.
This comes just weeks after both MTN Uganda and Airtel Uganda reduced call rates drastically to 3 sh.s per second to all networks. Africell Uganda's voice tariffs remain the same and it's the data tariffs that have changed instead. This makes sense since the data market is their cash cow.
Advertisement - Continue reading below
What's new?
In the daily category, Africell has introduced the 10MB bundle at 290 shillings. They also further reduced the 20MB bundle by 50 sh.s making it 450 from 500 while introducing the 25MB bundle at 500 sh.s. The 50MB bundle still remains at 1000 sh.s while the 100MB bundle has reduced to 1750 sh.s from 2000 sh.s
In the monthly category, the biggest change is the introduction of the new 3GB at Ugx 59,500. Others were a reduction of 500 shillings or so from the original charges. Thecategory a lso saw lots of new smaller bundles which initially don't make sense. For example buying a monthly bundle of 25MB at 1450 sh.s which can be used in less than a minute. However upon closer inspection, they are very necessary. Imagine you have 5GB carried over but with not validity? All you would have to do is top up 25MB that would activate your expired bundle
For the geeks, they have maintained the "Happy Hour" and "Happy Night" bundles that gives you 1GB at Ugx 5000 during the day and Ugx 2500 at night respectively.
Below are hard copy comparisons if you want to look at all the changes that have been made to all the packages.
Africell Uganda New Internet Rates
| Africell Internet Bundles | | |
| --- | --- | --- |
| Validity | New Price (UGX) | New Data Volume |
| Daily | 290 | 10MB |
| | 450 | 20MB |
| | 500 | 25MB |
| | 1000 | 50MB |
| | 1750 | 100MB |
| Weekly | 1,750 | 50MB |
| | 2,500 | 80MB |
| | 5,500 | 200MB |
| | 21,900 | 800MB |
| Monthly | 1,450 | 25MB |
| | 4,400 | 100MB |
| | 4,900 | 125MB |
| | 9,750 | 250MB |
| | 13,500 | 350MB |
| | 19,500 | 500MB |
| | 34,500 | 1GB |
| | 44,500 | 1.5GB |
| | 49,850 | 2GB |
| | 59,500 | 3GB |
| | 75,000 | 3.5GB |
| | 89,000 | 5GB |
| | 124,850 | 10GB |
| | 284,900 | 30GB |
| 3 Months | 45,000 | 1GB |
| | 50,000 | 1.5GB |
| | 64,900 | 2GB |
| | 77,500 | 3GB |
| | 116,500 | 5GB |
| | 129,000 | 6.5GB |
| | 160,000 | 10GB |
| | 300,000 | 20GB |
| | 370,000 | 30GB |
| | 600,000 | 45GB |
| 6 Months | 500,000 | 30GB |
| 12 Months | 900,000 | 100GB |
| Happy Hour | 5,000 | 1GB |
| Happy Nights | 2,500 | 1GB |
| 1 Month | 299,000 | Unlimited (512 Kbps) |
| 3 Months | 859,000 | Unlimited (512 Kbps) |
| 6 Months | 1,619,000 | Unlimited (512 Kbps) |
| 12 Months | 3,049,000 | Unlimited (512 Kbps) |
Africell Uganda Old Internet Rates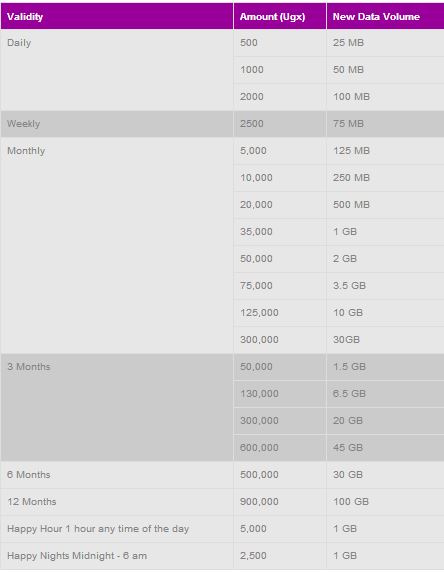 Advertisement - Continue reading below