Summary
Intex is an Indian electronics manufacturer that has a device division majorly in India and the United Arab Emirates. In Uganda, Intex has a couple of devices on the market sold by Uganda Telecom, Jumia and a couple of vendors down town. Though little known in Uganda, Intex is a huge brand in India.
We loved a couple of things about the Aqua Curve Mini like the vivid display, the gesture controls, the curvy design and the OTA updates. What we didn't like were the occasional freezes, Camera without Auto Focus and the quite steep price it was going for.
Advertisement - Continue reading below
We had a week with the device and now bring you a complete Intex Aqua Curve Mini review of the device.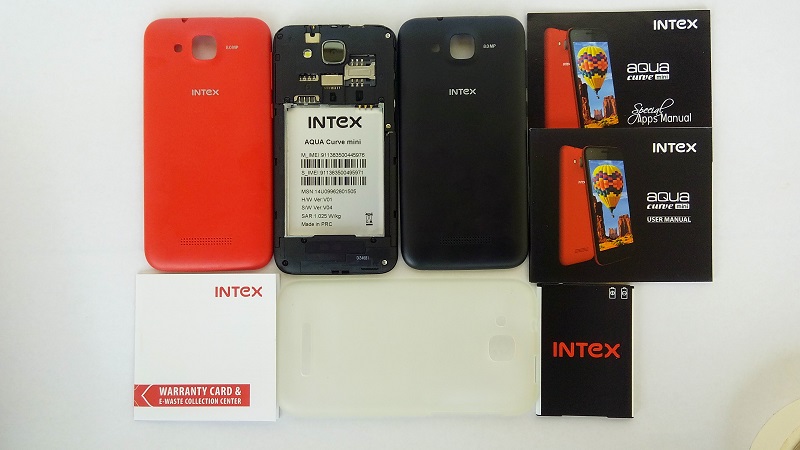 Unboxing
The Aqua Curve Mini comes in an all-black box that is sealed on both sides. We broke two seals to open the box. The box has specifications of the device on three sides. I believe this is an attempt to give you a quick snapshot of what the phone is capable of.
When we open the box, we find the Aqua Curve Mini in the first compartment. When you pick it up, you find the 2nd compartment that has 2 back covers (Black and Red), a white phone jacket, the battery, a travel charger plus a USB cable and earphones. We also found a User manual, an Apps manual and a warranty card.
From the time you pick it up, its curvy design fascinates you and when you power it up, you notice its vivid screen color and smooth touch.
Specifications
Weighing only 172g and is only 9.2mm thin, the Intex Aqua Curve Mini is a dual SIM Android 4.4 KitKat device with a 4.5 inch IPS FWGA display, a 1.3 GHz quad core processor and a Mali 400 chip. It also packs in 1GB RAM and 8GB ROM expandable to 32GB.  The Aqua Curve Mini has an 8.0MP rear and a 2.0MP front camera with a 1500 mAh Li-Poly battery powering it.
Advertisement - Continue reading below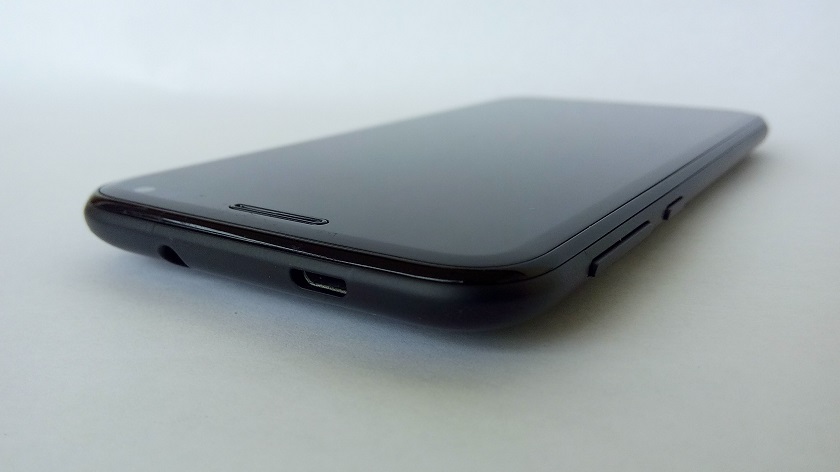 Design
When it comes to the design, the Aqua Curve Mini nails it. Just like its name, the curve has curvy smooth corners and an ideal phone size fitting right into your palm. This allows you to navigate your phone with ease and with only one hand. The poly-carbonate back covers make the phone fit firmly in your hand reducing chances of it sliding off. The glass used for the display feels good to touch making the use of your phone enjoyable. The top has no Intex branding with only the ear piece and front camera. The "Home", "Back" and "Menu" buttons aren't printed on the phone so appear/illuminate only when you need them
To the left are both the volume and power buttons which even though reachable by the fingers isn't the most convenient place to put them. The micro USB charging port is placed on the top alongside the 3.5mm earphone jack. On the back is the camera and LED flash centered with the Intex branding right below. Bottom center is the speaker.
OS + features: Android 4.4 KitKat + some fancy gesture controls
The Aqua Curve Mini runs on Android KitKat 4.4. We weren't able to confirm whether or not it will receive an Android 5.0 Lollipop update but we saw a couple of updates being pushed for bug fixes among other issues.
The Aqua Curve Mini had a couple of interesting gesture controls like the double tap to lock or unlock screen instead of pressing the power button. The curve mini also allows for use of two or three finger gestures allowing you to access different elements messaging, increasing or decreasing volume or even taking a screen shot.
It also enabled quick access to certain functions from the lock screen using letter gestures e.g. drawing the letter "C" would instantly open the camera from the lock screen.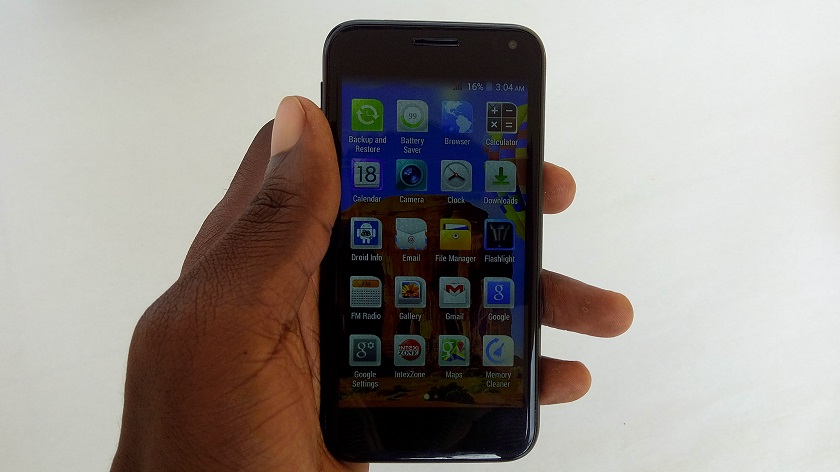 Apps: Many pre-installed but not very useful apps in Uganda
The Aqua Curve Mini   comes with a myriad of apps some of which will not be very useful in Uganda. Thankfully, many of them can be uninstalled. With only 8GB of ROM it would be a bummer if it weren't possible to uninstall them. The apps we found useful include Kingsoft office, Memory cleaner, Battery Saver, Mobile control, OLX, Opera mini and Xender. We uninstalled the rest to create space.
Advertisement - Continue reading below
Pre-installed apps are no longer a big deal since by the time you get the phone, most of them need an update. Unless they are apps that you can't get on the Playstore.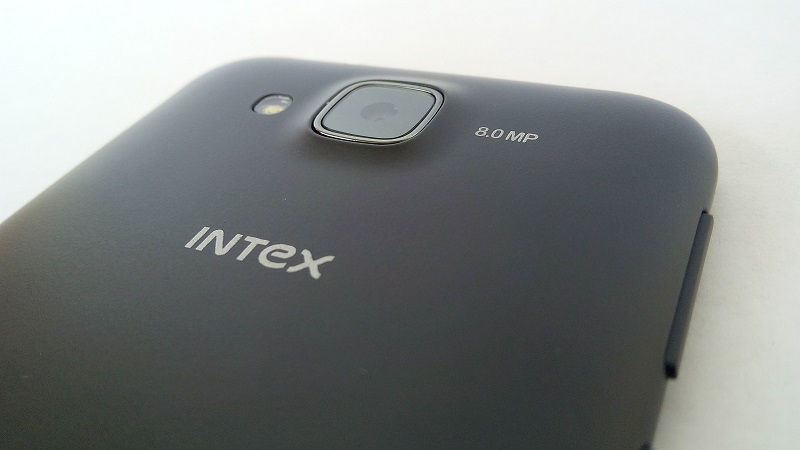 Performance: All you need for an entry level smartphone
Camera
The Aqua Curve Mini   Camera is average even with the 8MP which is standard for an entry level smartphone, we were very disappointed that the rear camera didn't have autofocus which is another standard feature any smartphone camera should have in 2015 or especially at the Aqua Curve Mini's price point.
That said, we could still capture images/selfies and shoot videos. What is funny is that many people wouldn't even notice that the device doesn't have autofocus because the image quality and behavior was like any other entry level device. They all suffer with low light photography. They are better outdoors and can do all the basic photography you may need as a first time smartphone owner.
Battery
The Intex Aqua Curve Mini   has a 1500 mAh replaceable battery. We carried out the usual tests and it took us about two and half hours to get a full charge. The Aqua Curve Mini   battery took us about 4-6 hours on 3G and 8-12 hours on 2G. This is with regular use like making calls, occasionally checking email and social media. The battery could have been better but for an entry level smartphone it's what we would expect.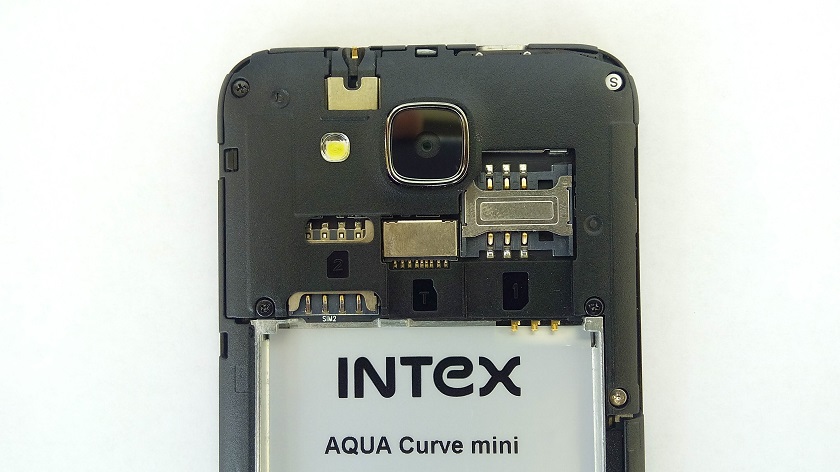 Display
This is where the Aqua Curve Mini   shines. It has 854×480 pixels display with a 240 DPI. For its size once again, this makes the screen look very sharp and vivid. We couldn't confirm whether the display has Corning Gorilla glass protection. Intex however included a screen protector in the box for you to install. We would have preferred that the screen protector comes pre-installed as many wouldn't know how best to install a screen protector.
Entertainment
When it comes to entertainment on a smartphone, we look at a couple of things. A good display for games, images and videos, a radio, and an expandable memory to store all your entertainment. Lastly we would also look at sound quality. The Intex Aqua Curve Mini has most of these except for superb sound.
Advertisement - Continue reading below
What we liked
The lovely and curvy design
OTA Updates
Vivid display
What we didn't like
Camera with no Auto Focus
A high price for an entry level smartphone
Intex Aqua Curve Mini Price and where to buy in Uganda
The Intex Aqua Curve Mini is available in Uganda at UTL outlets and also on Jumia where you can order it online and have it delivered to your door step. The Intex Aqua Curve Mini goes for the price of Ugx 475,000 from Jumia Uganda
Wrapping it up
If you are looking for a first smartphone that is trendy, well designed, with regular OS updates then the Intex Aqua Curve Mini would be your device. If you are looking for an upgrade from your current smartphone, you probably want to keep looking.