After a cool 40 years, the Mercedes-Benz G-Class is entering its second full generation with a thorough redesign in a 2019 model, that doesn't change the appearance but rather improves on the predecessor faults. The G-Wagen was revealed last Sunday ahead of the 2018 Detroit auto show with the company's initial entry being the G550 model.
One might be surprised by the resemblance, as it is still as boxy as the last four decades of G-Wagens. Probably Mercedes wants to retain the vintage look, for identity, and for brand exclusiveness.
Advertisement - Continue reading below
Besides the addition of width and length, the G-Class now uses an independent front suspension rather than the solid axle that ate up some good chunk of space under the engine for the last 40 years. Mercedes says that this independent suspension allows for more running ground clearance up front and for improved on-road and high-speed off-road handling. There are also optional adjustable dampers which will give the G-Class a better ride experience. Mercedes has also switched to an electro-mechanical power steering system for better on-road handling and highway stability.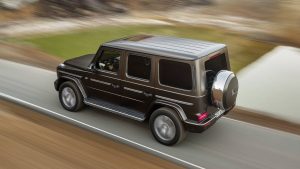 Under the hood, the G550 still takes on the previous generation's 4.0-liter twin-turbo V-8 rated at 416 horsepower and 450 pound-feet of torque. A full-time four-wheel drive with a two-speed transfer case is still the standard, but the G550 is adopting a 9-speed automatic transmission with a wider ratio than the 7-speed automatic on the predecessor. The console-mounted gear lever in last year's G-Class has given way to a stalk lever like that used on most other Mercedes products.
The Changes
The outside of the 2019 model is 2.1-inches longer and 4.8-inches wider, leaving the G-Wagen's 189.7-inch overall length and 85.7-inch width on the small end for a pricey SUV. The upright proportions that have defined Mercedes' all-terrain SUV are remaining the same.
Inside, a 12.3-inch touchscreen for infotainment takes up considerable real estate on the G-Wagen's dashboard, while a second 12.3-inch screen that takes the place of conventional gauges is optional. The car controls are organized in a more typical Mercedes fashion than in the outgoing G-Class, but the grab handle in front of the passenger's seat remains just the same.
The Price of the 2019 Mercedes-Benz G-Class remains unknown but the German automaker says that it will be available in showrooms by the end of this year.
Advertisement - Continue reading below