We know most of you are already Whatsapp — mostly for texting your friends, sharing images and internet memes and watching funny Videos. But most people aren't yet familiar with Whatsapp calling feature which was introduced earlier this year.
I've called a number of friends on Whatsapp. But they often give me that surprise response. In fact, when I called one of them, he thought it was a normal call until I told him, I was calling over Whatsapp.
Advertisement - Continue reading below
Now the more important question is how much it costs to call over Whatsapp. That would justify why you want to call over Whatsapp than through the conventional means.
The most vital thing to remember though is that Whatsapp uses your data connection to send texts or make calls. That means, unlike the traditional calls, both the caller and callee must have sufficient data and must be on a fast internet link. You can't beep on Whatsapp. I repeat, it's useless to beep on Whatsapp.
So how much does it really cost to call over Whatsapp? The math isn't exactly that simple since both the caller and callee incur a cost on data. But we shall calculate what it costs on one end.
How did I measure? I called a friend through Africell Uganda and talked non-stop for 5 minutes so that they would be a constant stream of data going through the pipe. I then took a look at my data balance before and after the call.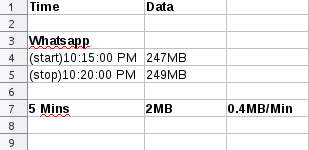 For 20MB, you can make call that's as long as 50 minutes. Now 20MB costs about Ugx 500 on most mobile networks in Uganda. That gives about Ugx 10 per minute on Whatsapp call. That's ridiculously low when you compare it to the aveerage cost of calls over traditional means. On average, it costs about Ugx 300 per minute to call users on other networks on most networks in Uganda.
Advertisement - Continue reading below
So there you have it for those who have been asking how much it costs to make calls over Whatsapp. It's cheap. But before you do, make sure that;
The recipient has sufficient data too.
You're at least on 3G. We got impressive results on 3G+ and even better ones on 4G LTE.
Being on Wi-Fi is not guarantee for quality call, so just stay away from it unless you are sure you're connected to a reliable super fast WiFi hotspot.
No other data-consuming application is running in the background. Do not have a download running or Youtube video streaming.
The faster the network you're on, the better the voice quality of the call but the more it costs to call per MB. For instance it might cost more to call over 3G than 4G LTE, however, you'll get better voice quality on 4G.
So there goes our preliminary, not-so-scientific measure of how much it costs to make calls over Whatsapp.