Online transactions have grown exponentially in the recent past. However, in Uganda, just like many other emerging markets, it hasn't been all roses.
If you have tried using PayPal in Uganda, you must have encountered one hell of a frustrating experience. The basic reason being that PayPal doesn't yet support fully Uganda. It's annoying. Where this leaves merchants and freelancers and consultants, is a state where they have to accept outdated bank systems that levy unfair and unnecessary service charges. Or rather online alternatives that usually don't meet the cut.
Advertisement - Continue reading below
A friend of Dignited — Paul Asiimwe —  (or coyly put as amicus Dignited) gifted us with a clever step by step hack on how to enjoy the full experience of PayPal in Uganda and whatever country it's not supported. So far PayPal is fully supported in 4 African countries: Nigeria, Cameroon, Ivory Coast and Zimbabwe.
This hack needs patience and commitment.
Signup to an financial services intermediary called Payoneer
In this registration process, you'll be asked to upload an official identification. A national ID or Passport should suffice. After a couple of days or weeks, your account will be verified.
After verification, then a user is given an opportunity to open a virtual bank account in US, UK or EU. That bank account would be linked to a Mastercard Debit Card.
This Mastercard Debit Card is sent to you via the post mail but after paying a cost of $15. This means that you can withdraw your monies from any Mastercard Debit Card supported ATMs. In Uganda Stanbic Bank supports Mastercard. The levy for withdrawing on these supported ATMs is $3.15 per transaction. 
Advertisement - Continue reading below
Get your payoneer card from their website here.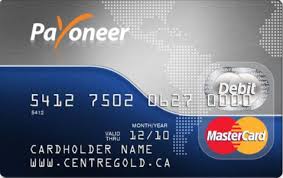 However following recent regulations in the US, you cannot interlink your PayPal account to a virtual U.S bank account (through Payoneer). So that means that the options are to use UK and EU virtual bank accounts.
The disadvantage of using European based virtual bank accounts is that they convert dollars to Euros, and this somewhat erodes some monetary value. But at the end of the day, it allows you the privilege of using PayPal.
For services that are not PayPal related for example international transfer wires, a US virtual bank account is much better. These banks charge only 1% per transaction and this is 10 times cheaper than Western Union or MoneyGram. It's also cheaper than many mobile money based remittance systems. Also, a US virtual bank account could help on things like accepting Google Play payments for app developers.
Initially, PayPal only offers "send money" services for consumers to pay for goods and services at PayPal-enabled merchant sites while safeguarding their financial details.
PayPal does not yet cover peer-to-peer transactions, which allow consumers to send money to other consumers.
That's it. Happy hacking.
Advertisement - Continue reading below
Do you know any little clever hacks about PayPal or other frustrating payment systems? Please let us know.
Image: PayPal HQ