Summary
The Tecno Boom J8 is Tecno's first smartphone to feature HiOS, their custom ROM. The device was carefully crafted to appeal to a key audience that love music and style. Packed with Boom Headphones, a revamped Boom Player, Max Audio Software, 2GB RAM, 16GB ROM, 4G LTE and an affordable price tag, the Boom J8 becomes one of the best smartphone deals currently on the market.
After spending a month with the Tecno Boom J8, we bring you a comprehensive and unbiased review of the one of the most anticipated phones on the continent. In this review we show you the pros and cons in a feature by feature breakdown.
Advertisement - Continue reading below
If you are looking for a flagship device for a quarter of the price, just move on – this isn't for you. But if you are looking for a mid range smartphone that will surpass your expectations, then you are home.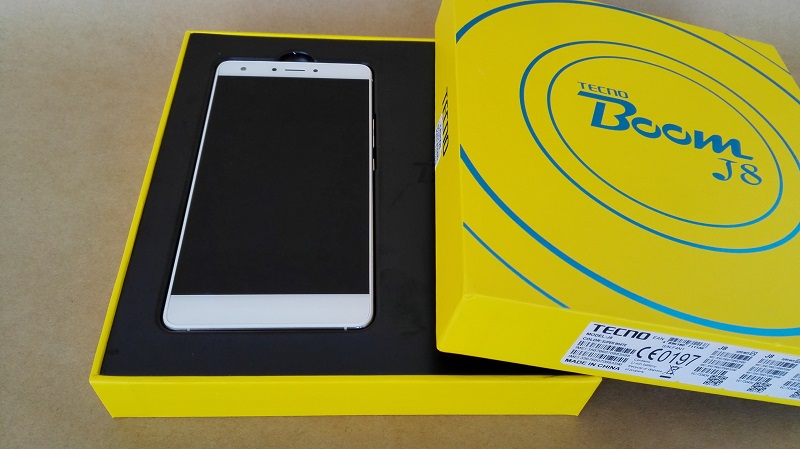 What we Liked
HiOS with some cool new tricks and customisation
Slim Design
Boom Headphones + Waves MaxxAudio for awesome music experience
2GB RAM, 16GB ROM Expandable Memory to 128GB
4G LTE speeds
13 Month Functional Carlcare Warranty
Affordable Price
What we didn't Like
Poor Low light Photography
Display could have been better
No Screen Protector (We have been reliably informed by Tecno itself that all Boom J8 smartphones come with screen protectors pre-installed and that the piece we got may have been the exception by mistake)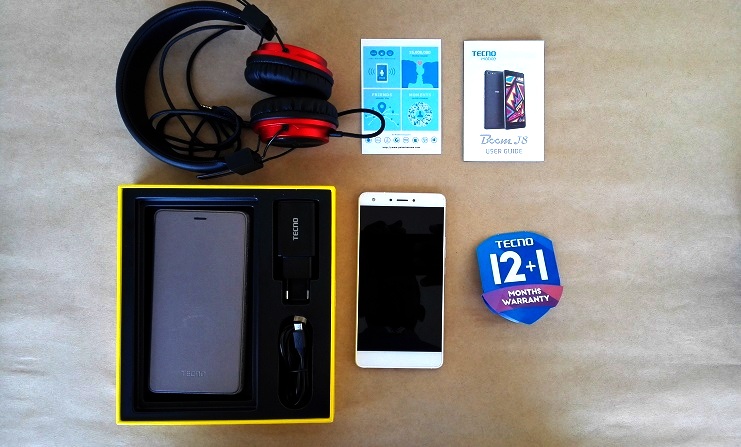 Tecno Boom J8 Unboxing
The Tecno Boom J8 comes in package held together by a transparent band. In the package is a big blue box housing the Boom Headphones and a smaller yellow box with the J8. The Boom headphones are neatly wrapped and seems to come in only Red and Black colors.
The sleek yellow box comes with two seals that you have to break to get to the J8. When opened, you find the J8 on top. Below it is a second compartment where you will find the charger head and USB cable neatly wrapped. There is a black box in which you will find the J8 Manual, Palmchat flyer and a Flip cover.
In the box;
Advertisement - Continue reading below
Tecno Boom J8
Charger Head
USB Cable
Boom Headphones
Flip Cover
Boom J8 Manual
Palmchat Flyer
13 Month Warranty Card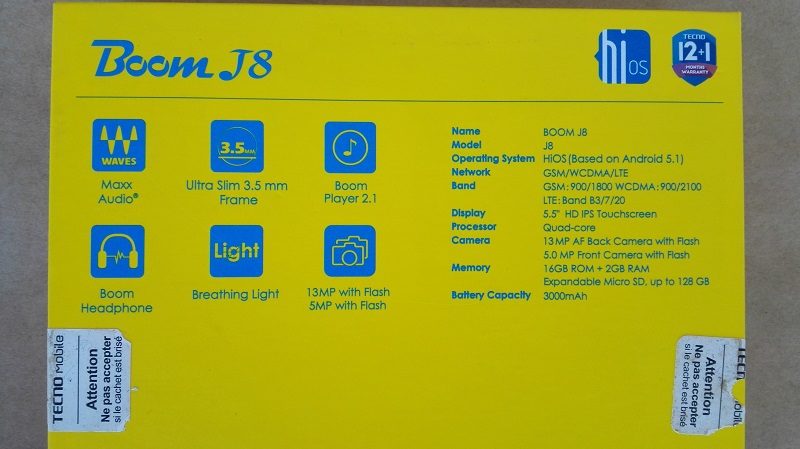 Tecno Boom J8 Specifications
Announced: 2016, February
Available: 2016, March
Colors: White and Black
SIM: Dual SIM (Micro-SIM, dual standby)
OS: HiOS based on Android v5.0.2 (Lollipop), upgradable to v6.0 (Marshmallow)
Network: GSM, WCDMA,GPRS, EDGE HSPA, LTE
4G LTE Bands: 3(1800), 7(2600), 20
Dimensions: 76.84*153.3*7.35mm
Weight: Not Known
Display: 5.5″ HD IPS Touchscreen
CPU: Quad-core 1.3 GHz
Memory: 16GB ROM, 2GB RAM, microSD, up to 128 GB (dedicated slot)
Camera: 13 MP, autofocus, LED flash, 5MP front Camera with Flash
Connectivity: Wi-Fi 802.11 b/g/n, hotspot, Bluetooth v4.1,
Sensors: Accelerometer, Gyro, Proximity, Compass
Battery: Non -Removable Li-Ion 3000 mAh battery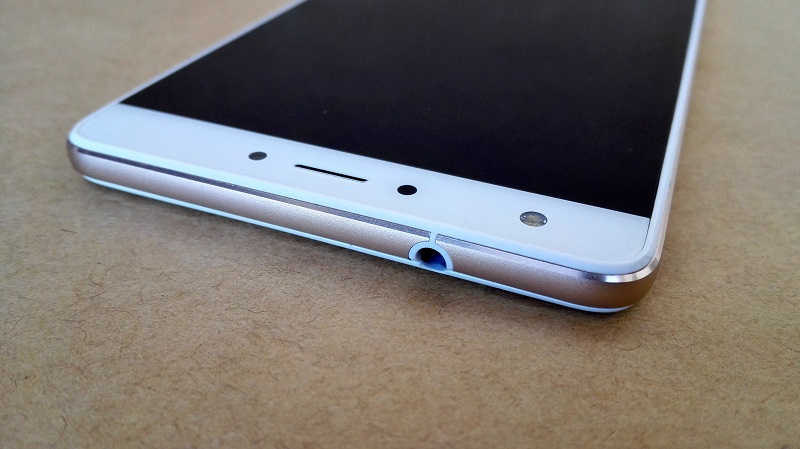 What we expected
The crossed ones are what we expected but didn't get
HiOS with expected update to Android 6.0 Marshmallow (We are still expecting this one)
OTA Updates
4G LTE
Better Camera with OIS and Low light capabilities
Better Battery compared to the Boom J7's 2200mAh
Full HD display
Accessories: All Metal Earphones, Screen Protector, Phone Jacket, Flip Cover.
Instead of all metal earphones like in the J7, Tecno threw in Boom Headphones. We hope they are as durable as the J7 earphones. It is also quite surprising that Tecno Boom J8 doesn't come with a screen protector installed which means that you will have to buy one.
Update: (We have been reliably informed by Tecno itself that all Boom J8 smartphones come with screen protectors pre-installed and that the piece we got may have been the exception by mistake)
Now that the anticipated HiOS is here, may be we shall see some critical updates and bug fixes but most importantly an update to Android 6.0 Marshmallow. They also threw in 4G LTE making the J8 Tecno's 3rd phone with 4G after the Tecno C5 and the Phantom 5.
What is New?
HiOS
Fresh Design
2 GB RAM
Headphones
Waves MaxxAudio
Boom Player 2.1
Pulsating Light
4G LTE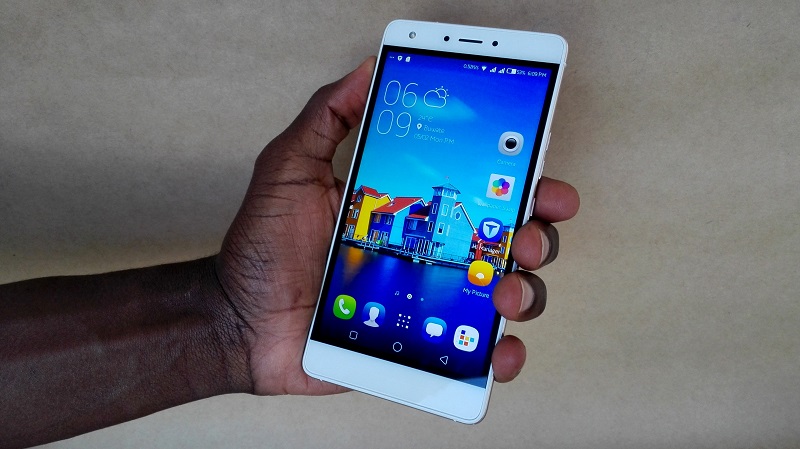 Advertisement - Continue reading below
The new HiOS: A breath of fresh air but we shall wait for the updates first
The HiOS was one of the most anticipated features of the Boom J8 and after a month with it, we bring you a quick summary of what you need to know about HiOS.
HiOS isn't actually an operating system in an of itself. It is a custom ROM by Tecno for Tecno smartphones based on the Android Operating system. This helps Tecno customise their devices to look different from other Android devices. Samsung has done this with TouchWiz, HTC with Sense and Huawei with their EMotion UI. This particular version of HiOS is based on Android 5.1 Lollipop with a promise to update to Android 6.0 Marshmallow.
HiOS is highly customisable with a couple of features that would make using a Tecno device quite enjoyable. The Custom ROM comes with Hi Themes, Hi Wallpaper, Hi Fonts and Hi Manager to enable you tweak your device to your tastes and preferences. Hi Themes comes with 7 pre-installed themes (We weren't sure if you can download more than just the 7). Hi Wallpaper comes with lot's of wallpaper and an option to download more online. Hi Fonts come with 15 fonts to choose from and an option to download more online.
Hi Manager is a custom smartphone optimiser that includes a Mobile Cleaner, a Data Traffic manager, App manager, Auto start manager and a Harassment block feature that lets you block SMS, Phone calls among others.
The Notification centre has been revamped giving you quick access to many settings. Multi tasking has also been revamped making navigation across your tasks and apps more smooth. Swiping to the right lands you into the Boom Player for a quick access to music.
Gesture controls were also included allowing you control your device much more easily/ e.g. double tapping on the display to lock or open the phone, drawing a "C" on the display to wake the phone up straight to the camera, swiping three fingers down to take a screenshot among others. We shall bring you a complete list of Tecno Boom J8 tips and tricks in another post.
Camera: Could be better but will work just fine
The Boom J8 comes with a 13MP Autofocus (AF) rear Camera and a 5MP front Camera both with an LED flash. Official information on specs like Aperture, Focal Length or Camera Sensor technology used isn't available. The J8 camera has Geo-tagging, Touch focus, Face detection, HDR and Panorama features.
Advertisement - Continue reading below
We took the J8 camera for some tests and this is what we found out. Compared to the J7, the J8 camera has a wider focal length being able to capture more in the same frame.
The 13 mega pixels means it captures larger images with more detail than smartphone cameras with lesser pixels. However, we compared it to other 13MP camera and the results varied. This means that even with the same pixels, not all cameras will produce the same results. In daylight, the J8 camera performed very well giving us crisp images. But in low light, the J8 camera suffered a lot giving us images with a lot of noise or sometimes not well focused.
We also cannot confirm whether there is any Optical Image Stabilisation (OIS) inbuilt or Backside illumination (BSI) embedded in the J8. But from the way it suffers in low light, we can safely assume that there isn't BSI tech embedded. We however noticed a faster shutter speed to reduce shutter lag to help you capture images faster and avoid blur caused by camera shake or an unstable shooter.
It's macro photography was also above average being able to focus even when very close to the subject. This helped us capture good detail in our shots.
The J8 can also shoot crisp full HD 1080p video in mp4 format. It can shoot video in Slow Motion too. We were able to shoot a 30 Second Video at 50MBs
Sample Images of the Tecno Boom J8 Camera
As seen in the sample photography, we were able to capture crisp and amazing images with the Tecno Boom J8. From still life, portraits and high speed photography, we captured it all. Sometimes cameras are about knowing how to use them and not specs alone. Meaning you could have top specs and still capture terrible images.
Just how good is the Boom J8 Camera? Compared to a 13MP Flagship Camera this is how it performs.

Advertisement - Continue reading below
We compared the Huawei P7 camera to the Boom J8 Camera as seen above. The P7 had a better color reproduction with rich and vivid colors while the J8 colors were a little pale. We were also able to capture much more detail with the P7 while the J8 had a softer focus and less detail. It should however be noted that the P7 is a flagship and the J8 is a midrange device with the P7 costing 3 times the price of the J8 which gets quite close to the P7 in performance.
Entertainment: Music + Movies + Gaming + Radio covered
The J8 was made for music and this is one of its strongest selling points. Equipped with the latest version of Tecno's own Boom Player,  Maxx Audio Software and Boom Headphones, the J8 offers a rich and immersive sound and music experience.
The 5.5 Inch HD display gives a good viewing experience that is big enough for you to enjoy your videos and movies. As usual, we installed a couple of games to test how fluid and smooth gaming would be on the J8. We weren't surprised and how well it handled Temple Run and Asphalt and other graphic intensive games. Powered by the Mali T720 chip by ARM, the device was responsive giving us a fluid and enjoyable gaming experience.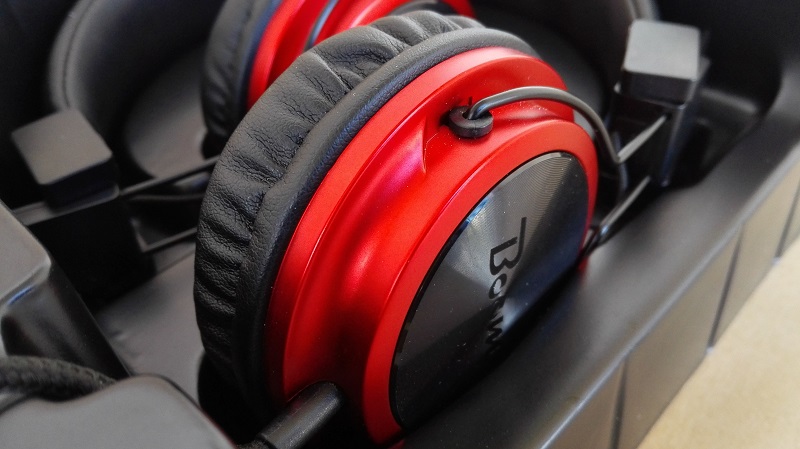 For those who love radio, the J8 comes with a new and redesigned Radio App with FM recording and a Sleep Timer that allows you to set an alarm to wake you up with radio. It gets better when you have 16GB expandable to 128GB for all your music and entertainment needs
The downside to the Boom Headphones is that for someone who is one the move, they are quite bulky to travel with and one may prefer simple earphones like those supplied with the J7. However, some could use them as a fashion statement. I see many people wearing headphones even when they aren't listening to music. Upon comparing the the speaker output quality of the two, we didn't find much noticeable difference unless one gets specialist and technical sound equipment to measure.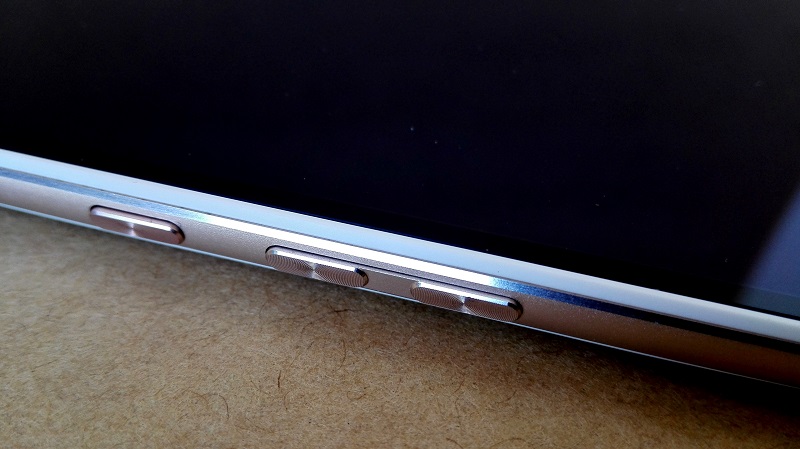 Design: Fresh Feel, Premium design
The J8 has a 5.5 Inch display with thin bezels. We approximate the screen to device ratio to be about 75%. There are no imprinted home, back and menu buttons as seen in the J7 – The J8 has them built in the display. Below the display is a pulsating light that also doubles as notification light.
The top front has an LED front flash to the left and a proximity sensor next to it. The head piece takes top centre with the 5MP selfie camera right next to it.
At just 7.3mm thin the Boom J8 has a 3.5mm gold coated frame that really accentuates its design. The volume rockers and power button have all been put on the right side. While the earphone jack remains at the top of the device but moved more to the left.
Advertisement - Continue reading below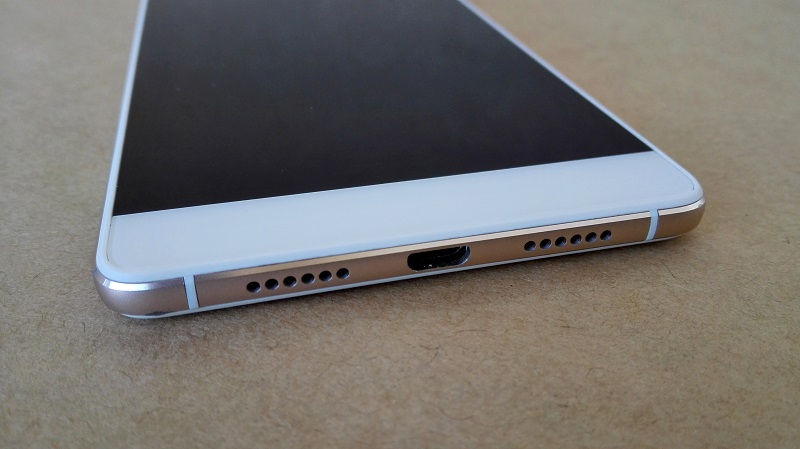 The speakers have been placed at bottom together with the USB charger port unlike the J7 where it was at the back.
The back cover is made of plastic with a coating that prevents it from being a fingerprint magnet. It is easy to remove thanks to a small dent on the right hand backside. On opening the back, there are slots for 2 micro SIM cards, an SD card and a 3000 mAh non removable battery.
Performance + User Experience will beat your expectations
Speed + RAM
For the time we had it, the J8 was always fast and fluid with no lag or freezing. Apps open fast and functions executed quickly. This is the 2GB RAM and four cores at work. It would be nice to see how it fares 6 – 12 months down the road.
At the time of writing the review, we had over 60 apps installed and the device was still fast with enough space to play.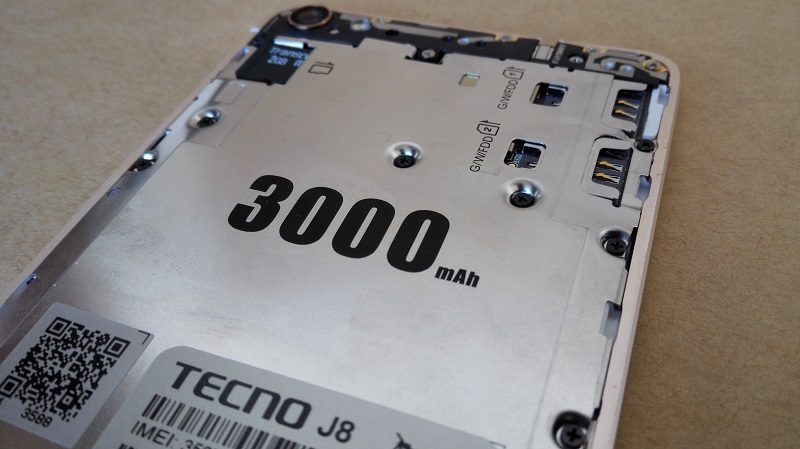 Battery
We really tasked the 3000 mAh over a couple of weeks and we were satisfied with the battery performance. On a full charge and  light usage, the J8 took us a whole day and 6 – 8 hours on heavy usage. We however noticed that the J8 takes a little longer to charge. it took about 3-4 hours for a full charge which we found quite slow.
A heavy user will definitely need a battery bank and back up while a light user is fully covered even for a day plus.
Display
We love the J8 display. It is sharp enough and vivid for a good user experience. We however noticed that the J8 isn't actually an HD display. According to the app Droid Info, the J8's display is 720 x 1204 pixels with a 320 dpi (Pixel Density)  while HD is 720 x 1280. The 78 pixels may not seem to make huge difference as some people won't even notice but a better display enhances the user experience. Compared to the J7 which has an HD display we are wondering why they couldn't fit the remaining 78 pxels in the J8 or better still make it full HD at 1080p
That said, the display is still sharp and vivid and gives an excellent viewing experience.
4G LTE + Internet Speeds 
We are not sure what 4G speeds the Boom J8 can achieve as they do not avail such information on their website or the packaging. The J8 is a 4G device with backward compatibility to 3G and 2G should you not have 4G coverage.
The J8 supports only 3 LTE bands and that is Band 3, 7 and 20. Telecoms in Uganda support the following.
MTN Uganda – Band 7 (2600MHz)
Africell Uganda – Band 20 (800Mhz)
Smile Uganda –  Band 20 (800MHz)
Vodafone Uganda – Band 38 (2600MHz)
As seen above, the Boom J8 4G LTE will not work with Vodafone Uganda network.
Overall Performance Experience 
The overall experience with the Boom J8 is awesome. The Entertainment, Battery, Display, Speed all work together to deliver an awesome user experience.
Price and Availability in Uganda, Kenya and Nigeria
The Tecno Boom J8 is available in Uganda, Kenya, Nigeria, Ghana, Egypt and many other African countries. In Uganda, the Boom J8 is going for the price of Ugx 499,000 at Banana Phone World, Simba Telecom, Tecno Stores, Midcom, MTN, Airtel and Africell.
Tecno Boom J8 Price and where to buy in Nigeria:
Tecno Boom J8 is going for the price of between 44,000 -52,000 Naira depending on where you buy it from. Here are some places you can get it from Konga, Jumia and 3C Hub.
Tecno Boom J8 Price and where to buy in Kenya:
Tecno Boom J8 is going for the price of about Kshs 14,999 at Jumia, Kaymu, KilliMall and Bidorbuy.
Tecno Boom J8 Gallery
Wrapping it Up
For all the good things about it, the Boom J8 isn't without its cons. Tecno could have fitted in a better display and better camera technology. However, for its affordable price tag, we cannot expect anything more than it already offers.
The Boom J8 makes for a perfect upgrade from any entry level device or the perfect replacement for a stolen phone. It also makes for a perfect gift if you are into gift giving. If you are into music and love awesome sound, then the J8 was custom made for you.
For all the pros of the Boom J8, we are giving it a 4/5 rating.
Do you own the Tecno Boom J8? what has been your experience with it? Please share with us in the comments.