Vodafone recently  gave Ugandans an offer they couldn't refuse during the Lenovo K3 Note giveaway promo. From the initial retail price of UGX 699,900 ($207), Vodafone cut the price to UGX 525,000 ($156) which we believed was a great deal. So we were gobsmacked when the price was further slashed to only UGX350,000 ($104). A quiet shopping frenzy begun which saw to it that these devices got extinct in shops.  Now we are not an authority on this matter but we believe these devices are no longer in stock anymore. If we are mistaken and indeed there are a few pieces floating around, whoever's concerned should please give us a ring.
Lenovo K3 Note Secure Zone
We wrote a substantial first impressions of the Lenovo K3 Note and overall, we were impressed by what we saw. Read our review at your earliest convenience to better understand why we loved this mid-range device possessing surprising high-end specs. A few unique features baked into the K3 Note make it stand out but we will talk about just one we loved the more we used it: Secure Zone.
Advertisement - Continue reading below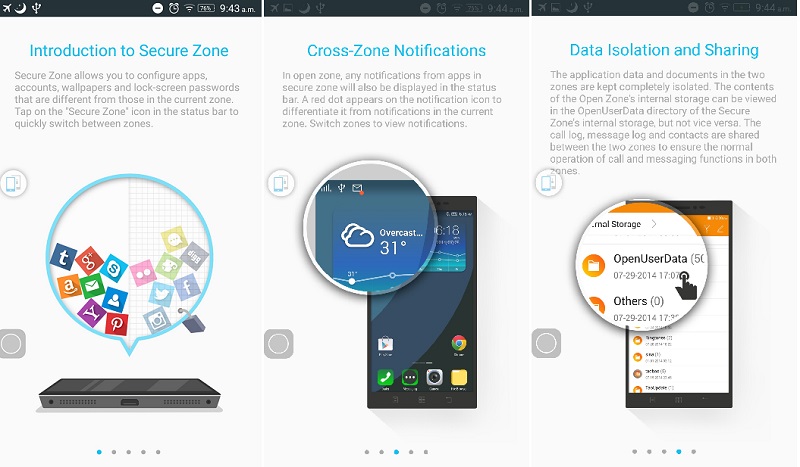 Secure Zone creates an alternate user account which you can run simultaneously with your 'Open Zone' (Regular account). Note that this differs from a similar feature in Android devices running version 5.0 (Lollipop) and above. Multiple accounts in Android do not run simultaneously and new accounts do not have administrator privileges
---
 Secure Zone Features
Cross-zone notifications: Notifications from Secure Zone are displayed in Open Zone with a small red dot to differentiate between the two. Unfortunately, while in Secure Zone, you won't see notifications in Open Zone.
Data isolation: App data and files are not shared between Open Zone and Secure Zone. Contacts, Messages and the Call log is shared though. This is enable the smooth running of this feature on your device. You can still access internal storage data in the OpenUserData folder.
Apps from the Open Zone can be shared with Secure Zone (App data will not be shared). What this means is that you can have dual accounts of your favorite apps running simultaneously. You can have 2 accounts of WhatsApp, Telegram, Skype, Google, etc in the two Zones.
A floating button on your screen allows for quick switching between the Zones. Both accounts remain active unless you delete Secure Zone. Unfortunately, you will notice a slight lag after switching to a new Zone.
You can secure your Secure Zone with a lock screen pattern, PIN or password to stop unauthorised access.  You can automatically switch to Open Zone after screen lock by clicking this setting Secure Zone Management.
Difference between Secure Zone and Multiple User Accounts on Android
The Lenovo K3 Note has both Multiple User Accounts and Secure Zone. The two are similar in many regards, differing only in functionality. Android 5.0 Lollipop (and up) have multiple user accounts, similar to what you find in PCs. To access another account, you have to exit the current one. Apps, app data and files are not shared between accounts. Only the initial account (Owner) has administrative privileges. In a guest or user account, you cannot perform a factory data reset.
While factory data reset can't also be performed in Secure Zone, a user has a few more privileges such as sharing apps from Open Zone. But perhaps the biggest difference between Secure Zone and Multiple User Accounts in Android is that Secure Zone runs simultaneously with the Open Zone account. Granted, this causes a certain lag in performance, but all round, it's not so bad. Switching between multiple user accounts in Android shows a similar lag. But nonetheless, when will you get to put the Lenovo K3 Note's 8 cores tot he test if not with this? You should note that in Secure Zone, you cannot access the Multiple Accounts feature
Advertisement - Continue reading below