Google announced the latest version of its Android operating system a couple of months ago. As usual, like previously released versions, the Android 9 Pie OS reinvented Android by overhauling some already existent features of the OS and bringing on totally new ones: App Actions, Dark Theme, Digital Wellbeing, Slices, AI-powered Adaptive Battery and Brightness etc.
What's Digital Wellbeing?
Digital Wellbeing is arguably one of the top 5 features of the Android 9 Pie OS. Basically, Digital Wellbeing is a new dashboard in the Android Pie Settings menu that gets you less addicted to your device. Or perhaps helps curb your smartphone addiction. Whichever the case might be, Google brought in Digital Wellbeing to save you.
Advertisement - Continue reading below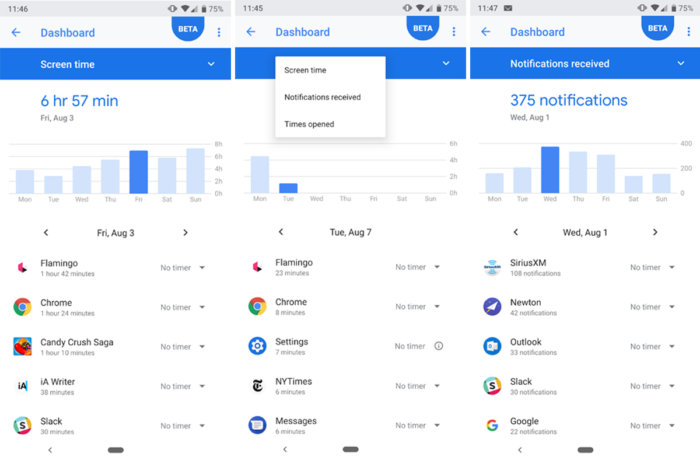 The feature was announced earlier this year by Google's CEO Sundar Pichai as a crucial part of Google's Digital Wellbeing campaign at the company's I/O 2018 conference back in May.
Digital Wellbeing is similar to "Screen Time", also a new feature announced by Apple in the recent iOS 12 update.
With Screen Time, Apple gleans usage data to provide insights on apps you use on your iOS devices, time spent on each apps, apps sending notifications the most, how often you pick up your devices, websites you visit, and a lot more information on how you use your phone.
The Android 9 Pie's Digital Wellbeing dashboard does the same…and more. It hands you a detailed picture of your digital habits, helps you focus on the important stuff, reminds you to take a break and most importantly, helps you disconnect.
How does Digital Wellbeing work?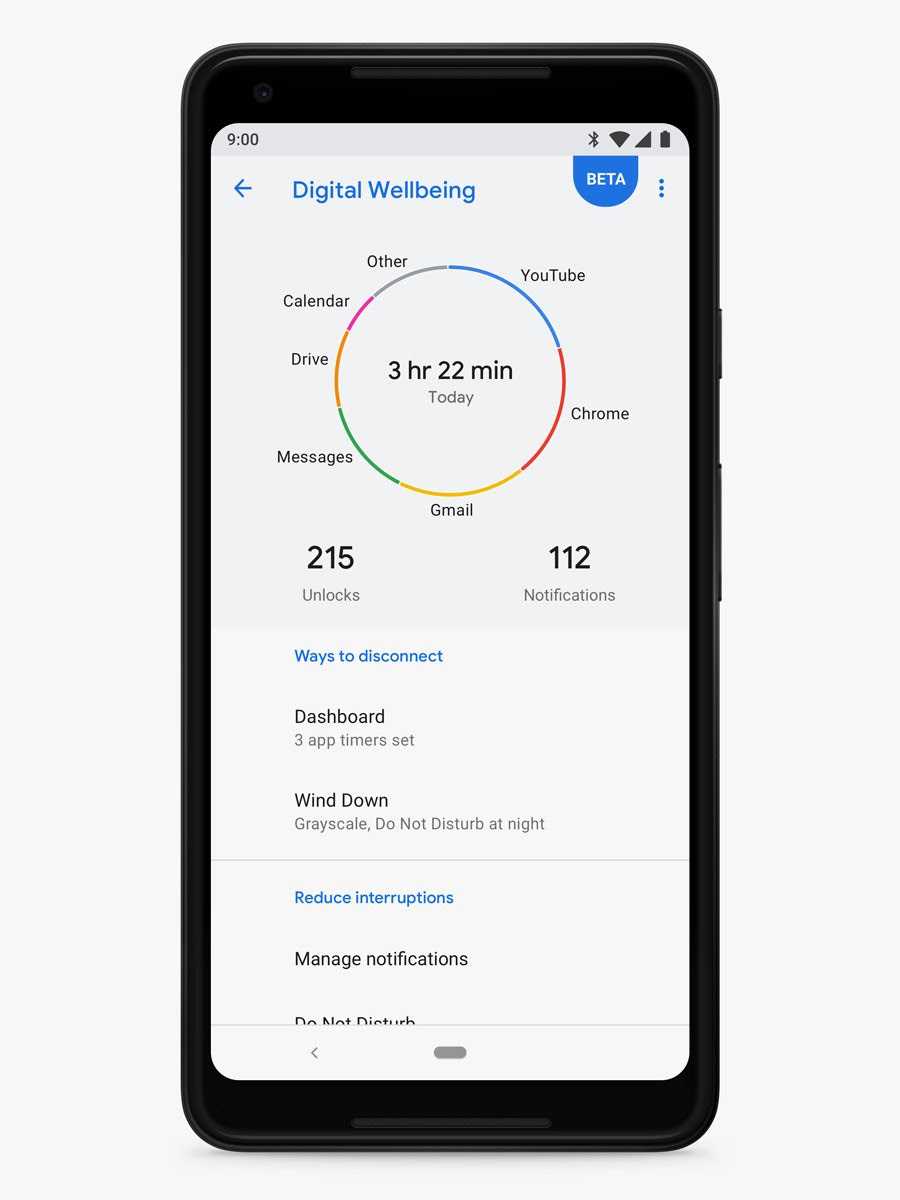 Advertisement - Continue reading below
The Digital Wellbeing dashboard looks simple and very organized. On opening the dashboard, you'll be presented with info on overall app usage, time spent on each app for the day, how many times you have unlocked your device, number of notifications received, how often you check your phone, and other insights as to how you have used your phone for the day, week, and month(s).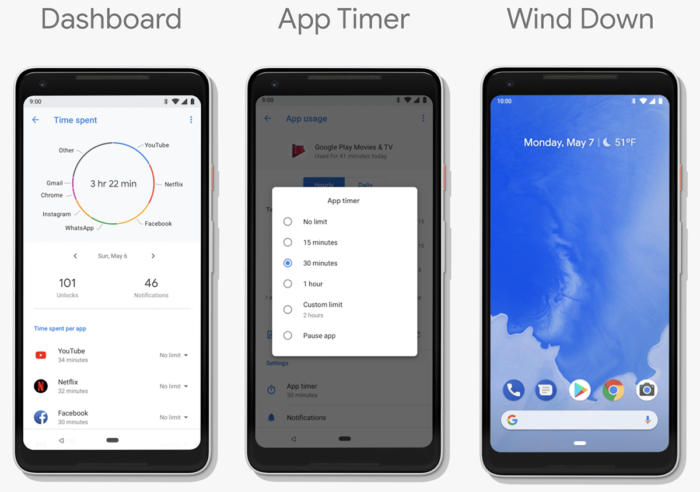 With this information, you can then proceed to do four things: Set a Timer, Wind Down your phone, Manage Notifications, and enable Do Not Disturb.
Digital Wellbeing: Timer
Timer basically allows you to set and customize a daily usage limit for all your phone applications, save for System Apps. Timer starts from 5 minutes up to 23 hours 55 minutes.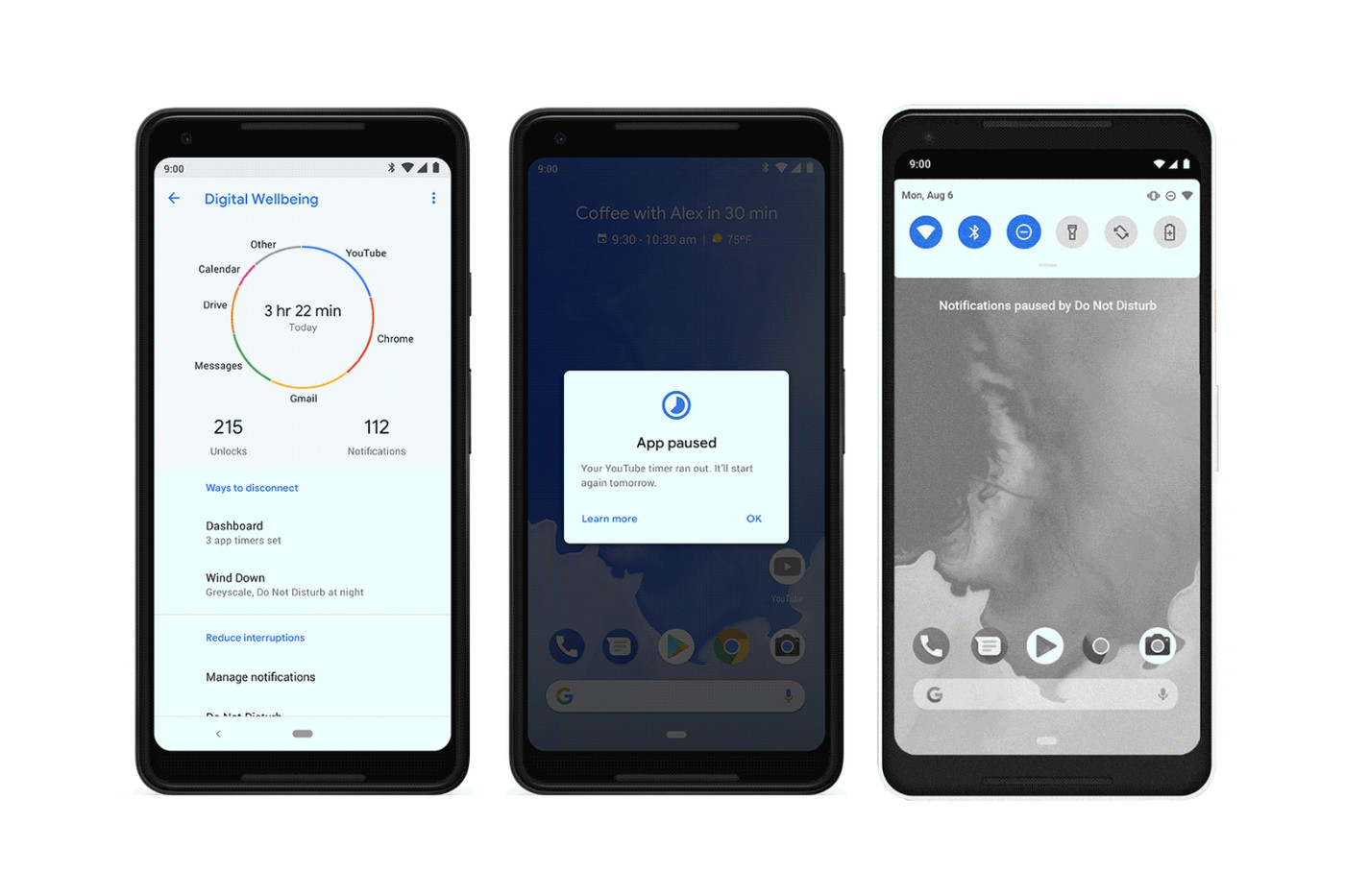 When you set a timer for a particular app, the countdown starts (in Digital Wellbeing) and will only appear on the app screen as a reminder when you have a minute left to use the app. Once the set time elapses, a message that prompts you to suspend using the app appears on the screen. You can, however, edit, extend, or disable the set usage time by clicking on the "Learn more" button on the pop-up message.
Notification Management
Advertisement - Continue reading below
This is not a new feature. It is only a shortcut to the regular "App Notifications" option found in your Settings menu. Here, you'll be able to turn off notifications of selected apps directly from the Digital Wellbeing dashboard.
Do Not Disturb
This is also not a new feature. It is merely a shortcut to the regular Do Not Disturb you'll find under the "Sound" option of your device's Settings menu.
Wind Down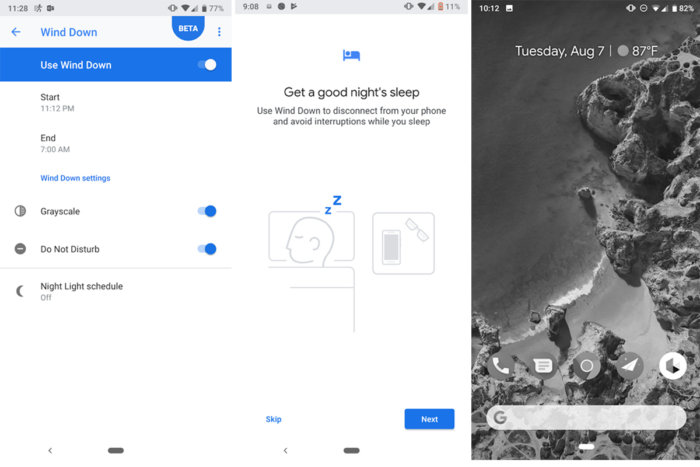 Wind Down is a feature of Digital Wellbeing that's designed to make you drop your phone, go to bed and fall asleep faster after long hours of using your phone during the day. Like Timer, Wind Down also allows you set a time/schedule after which it kicks into action. So, what does Wind Down do exactly?
Say you set the Wind Down schedule to 9 pm for every day, once it exactly 21:00 at night, Grayscale (turns your screen to black and white) and Do Not Disturb (hide all incoming notifications) are activated. You'll still be able to use your phone, though. But you'll also get to fall asleep faster with less light reflecting into your eyes and no messages to reply.
By morning (or whatever time you scheduled Wind Down to deactivate) your screen colour comes back to life and all (hidden) notifications roll in.
Advertisement - Continue reading below
How do I get Digital Wellbeing on my Phone?
Although Digital Wellbeing was officially announced as one of the new features of Android Pie, it didn't roll out with the OS as it is still in the Beta testing stage. That being said, only Google's Pixel smartphones can Beta-test the feature for now. Also, when Digital Wellbeing is officially rolling out to the Android 9 Pie OS, users of Pixel smartphones, Android One phones, and other "worthy devices" will be the pioneering receivers of the feature.
However, should you want to test the feature right now, all you need is Pixel smartphone running the Android Pie OS and follow the steps below:
Visit the Digital Wellbeing Beta website
Enter your email address in the provided space and ensure you tick "yes" on the "Do you have Android Pie on your Pixel?" question
Afterward, you will receive an invite email to begin testing digital wellness.
Accept the invite by clicking the link provided in the email to begin testing.
You will then be prompted to download the Digital Wellness (Beta) app from the Google Play Store.
NOTE: Digital Wellbeing isn't a standalone app. After successfully signing up to join the Beta testing program, the feature will be incorporated in your phone's Settings menu within 24 hours.