Whoever dares think our VPN days are over and tucked away in the annals of history couldn't be more wrong. History has a short memory and thus is wont to often repeat itself. VPNs in Uganda came to the forefront during the Presidential Elections of 2016 with the Government's unsuccessful bid to censure the internet. While the situation has calmed down at the moment, Opera's release of its free Opera VPN for Android couldn't have come at a better time.
On one hand, the government has merged the Ministries of Information with ICT to form one body. Frank Tumwebaze, a dyed-in-the-wool NRM stalwart has been installed at the helm which should be warning enough that government means business. And then there's Lukodo. The Anti-Pornography Committee's Shs. 2.6 billion budget allocation was the shot in the arm they needed. Now a 'machine' to detect pornography is on its way. From what has been said about it, Ugandans freedom to do whatever they feel like online will be curtailed. And VPNs will be back in fashion, at least until the Committee stops their witch hunt.
Advertisement - Continue reading below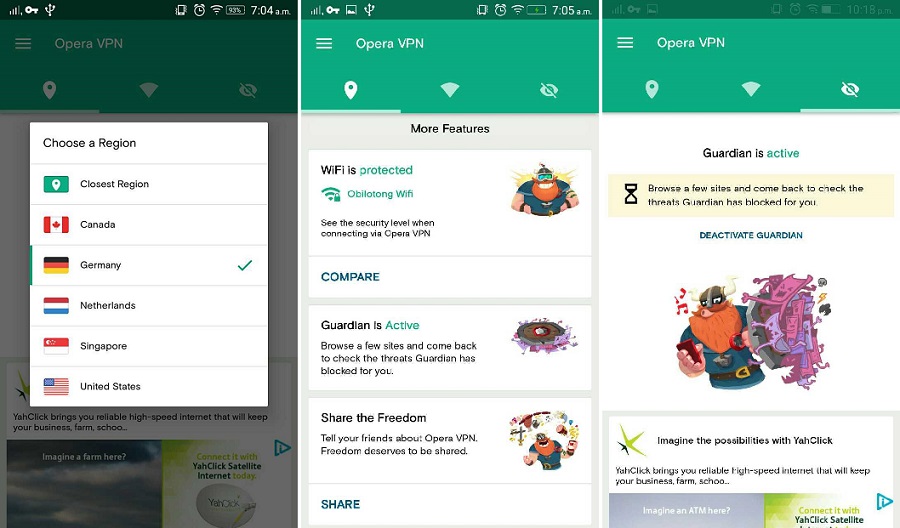 Opera VPN, unlike the ones we used before is totally free and unlimited in its usage. Once installed, it will blanket your online activities in their entirety. A key icon activates whenever the app is in service to indicate that you're covered. The whole process is streamlined and you will be secure with a few taps on your phone.
You can choose from 5 regions, Canada, Germany, Netherlands, Singapore and United States. By default, the app will choose the nearest location.
A Wi-Fi security test scans your network connection, sniffing out security flaws. Poorly secured networks will leak personal information to third parties. This test will determine and rate the security of a network you're connected to.
Opera VPN has the Guardian too which you can activate and deactivate at will. It  monitors your online network traffic and ensures you are invisible to ad-trackers.
Advertisement - Continue reading below
Ad-Supported
You will also notice that Opera VPN comes with some non-intrusive ads. This in our opinion makes perfect sense. Altruism can only go so far. Opera recoups its costs for developing and giving away a free powerful VPN by including a bunch of ads. Everybody wins.
Quotables: To help cover the cost of providing the service Opera VPN displays advertising and collects anonymous information. It's important to understand that this is not data about what you do with your phone, but rather this is data about how a large group of people use their phones. It's very much like taking part in a survey – there is very little value in your personal answers since your answers may not be representative of the larger population. This data is completely anonymized.
Specifically (and subject to our privacy policy), we collect the following items:
Usage data, like web addresses (but not content of the web pages) and IP address locations;
a randomly generated unique ID number;
Device type;
Browser type;
Operating system type;
IP address with date and time
     ~ Chris Houston, President and founder of Opera's Surfeasy VPN division
Opera VPN is powered by SurfEasy, a company Opera acquired in 2015. Opera for desktop already comes with an in-built VPN along with an adblocker. The same can be seen in the immensely popular Operamini browser app for smartphones. Note that this Opera VPN is different from Operamini. You can download Opera VPN from the Opera website
Update: Opera VPN has been indefinitely discontinued
Advertisement - Continue reading below