It goes by many names. Call it data extension, data carry forward, carryover data, rollover data; regardless what you may call it, data extension is when unused data from a bundle you purchased is added to a new bundle, before a set expiration date. Data extension is a controversial feature which some telcos have and others don't. Take an example of daily data bundles. Once the 24 hours elapse, the data magically disappears from your account. This used not to be the case a little while back. More about this in a moment.
During a chat with Kenya's iHub in 2012, Safaricom Kenya strongman Bob Collymore admitted data expiration with no extension was a bad practice and he promised to rectify the issue. He said:
Advertisement - Continue reading below
"When you go into a petrol station and fill up your car, does the owner of the petrol station tell you to bring it back on Wednesday to take back what's left in the vehicle? Of course not. So I ask, why the hell are we doing that?" ~Bob Collymore, Safaricom CEO.
You can read the post on  WhiteAfrican  and also watch the YouTube video from 1:17 when Bob makes the insightful quote above.
Safaricom, as market leader in Kenya has been likened to MTN Uganda. In 2015, Safaricom tried to cap data validity and it didn't go so well. They hastily made a U-turn and reinstated the rollover data
At the moment, a visit to Safaricom's website confirms that Safaricom allows rollover data. This extends validity for data from 7 day to 90 day bundles. Provided you load a new bundle before the old one expires, Safaricom will merge the old and the new bundles. The expiration date will change to that of the new bundle.
Safaricom Data Extension

How other telcos manage Data Extension
With the exception of Airtel, other telcos such as MTN, Vodafone, Africell and Smile offer rollover data, normally valid for 30 days for data starting with the monthly bundle. We could not confirm whether MTN offers a 30 day data extension, or whether the rollover data depends on one activating a new bundle before the old expired. MTN's their tweet replies were confusing to say the least.
Advertisement - Continue reading below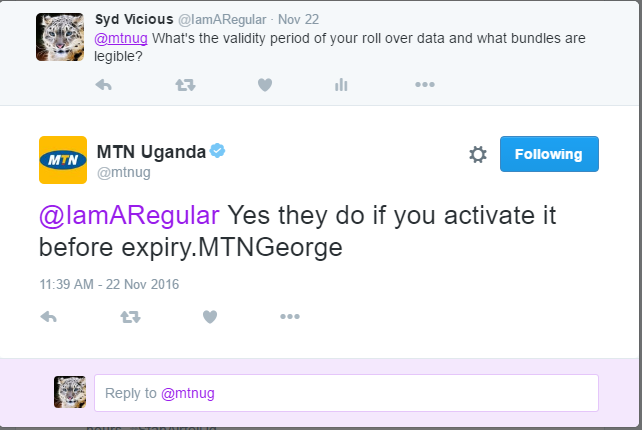 As for Vodafone, we checked with their data terms and conditions. Apparently one has to fill in a subscriber form before using rollover data. Unfortunately, the 30-day rollover data does not apply to daily, weekly or unlimited data bundles. Also you need to purchase the same exact bundle you wish to extend if it's to work.
(b) When you purchase a further data bundle of the same type (for example, if you are using a 2GB data bundle and wish to Carry Forward some or all of your unused data, you must purchase another monthly 2GB data bundle).

3.3 To use Carry Forward, you must also have completed and signed a customer subscriber form and accepted and agreed to adhere to the relevant terms and conditions (for example, our pre-pay terms and conditions or our post-pay terms and conditions). Vodafone Uganda Terms and Conditions
Airtel doesn't offer rollover data on any Bundle
A couple of years ago, Airtel did offer rollover data. What was even better was that you could use it for daily bundles as well. What I especially liked about the arrangement was that I could extend my daily data bundle if I loaded a new bundle before the old expired. In the last year, I have had no reason to load daily bundles because I have been using Wi-Fi exclusively and I am not as mobile as I used to be. During that time, Airtel has scrapped the rollover data. I called their customer care and was informed that this provision has never existed. I am yet to digest this revelation. Either I spent 3 years juggling my daily bundles in my dreams, or that Airtel customer care attendant needs a crash course in Airtel Uganda history.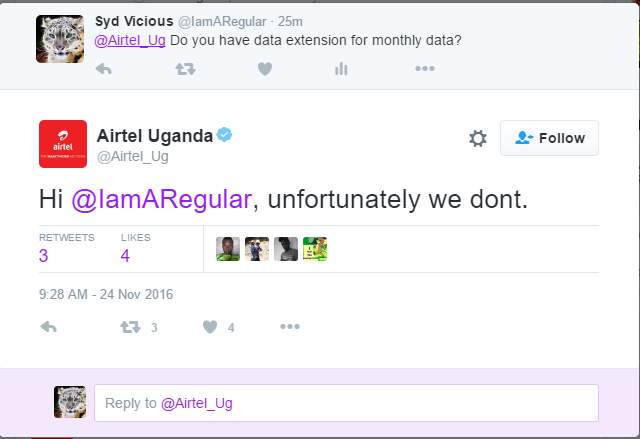 Where does the expired data disappear to?
In a perfect world, when you spend your money and buy something, that's supposed to be the end of it. I do not buy bread from Nakumatt and have Nakumatt attendants take it back when I don't eat it before it expires. Unfortunately, the same logic does not apply to telcos. We scoured the internet trying to better understand why data expires and where it goes.
We chanced upon a few nuggets, one from a Vodacom South Africa representative on mybroadband.co.za and another being a video clip by former MTN Group CEO, Sifiso Dabengwa. The Vodacom representative gave a good explanation but we are not technical people in this regard. We will leave his comment here nonetheless:
Advertisement - Continue reading below
"I'm amazed that people don't understand why there is roll-over, at least the technically minded ones. It's all about how Telkom sells bandwidth to the mobile operators, who then sells it as fixed data bundles to end users. The conversion from bits/second (as supplied by Telkom) to a fixed number of bytes (what you bought), requires a time component to set a price. It could be anything, from 1 day to 1 year, but the cost per byte would go the longer the bundle lifespan. 30 days seems to be the industry standard around the world." Vodacom Representative, MyBroadband
Sifiso Dabengwa took a different tack at cracking the mystery of expired data in an interview with Fin24 He said: "When you buy a Coke, don't you finish it? You don't buy a coke and hold on to it forever right? You buy a Coke and you finish it," Perhaps, alluding to the fact that abandoned sodas are later collected and disposed of.
"If I had a clearer view that it is finite – it's going to last a week or it's going to last a month – it just makes it much more efficient in terms of the overall process in the sense that you will buy what you need to eat.

"If I don't know when you're going to consume it, it makes it very difficult for my planning of the infrastructure, especially once you start getting into customer numbers above 10 to 15 million," Sifiso Dabengwa, former MTN CEO
Watch a video of Sifiso explaining why there is such a thing as data expiration from a telco's point of view.
Featured Image: http://www.bandwidthplace.com
Advertisement - Continue reading below