At the beginning of the year, as Corona pandemic swept the world and states of emergency were declared by one country after another, the Ugandan telecom companies already equipped with unprecedented power and influence mobilized to seize the opportunity by introducing affordable home internet solutions. Airtel debut the Airtel Broadband Internet around the same time to target home and office users with fully-fledged routers and support.
I managed to secure the Bharti-based company broadband internet a couple of weeks ago and started our journey to investigate if it's worth your attention. Will these pieces of equipment help set a new bar for home/work internet, or get lost in a sea of mediocrity? Find out later in our full review by the end of the month but here are our first impressions so far.
Advertisement - Continue reading below
Set Up and Installation
It's close to 2 weeks since I walked into the Airtel Service center in Ntinda to buy the Airtel Broadband Internet. Apart from getting an unhappy customer who came to understand why her internet hasn't been installed after two weeks, I was impressed with the customer service. I paid for the device on Tuesday 28th July,  and they called to fix the gadgets at home on Saturday 1st August. It was a pleasant surprise since the agent had promised me installation would be possible if not on Monday (almost a week later).
Key takeaways from the purchase process are you don't have to carry cash to buy the broadband internet as Airtel Uganda is trying to encourage people to use Airtel Money Pay (merchant solution). Even if you have cash, payments are only accepted using Airtel money. Here is how you make payments for the airtel broadband internet.
How to Pay for Airtel Broadband Internet
Step 1: Dail *185*9#.
Step 2: Enter the merchant code 100100449.
Step 3: Enter the amount to pay of 280,00 UGX.
Step 4: The customer care agent will tell you to enter the name of the service centre (in my case was Ntinda) as the reference.
Advertisement - Continue reading below
Step 5: You will give the customer care agent the Transaction ID (11 digits number) and your phone number.
Step 6: Carry your national ID to register the Broadband phone number, make sure your number matches the one you are using for the broadband number to efficiently help in activating the free monthly bundles that come along with the devices.
Alternatively, Airtel has launched an online shop on their website to help ease the purchase of the devices. However, I wouldn't recommend this option because Airtel hasn't properly optimized the installation process and digitized the value chain. At one point you will have to make your way to the Airtel service center to register your broadband SIM cards even after making payments online.
They haven't communicated this on their website which leaves room for misinterpretation by customers. Hence, dissatisfaction and cause for concern.
How to Activate the Free Airtel Broadband Bundles
Step 1: Dial *100*9#
Step 2: Select Option 2 of Broadband Internet
Step 3: Choose Option 2 of parent number
Step 4: Select option 5 of the Broadband number, enter your broadband number given to you by the Airtel technician.
Advertisement - Continue reading below
Step 5: Dial *100*9# again.
Step 6: Choose Option 1 of Free Bundles.
Step 7: Enter the broadband number again to activate the free 51GB for a month.
Broadband Internet Packages
| | | |
| --- | --- | --- |
| Bundles | Price(UGX) | Validity |
| 50GB | 100,000 shs | 30 Days |
| 120GB | 200,000 shs | 30 Days |
| 200GB | 300,000 shs | 30 Days |
The cheapest bundles go for 100,000UGX with 50GB of data which isn't a lot to any stretch of the imagination for an active internet user. This package is most suitable for commuters who leave (for work) for a fair share of the day and need to stream or get connected during evening hours when they come back.
The second option goes for 200,000UGX for 120GB of data which looks more worthy for families with kids connected to the internet all day and night.
Lastly, there's a 300,000UGX plan that offers a whopping 200GB of data. This suits the corporate environment. Again, that price point compared to the competition holds no value unless maybe you're out of coverage zone for the more favorable options.
---
READ ALSO: If Roke Telkom's Home data plans are really worth it?
---
Preliminary Speed Tests
Airtel is touting the broadband internet speeds to never fall below 10Mbps, but the preliminary real-worlds test shows a much different result. In the two weeks, the internet speeds averaged 4Mbps during night time and came close to the advertised 10Mbps only once at 8.1Mbps after 9 PM.
Advertisement - Continue reading below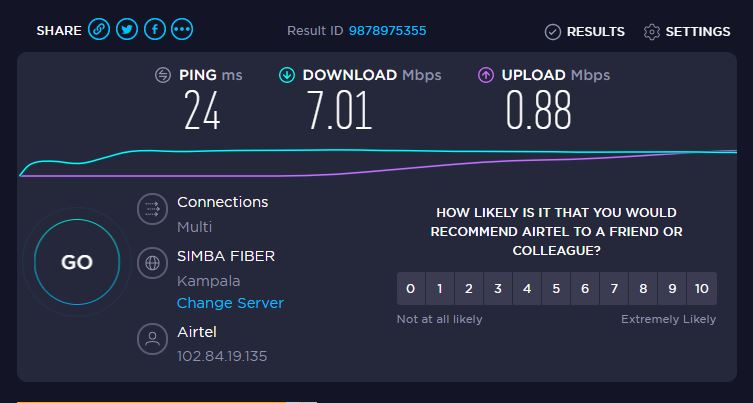 Nonetheless, I have been impressed with the speeds so far. They do not drop over the number of devices connected. I once had close to 10 devices connected concurrently to tryout if the rates will drop but didn't for one bit, which was a bit astonishing.
Coverage
Airtel claims they have a 100% 4G countrywide, which is a bit controversial if you travel across the country. However, Airtel Broadband is being advertised to be available in Kampala and Entebbe in the initial phase of rolling out the service.
The 100m x 100m indoor network coverage is top-notch so far, all my devices connected gets the same close speeds regardless of the room I'm using them in the house.
What We Don't Like So Far
Apart from the fact that the 51GB data comes with no OTT tax paid for your over-the-top social apps, Airtel Uganda has an explicit warning on their website that they can remove the equipment away from you if you don't recharge often.
Please note that the installed equipment remains the property of Airtel and the customer has to keep recharging to avoid disconnection and recovery of the equipment by Airtel. The equipment becomes customer property after 3 years of usage.
This is one obnoxious statement that I feel isn't necessary at all, most families are paying for these devices to get the kids online for classes and find school-related resources. Do you mean to tell me parents will lose their equipment in case school resumes and they haven't recharge for over 3 months?
Overall, it's a great device to help stay connected at home and for office usage. Expect a more in-depth analysis of the device and service in the full review. In the meantime, drop a comment to let us know what you think about the device.
Advertisement - Continue reading below