Be it working from home or homeschooling, our homes have inadvertently become spaces we spend the majority of our time, if not all. As such, a good internet connection is top on the list of must-haves. Roke Telkom's "Roke At Home" data plans offer some of the best deals in town.
And to put my money where my mouth is, I went ahead and installed Roke at my humble place of abode. What better way to put Roke's data to the test than an actual 'verified purchase' experience. After a month using Roke internet, below are some of our findings.
Advertisement - Continue reading below
Choosing a Data Plan
| | | | | |
| --- | --- | --- | --- | --- |
| Data Plan | Pricing | Quota | Speeds | |
| Classic Plus | UGX 100,000 | 40GB | 5 Mbps | |
| Unlimited Plus | UGX 250,000 | 100GB | 5 Mbps | |
| Fibre to the Home | Custom Pricing | – | 5 Mbps | |
Roke at Home offers three data plans to choose from; Classic Plus, Unlimited Plus and lastly Fibre to the Home (FTTH). The latter is currently only available in 6 apartments/estates around Kampala, so there isn't much to say about the service.
The cheapest of the lot is Classic Plus which for UGX 100,000 IGX 112,000 (Update: 26th July 2021, inclusive of 12th tax) grants you 40GB 60GB internet at a speed of 5 Mbps. That's not a lot of data by any stretch of the imagination. But on the plus side, Roke offers absolutely free internet to stream, download content, update devices and all else from the stroke of 7 PM to 7 AM the next morning. This bonanza is extended to weekends and public holidays.
The more popular choice remains Unlimited Plus. At UGX 250,000, UGX 280,000 you get 100GB 150GB quota at 5 Mbps. But unlike Classic Plus, once the 100GB 150GB is depleted, you won't be unceremoniously cut off. Instead, the internet speeds will be slashed to 1 Mbps (on and off-peak) until the next subscription.
In addition, Unlimited Plus shares the same free perks as Classic Plus. You still get free internet from 7 PM to 7 AM, weekends and public holidays.
Real-world browsing Speeds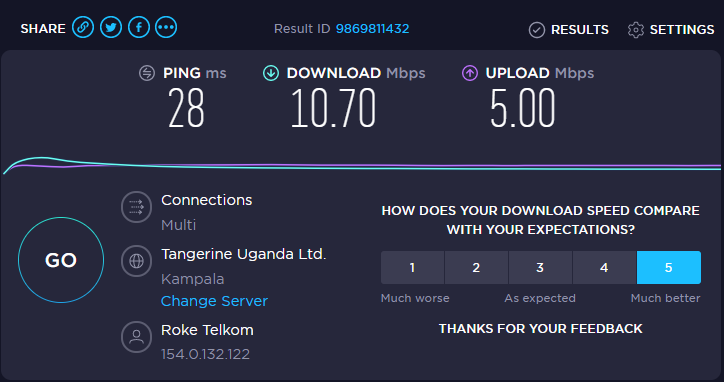 Much as the advertised Roke Telkom speeds are in the region of 5 Mbps, real-world tests show a different picture. In the month we took the Classic Plan for a spin, the internet speeds averaged at 10 Mbps during day time and the advertised 5 Mbps only once in a while.
Naturally, there are a few hiccups here and there. As someone who works exclusively on the internet, I cannot afford to not be online, so it inadvertently costs me money to lose connection. So other than UMEME blackouts, Roke kept their end of the bargain for the most part.
Advertisement - Continue reading below
To cut to the chase, the experience has been positive. I got to work tirelessly for the better part of the month without interruption. Afterwards, I made time to watch Netflix, DStv Now and YouTube on the big screen with minimal buffering. The Classic Plus plan works for me given that we're just two adults at home. Unlimited Plus comes into play if you're more.
Download speeds

If you're thinking of downloading torrents, forget about it. Roke massively throttles anything to do with torrents and downloads too for that matter. The best I managed was 800 Kbps with direct browser downloads. Torrents couldn't muster 100 Kbps on a good day. Usually, it hovers around 50Kbps.
Strangely enough, I have no problem with the download speeds. I don't spend every minute of my life downloading stuff. My priorities have shifted to maintaining a good internet connection for my work and good streaming speeds for Netflix and YouTube. Roke ticks both boxes for me.
Roke At Home Installation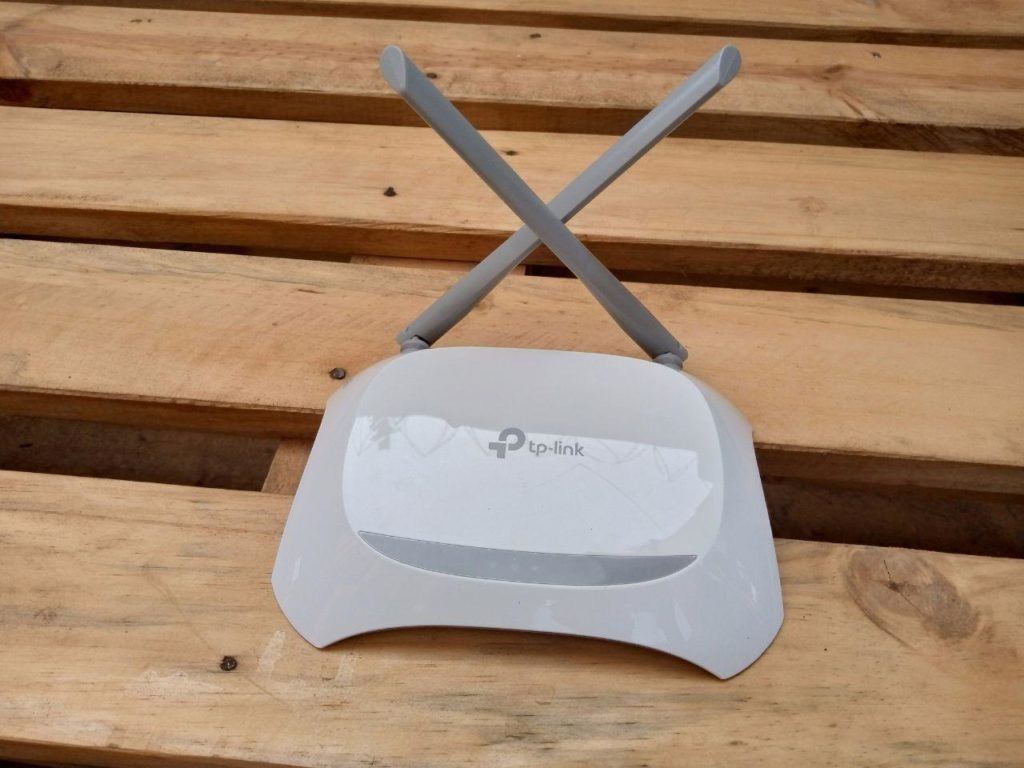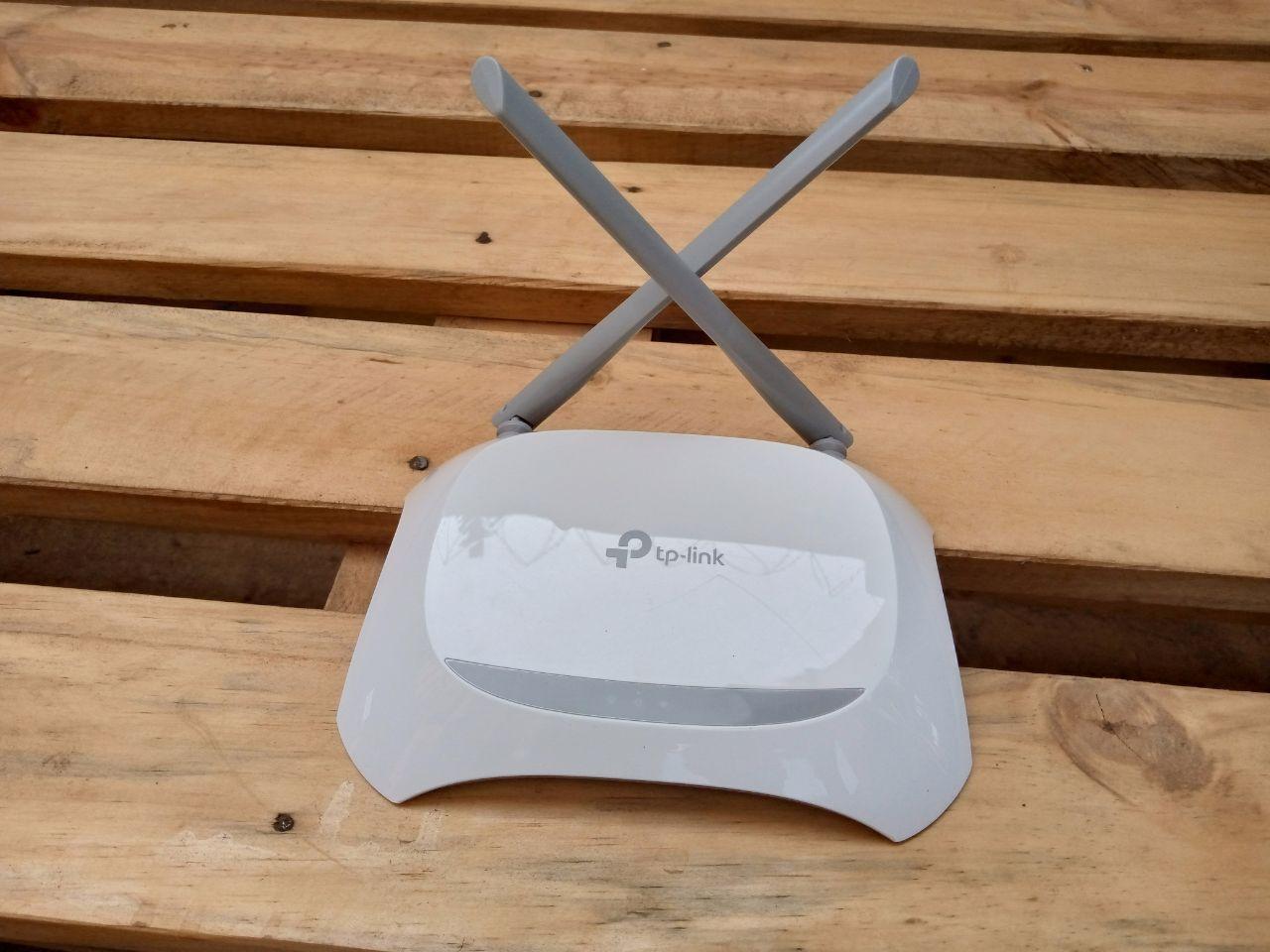 Wireless internet installation will set you back UGX 300,000. In truth, this is a 40% discount off the actual installation fee (UGX 500,000). The installation fee covers the purchase of a 300Mbps wireless TP-link router, a Cambium Networks ePMP Force 130 Subscriber Module and an integrated Antenna. A technician positions the Antenna facing the direction with the best connection.
Roke at Home internet is not plug-and-play like we are used to, though. It requires a technician to manually enter a bunch of IPs and configurations on-site using a laptop for you to access the internet.
As for Fiber to the Home (FTTH) clients, the going rate is only UGX 100,000. However, the range of a fiber connection is currently limited to a handful of apartments/estates around Kampala.
How to get connected
There are several ways to get a Roke at Home connection. You can send an email to [email protected] or fill a form on their website. Personally, I chose to call them directly on 0205000123 to expedite the process.
You will be requested for your particulars (name, email, phone number)and my GPS coordinates via WhatsApp so that a signal survey could be carried out. Afterwards, you will receive a customer ID and a quotation.
Advertisement - Continue reading below
Once you make payments, it sets everything in motion. The entire process takes a relatively short time. In a space of three days, I had a working internet connection.
Related: Top Uganda Home unlimited Internet 2020 edition
Verdict
It's refreshing that an internet provider under-promises and over-delivers on its promise. Roke Internet promises modest internet speeds, but the actual internet is rather fast and almost twice the advertised speeds.
I was sold the second I read that I got 100% free internet every day from 7 PM to 7 AM, on weekends and also on public holidays. There's no other internet provider on the market that offers this perk.
Roke goes a step further and offers zero-rated (free) access to a bunch of collaboration and education tools like Google classrooms, Google Hangout, Office 365, Teams, Skype, Trello and Zoom.
Photo by Hello Lightbulb on Unsplash
Advertisement - Continue reading below