The My Airtel App has lots of Easter Eggs for those patient enough to do the hunting. I mean, this underrated app is capable of paying bills, sending money, loading data or call minutes and paying for goods and service. But you know that already, don't you? Fair enough.
What you might not know is that the My Airtel app is also quite capable of toping up call and data bundles even when your Airtel Money wallet is depleted. And that's just the half of it.
Advertisement - Continue reading below
Tucked somewhere in the app is an option to top up your bundles using a Debit/Credit card (Visa/Mastercard) or MTN Momo. But it doesn't stop there. You can just as ably top up with M-Pesa, Tigo or Vodacom. The icing on the cake is that all of the over 100 million Airtel subscribers in 14 countries in East, Central and West Africa can access the same service.
Well then, talk is cheap. Let's get down to business and take you through how you can go about topping up with a wallet from another mobile network or your bank.
Topping up Airtel Call/Voice/Data bundles using Debit/Credit Card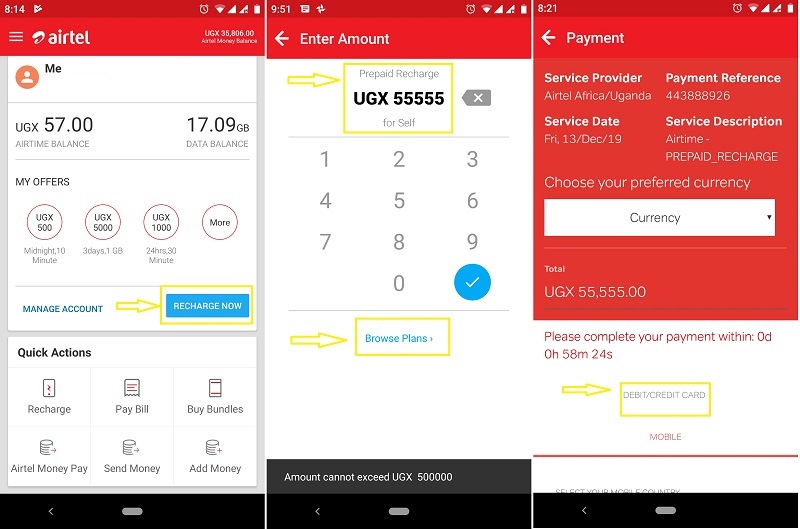 Open your Airtel App on Android/iOS
Tap on Recharge Now (coloured blue)
Enter Prepaid Recharge amount (for Airtime top-up), or
Click Browse Plans (at the bottom)
Choose between daily, weekly or monthly Data packs, Voice bundles, SMS, Combos, International Calls or roaming bundles.
Enter your email address (to connect a bank account linked to Google Pay)
If it's already linked, click on Debit/Credit Cards to proceed to the next step.
Scroll down to Debit/Credit Card Information. Tap on Name on Card to populate your Google Pay Visa/Mastercard bank details.
Enter the CVC Visa/Mastercard. (3 digit code on your ATM card)
Once your bank details have been populated, scroll down DPO terms and conditions. Read them, if you want to educate yourself about Direct Payments. Once you're done, tick the box to approve the terms and conditions.
Scroll down and tap on Continue to Pay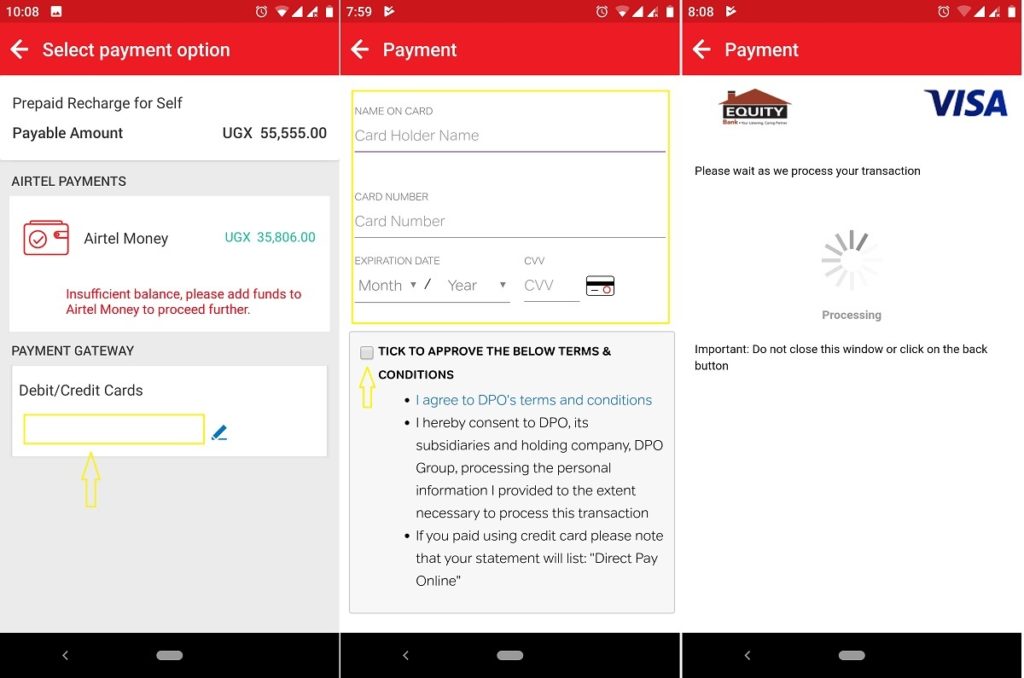 Read more: My Airtel App Review: Here's what's new with Airtel's new App
How to recharge for another Airtel number
Click on Recharge in Quick Actions
Enter phone/MiFi number or name from contacts. (Has to be Airtel)
Follow the steps above from Step 3
Topping up using MTN Momo/ MPesa/ Vodacom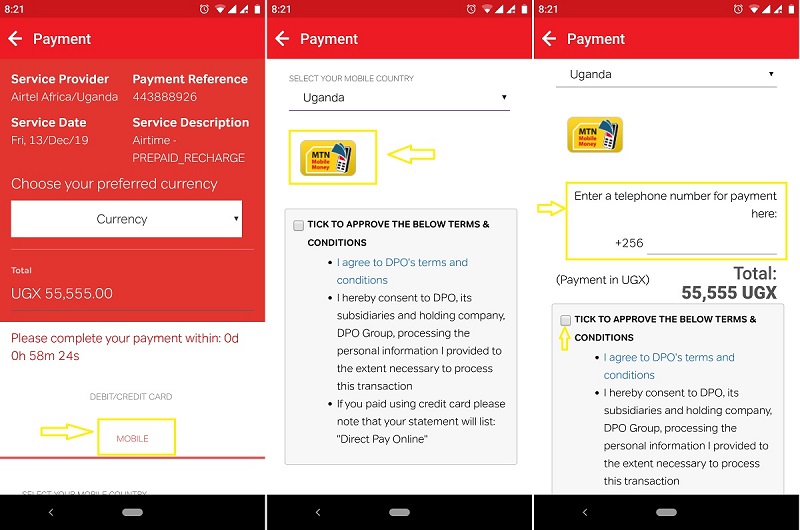 Follow the steps above from Step 1 to Step 5.
Enter an email address (to receive transaction ID)
In the new payment window that opens scroll down to the payment gateway and tap on Mobile
Tap on the mobile network (MTN, Safaricom, Vodacom)
Enter debit phone number (which will pay for the Airtel bundle)
Tick to approve the terms and conditions (read them first, if you like)
Tap on Continue to Pay
Point to note: Features and functions in the My Airtel App vary country by country. Airtel Uganda subscribers only have Credit/Debit cards and MTN. Tanzanian subscribers can only use Vodacom and Tigo whereas Kenyan Airtel subscribers only have the option for Safaricom's M-Pesa.
Photo by Code Mnml on Unsplash
Advertisement - Continue reading below