Voice bundles are still a big deal in Uganda. While the country has witnessed remarkable growth in internet adoption, the importance of voice communication cannot be underestimated. From high data costs to voice calls being more reliable, there are numerous reasons why voice calls are still dominating the telecommunications landscape.
Both MTN and Airtel Uganda offer all-network voice bundles. In this article, we'll compare the MTN Daily Voice Bundle and the Airtel BOONA Bundles to help you find the best option for your needs.
Advertisement - Continue reading below
These voice bundles allow users to make calls to any phone network in Uganda, regardless of which SIM card they have. This is a valuable package for people who need to make calls to friends and family who are on different networks.
Understanding MTN Voice Bundle
MTN Uganda has options for all network voice calls among its daily voice bundle packages. This package offers a specified number of minutes for calls across all networks, ensuring uninterrupted conversations.
There are four available options for customers to choose from. i.e. the 6 minutes,10, 25, and 70 minutes options at a price of 500UGX, 700UGX, 1000UGX, and 2000UGX respectively.
The bundle's validity is 24 hours and that has been my problem with MTN Uganda. It appears that they haven't given enough attention to voice call services. According to the market performance report from UCC, the final quarter of last year saw a growth in voice call traffic, reaching 17.1 billion minutes. This should be enough for them to give us more and better options as customers like the competition.
To buy the MTN voice bundles, daily *160*21# to activate the bundles.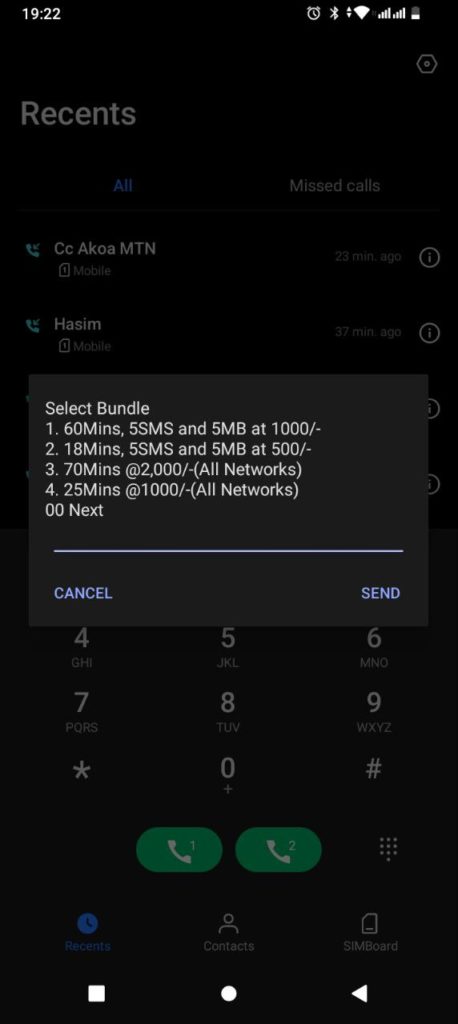 Exploring Airtel BOONA
Airtel on the other hand has an Airtel BOONA package. Designed to offer users all-network call minutes, BOONA has daily, weekly, monthly, and chillax bundles that don't expire for their voice bundles. This provides an alternative for those seeking competitive rates and extended validity.
Advertisement - Continue reading below
Airtel's customer-centric approach is reflected in the bundle's terms, accommodating different user preferences and requirements. The monthly Airtel BOONA packages is by far my favorite voice bundles and I subscribe at least twice every month to it.
To buy Airtel BOONA voice bundles, Dial *100*1# using your Airtel number. Choose option 1, Voice Bundles, and Select option 6, BOONA (Airtel/MTN). These are the available BOONA packages and their prices: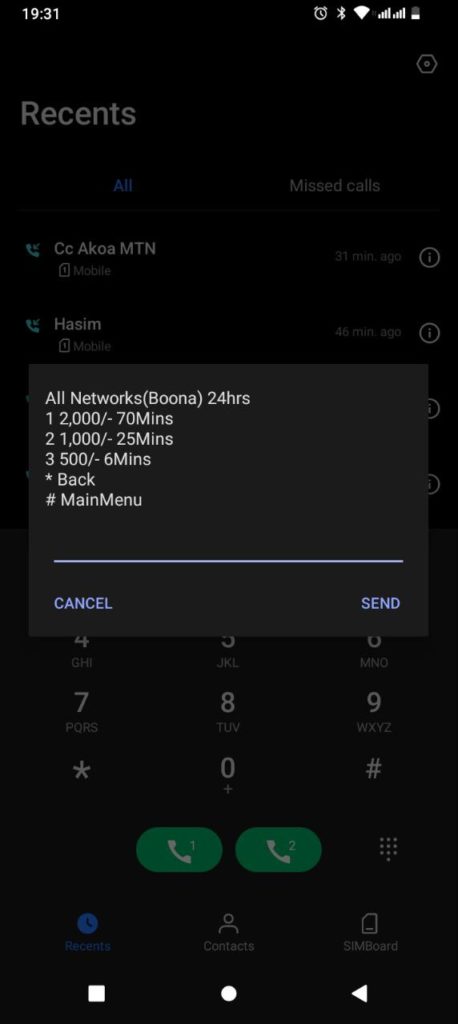 Comparison of Airtel BOONA and MTN Voice Bundles
Comparing these two voice bundles is crucial for making an informed choice. The pricing of the MTN Voice Bundle and Airtel BOONA can significantly impact budget-conscious users. Additionally, the allocation of call minutes and the validity period play a crucial role in determining the most suitable option.
Users must also consider the network coverage and call quality provided by each provider, as these factors contribute to a satisfactory communication experience. From experience, the Airtel Uganda network seems stable and available even in upcountry locations compared to MTN. The last time I was in the village, the only network I could use was Airtel, and came in handy when trying to make voice calls.
Features
Airtel BOONA
MTN Voice
Bundles Offers and Expiry
- Dialy,
- Weekly,
- Monthly and
- Non Expiry
- Daily
Daily Packages
- 6 mins at 500UGX
- 25 mins at 1.000UGX
- 70 mins at 2.000UGX
- 6 mins at 500UGX
- 10 mins at 700UGX
- 25 mins at 1.000UGX
- 70 mins at 2.000UGX
Weekly Bundles
- 49 mins at 2.500UGX
- 90 mins at 5.000UGX
- 250 mins at 10.000UGX
Not Available
Monthly Packages
- 160 mins at 10.000UGX
- 400 mins at 20.00UGX
- 800 mins at 30.000UGX
Not Available
Non Expiry Voice Bundles
- 90 mins at 5.000UGX
- 200 mins at 10.000UGX
- 1300 mins at 30.000UGX
Not Available
---
READ ALSO: MTN Uganda Kazi Bundles Explained and How to Sign up
---
The real-world experiences of users using both the MTN Voice Bundle and Airtel BOONA provide valuable insights. Positive feedback highlights the affordability and convenience of Airtel BOONA bundles. Users appreciate the benefits beyond calls, such as availability and network coverage for Airtel beyound the city area and manjor towns around the country.
Which Voice Bundle is Right for You?
The best bundle for you will depend on your individual needs. If you're a heavy caller who makes a lot of off-net calls, then the Airtel BOONA bundle is a better option, and it provides more options to choose from. However, if you're a light caller or you mostly make on-net calls, then the MTN Daily Voice Bundle is a good choice. Share with us in the comment section what you use and your reasons for doing so.
Advertisement - Continue reading below