Airtel Uganda has unveiled a new non-expirable internet data package dubbed as Chillax Bundles. The idea of data bundles that don't expire is new in Uganda with MTN Group starting the wave with MTN Freedom Bundles back in 2019 and later revamped the offers at the beginning of this year.
The new chillax bundles come in 5 different packages with the cheapest bundles starting at 7500UGX for 1.5GB of data and the most expensive bundle being 40GB for 100,000UGX. Keep in mind, these bundles only work when you have a 4GB enabled sim card which can be gotten from any Airtel service center across the country.
Here is the complete list of different packages and their prices;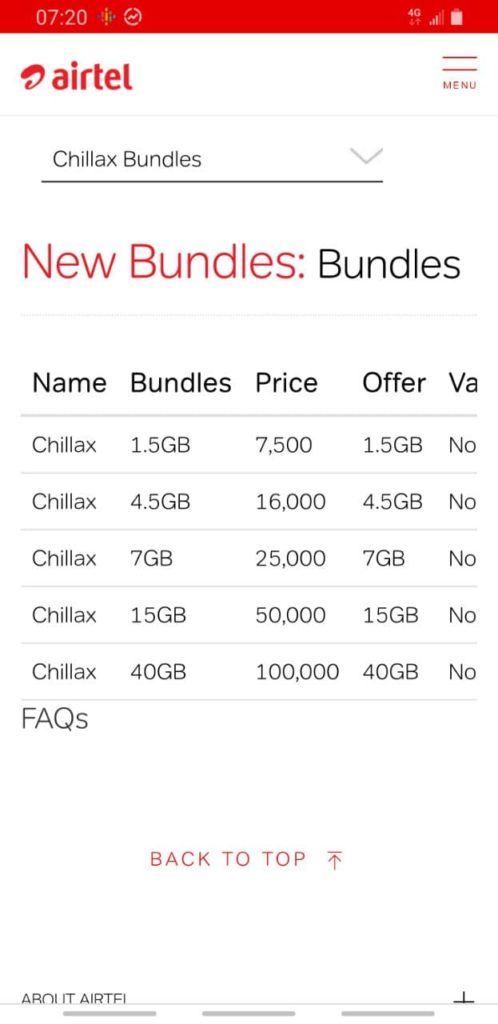 How to Buy Airtel Chillax Bundles?
Buying Airtel chillax bundles is straightforward like buying every bundle. You can use both the USSD options or via the myAirtel mobile app. Here is a step by step flow of how you can buy the Airtel chillax bundles;
Step One: When you decide to use the USSD option. Dail *175# which is the general option for buying internet data on Airtel.
Step Two: Select option 7 of Airtel Chillax bundles and choose your option between the first options.
Step Three: Pay for the bundle either using Airtime or Airtel Mobile money and enjoy a new form of data that doesn't expire until you depleted them.
Advertisement - Continue reading below
Step Four: When you choose to use the myAirtel app. Open the app, choose the option of Buy Bundles, enter the phone number you are paying the data for and scroll down to Chillax data bundles and select the package you are interested in buying.
Airtel Chillax Bundles Compared with MTN Freedom Bundles
Customers are always looking for a good deal from these telcos especially when it comes to internet data options. Since both are offering more like the same data package, the next best thing is to put them side by for you to decide which offers the best value for you.
For starters, it's worth noticing MTN Freedom bundles offer a wide range of bouquets to choose from 7 options instead of 5 for Airtel Chillax bundles. They start with the cheapest data option at 100UGX for 6MB and another second package of 80MBs for 1000UGX.
The differences are quite negligible and found in only two packages. Airtel Uganda offers 1.5GB for 7500UGX meanwhile MTN has 1GB for 5000UGX. The next differences is Chillax bundles offers 4.5GB for 16,000UGX and Freedom bundles offer of 4GB at 15,000UGX.
We will do an in depth test of the bundles later and publish a new article comparing the two differences. How long is take to depleted? and Speed test results. For now, let us know in the comment section if you are excited for these new form of non-expirable data as a customer.