WBS TV "Where Quality Matters" is no more! Effective today 14th December 2016, will cease to operate as a company in Uganda. Rumours of Wavah Broadcasting TV station's impeding doom started soon after URA flagged the company for failure to remit taxes amounting to Ush. 7 billion. As they say, there's no smoke without fire; today's announcement on WBS TV's Facebook page proves it wasn't just any fire but more like a bonfire. Some unnamed 'regional outfit' came windowshopping and ended up purchasing themselves a TV Station in dire straits.
According to Techjaja, the mysterious 'regional outfit' is none other than Kwese TV, a subsidiary of Econet, a diversified telecommunications group with interests in Africa, Europe, South America and East Asia. Kwese TV and Econet are the brainchild of Zimbabwean telecom guru Strive Masiyiwa. So much for secrecy.
Advertisement - Continue reading below
---
Quotable: "As you are aware, WBS Limited was placed under receivership by Uganda Revenue Authority to recover over Shs. 7 billion in unpaid taxes. It had been hoped initially that the company would be revamped through employment of various turnaround strategies that would restore the company to solvency and recover all the taxes due.
Unfortunately, this option proved unviable on account of lack of capital to meet urgent needs necessary for the preferred turnaround strategies. As a result, the only option available was to sale the company's assets to realise the monies due. I therefore wish to confirm the numerous media rumours that you must have read about that the assets of the company have been sold to a respectable regional outfit that promises you a much better product and partnership than WBS could possibly have ever give[n] you.
The transaction now being concluded has been approved and consented to by various government agencies including Uganda Communications [Commission] and Uganda Broadcasting Corporation. As a result of this development, WBS Limited will cease to operate as a public broadcaster on 14th December 2016 in line with undertakings made to the industry regulator, Uganda Communications Commission. Therefore I regret that all the company's existing contracts will have to terminate by that date," Kabiito Karamagi, WBS TV Receiver/Manager
---
You can read the entire announcement on WBS TV's Facebook page which last posted anything 22 hours ago at the posting of this article.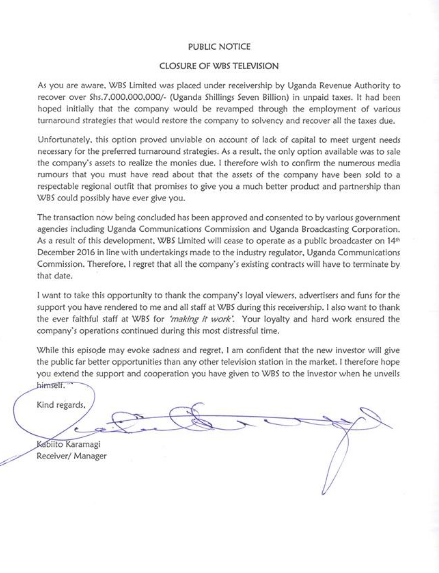 WBS TV was launched in 1999 at a time when the best Ugandans had on offer was UBC TV (by then UTV) and a few others. Forget the unwatchable time capsule the current station become in the last few years. WBS in it's day brought us 90's kids the best cartoon and latino soap opera lineup not to mention news for the grownups. I am talking about Power Rangers, Teletubbies, and  La mujer de mi vida (don't mind that this soap was milked for 10 straight years and Barbarita became a legit baby girl's name) Owing to their financial troubles and God-knows what other issues, many people have forgotten the many years WBS actually was where quality mattered. We went to their website [www.wbs.ug] and shed digital tears at how horrible a state it was in. Perhaps letting was was the best thing to do under the circumstances.
Advertisement - Continue reading below
Featured Image: eagle.co.ug