Whenever someone wants to buy a new TV they always ask the same questions. How good is the display, sound, design, and more importantly, what's the price? The TCL C8 is a 4K Ultra-HD Android-powered Smart TV with support for HDR 10, Dolby Vision, Dolby Atmos surround sound, Wi-Fi, and Bluetooth, just to highlight a few features.
The C8 comes in two screen sizes; 65-inches and 55-inches. The one we reviewed is the 55-inch variant. Both models are identical and the only difference is price and size. At the moment, the 55-inch variant retails for KShs 62,000 ($585) in Nairobi while the 65-inch one goes for KShs 110,000 ($1,038). The C8 model was released earlier this year (February 2020) though I have only been using it for just over 3 weeks now.
Advertisement - Continue reading below
In this TCL C8 review, we'll walk you through all you need to know about the Smart TV before buying it.
---
Also Read: TCL C8 Android TV: Unboxing, Impressions, and Price in Kenya
---
TCL C8 Design
The frame of the TCL C8 is made of steel while the lower part back is made of plastic. It looks absolutely amazing with very thin bezels. You barely notice them while watching the TV or playing video games. Overall, it is a beautiful TV with a sleek design and a slim form factor.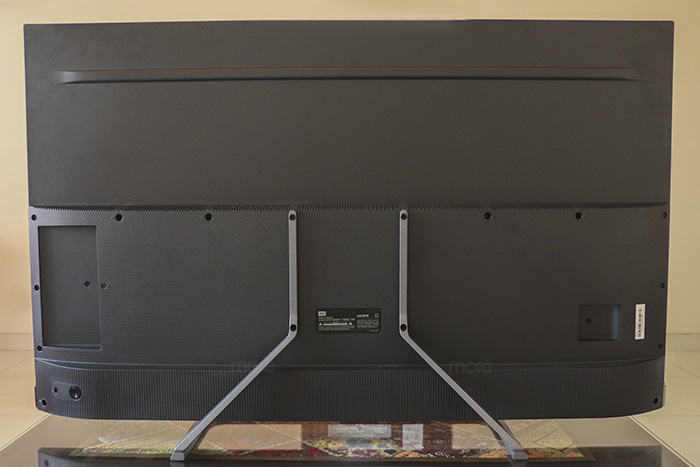 On the front bottom, the C8 has the Onkyo Soundbar whereas the back has the usual I/O ports, power button, and mic switch. We will go over the I/O shortly. It's really considerate that TCL has provided a dedicated mic switch for the Far-Field Voice Control. If you are concerned about your privacy, you can manually switch off the mic from the back of the TV.
Whenever the Far-Field mic is on, four orange LEDs light up below the TCL logo on the soundbar.
---
Also Read: Tcl Roku vs Android TV-Powered Smart TVs
Advertisement - Continue reading below
---
The C8's Display
The display is crisp and bright. It's a 4K (3840×2160) 60-hertz OLED panel which supports most of the latest display technologies. The technologies supported include HDR 10, Dolby Vision, micro dimming, WCG, and MEMC. These enhance the user viewing experience by bringing out cinematic details at a greater level.
You can comfortably use the TCL C8 in well-lit rooms because the display panel can get quite bright — up to 1200 nits when watching HDR content. Did I mention that you can game at 4K 60fps courtesy of HDMI 2.0 support? Yeah, next-gen consoles will pair very well with the C8.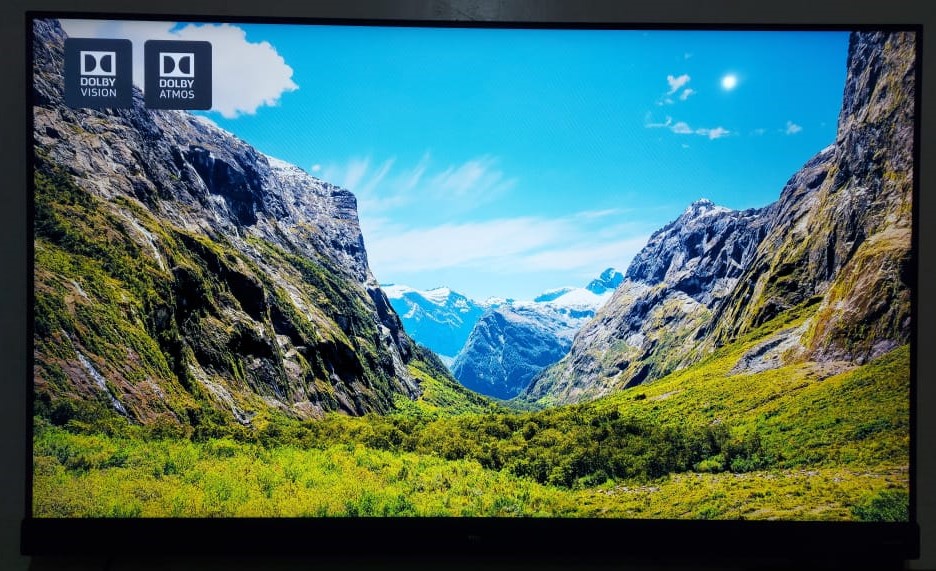 I've been playing FIFA 19 from my PC on this huge screen, considering the price point I'm impressed by the gaming performance. If you're considering the TCL C8 for gaming purposes, you should know that it has a dedicated Gaming Mode. When turned on, it drastically improves the response time in games.
At first, when I plugged my PC, gaming was okay, but overall it just seemed a little bit laggy. After turning on "Gaming Mode", the response time improved noticeably. The only complaint I have about the display is that while watching wide-format (16:9) content, the black bars at the top and bottom of the screen are not quite as black as I would like them to be.
Especially so while watching movies at night with all lights turned off, as I would assume most people do.
---
Also Read: Roku TV OS Review: Smart TV and Online Streaming for Everyone
---
Motion Enhanced Motion Control (MEMC)
The C8 display also supports TCL's proprietary MEMC technology. This is just like other manufacturers have algorithms for the same purpose. The basic purpose of this algorithm is to remove motion blur and provide a sharper picture for video content recorded on higher frame rates, such as sporting events.
All it does is basically provide extra frames to your normal 24 FPS content and sometimes it looks noticeably fake. Also, keep in mind that you cannot entirely disable this MEMC technology on the C8. You can control MEMC but cannot turn it off. To reduce its effects, go to the "Judder Reduction settings" and lower the count to 0.
Advertisement - Continue reading below
Noticeably, this technology is not welcome in movies and videos which are optimized to watch at 24 FPS and not 60 FPS. I hope they consider this and allow us to turn off the MEMC technology in the settings. That can be achieved via an update in the near future. The C8 has built-in TV modes that detect HDR or Dolby Vision content.
When the software recognizes it, it automatically switches to the respective mode. It even temporarily displays the respective technology logo on the top left of the screen.
---
Also Read: RokuTV, Android TV, WebOS, Tizen: Understanding smart TV operating systems
---
Picture and Sound Modes
Moreover, the C8 has standard built-in picture and sound modes that you can manually choose from according to your desires. You can also manually configure each display and sound settings if you wish to. There is an option to turn on the surround sound visualization. It's totally up to you, but in my experience, the sound quality deteriorates, you can try it out.
Additionally, whenever gaming mode is turned on, you cannot switch picture modes. Also, there is no option to turn off Dolby Vision just like Dolby Atmos. There is this neat feature called "Audio Only" that I use quite often. What it does is to power off the display but keeps your audio playing in the background. Yeah, I know it's not a lot but it's something.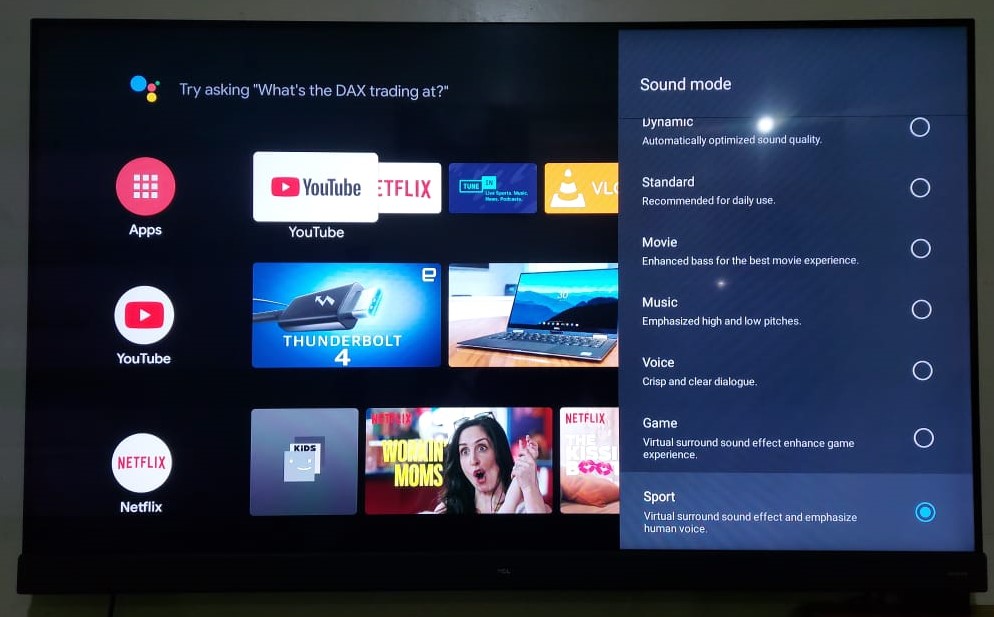 The C8 comes with Onkyo's 2.2 soundbar which has 2 speakers and 2 subwoofers. Though Dolby Atmos will work best with an external 5.1 or 7.1 channel surround system, the soundbar is deep, loud, and clear. Bass is not that high but the surround effect is appreciable.
---
Also Read: Streaming Sticks vs Smart TV: Should you get both?
---
It's Not All Perfect
Something that has been grinding my gears is poor integration with external audio systems. I'm yet to find a way to disable the inbuilt speakers and route the TV's audio to an external sound system. The closest you can get to achieve this is by reducing the TV volume to 1. If you reduce the internal volume to 0, the mute icon appears on the screen which doesn't sit well with anybody with an OCD.
Advertisement - Continue reading below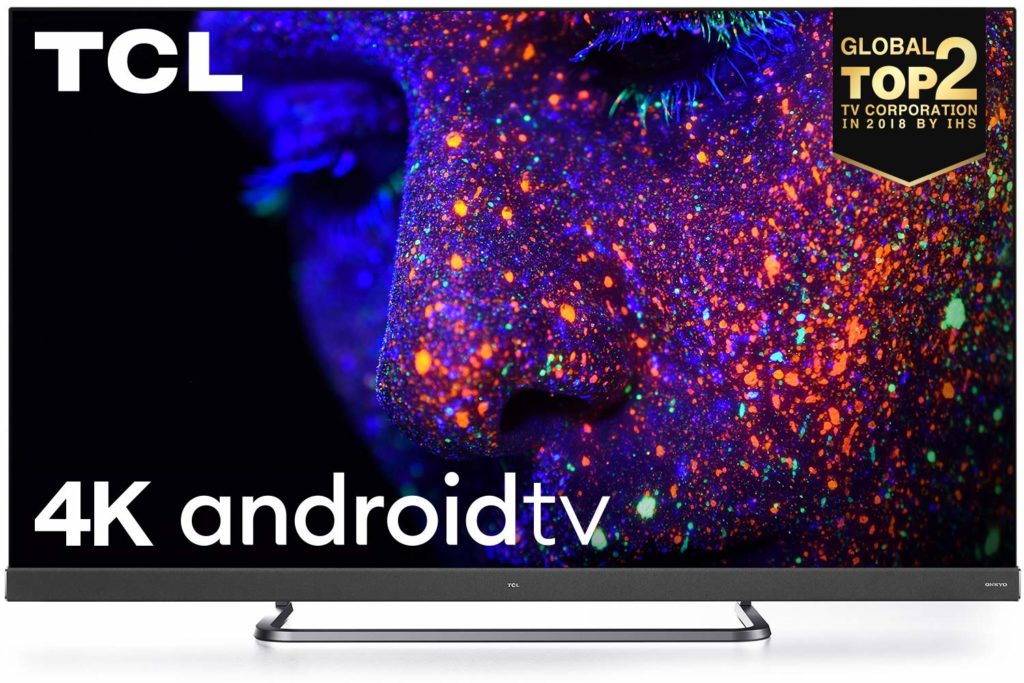 I have the TV hooked to a Sony BDV-E6100 sound system via an optical audio cable and I cannot control the audio system's volume using the TV remote, for whatever reason. That makes me miss my Xiaomi Mi Box S from which I could control both the TV and audio system with just one remote.
The Mi Box had HDMI CEC support which meant whenever I powered it on, it could automatically power on my former TV and audio system via HDMI. It also gave me full control of the audio system's volume. To be fair, the C8 also has HDMI CEC in the settings. It just didn't work out for me. Life was much simpler with just one remote to control everything.
Three weeks in and I'm yet to get used this 2-remote thing. End of rant.
---
Also Read: Xiaomi Mi Box S Review: Android TV on any TV for a decent price
---
TCL C8 Software
The TCL C8 runs on Android 9 out-of-the-box. So you can also install all the supported Android apps and games from Google Play Store. However, I'm kind of disappointed by the poorly optimized software. Sometimes it lags even during simpler tasks such as increasing the volume or switching between apps.
I hope TCL fixes the issue in the next update. Thanks to the built-in Bluetooth. You can connect multiple accessories along with the Smart Remote. You can pair your gaming controller as well and use it to control your TV or play Android games with it. However, most of the Android games will not run properly on the C8 due to the not-so-powerful chip.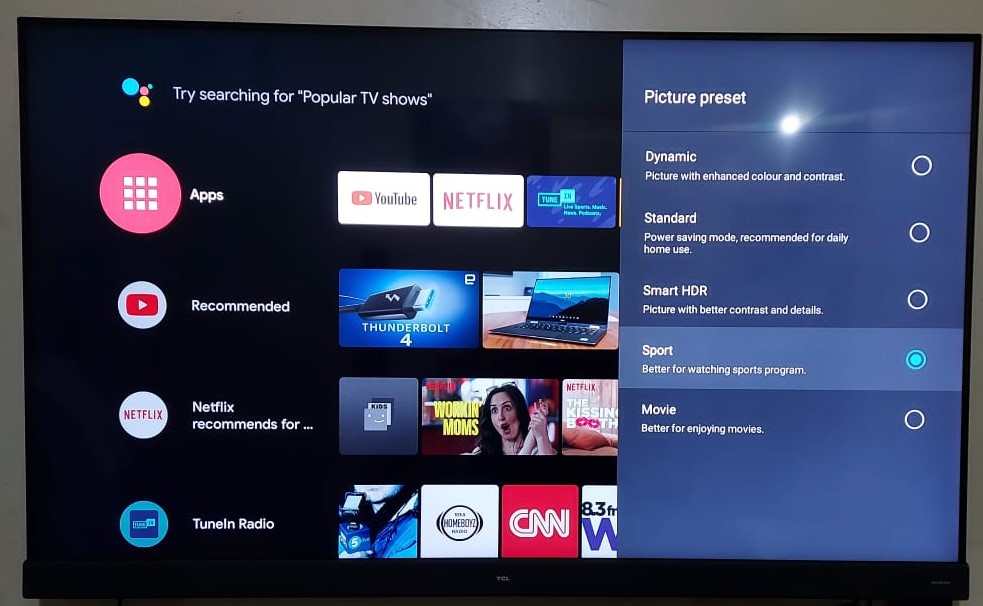 After all, the C8 is primarily designed and optimized for watching videos, not as a gaming rig. In my experience, controlling the TV by a controller is much better than using the remote. Again, this is up to user preferences. Overall, the video viewing experience on TCL C8 is absolutely amazing.
There is support for Google Assistant which is voice-activated. You can ask Google Assistant to play your favorite movie or song on your favorite app. There is also support for Alexa, but I haven't tried it so I cannot comment on it right now.
Advertisement - Continue reading below
---
Also Read: Safaricom Unveils an Android TV Box for Internet Streaming at Ksh 6,999
---
TCL C8 Hardware and I/O
The C8 has a 64-bit mobile processor and a Mali 470 GPU with 2GB of RAM and 16GB of internal storage with a power consumption of 180W. This hardware is decent enough to do the usual TV tasks but not powerful enough to run android games. In terms of connectivity, you get dual-band Wi-Fi, Ethernet port, 3 HDMI 2.0 ports, Coaxial cable Port, S/PDIF, USB 2.0, headphone Jack and a mic.
The selection of I/O ports is decent enough, except for the USB 2.0 port. I think they should have gone for at least USB 3.0. Also, the software can detect inputs and allows you to rename them according to your preference, which is a pretty handy feature. The TCL C8's support for 5 GHz Wi-Fi means you can stream 4K HDR content easily at the full speed of your internet connection without any lag.
---
Also Read: Streaming Stick vs Streaming Box: Which Is Better for Watching Online Content
---
Smart Remote
The remote is minimalistic and pretty light. It has all the bells and whistles that you would expect from a TV smart remote. Except for the fact that it does not have a mute button. Again, I don't know what TCL was thinking. Smart remotes need to be paired via Bluetooth before using it wirelessly, else you need to point it directly towards the IR blaster on the TV.
To conclude the TCL C8 review, it is my opinion that it is a decent Smart TV that is incredible value for money and packs enough future-proofing for the next 5 or so years. I also think this TV is suited for budget gamers who are not looking for a 240Hz or a 144Hz display, but for just a TV with great display properties.
---
Also Read: Roku Express vs Fire TV vs Chromecast vs Apple TV vs Mi Box S: What Streaming Device Is Right for You?
---