If you want to stream content online, you'll be spoiled for choice. The easiest route for most people is simply buying a Smart TV, LG, and Samsung to be exact. But even with a smart TV, you'll find yourself missing out on certain streaming services that aren't natively supported by even the latest Smart TVs. Therefore, you'll find yourself buying one or two more streaming devices to compliment your TV. Personally, I have the Amazon Fire TV Stick, Chromecast, Xiaomi Mi Box S 4K and Roku TV that I regularly hook up to the TV to stream specific services.
However, if you already have an existing TV that's not Smart, then the fastest and cheapest way to supercharge it is with streaming device. These devices come fully loaded with their own software and hardware that instantly connect your existing TV to myriad internet streaming services.
Advertisement - Continue reading below
So, whether you already have a smart TV or an ordinary HDTV, you'll find yourself wanting to complement your home entertainment experience with an additional streaming device. And they are many. So the next question then is; which one is right for you? The task of comparing these products in one single post is daunting, but we shall try to do just that.
---
Related Post: Streaming Stick vs Streaming Box: Which Is Better for Watching Online Content
---
Now I should mention that this post is targeted towards non-U.S residents. Since I am reviewing this stuff from Uganda and in-light of content-geo restrictions, these devices work differently according to different regions.
Roku
Roku is hailed as the company that validated the market of internet set-top-boxes or media players. A spin-off of Netflix, the company has released a wide range of low-cost streaming devices since 2008. The current 2019 models include the Roku Express, Roku Premiere, Roku Streaming Stick+, Roku Ultra.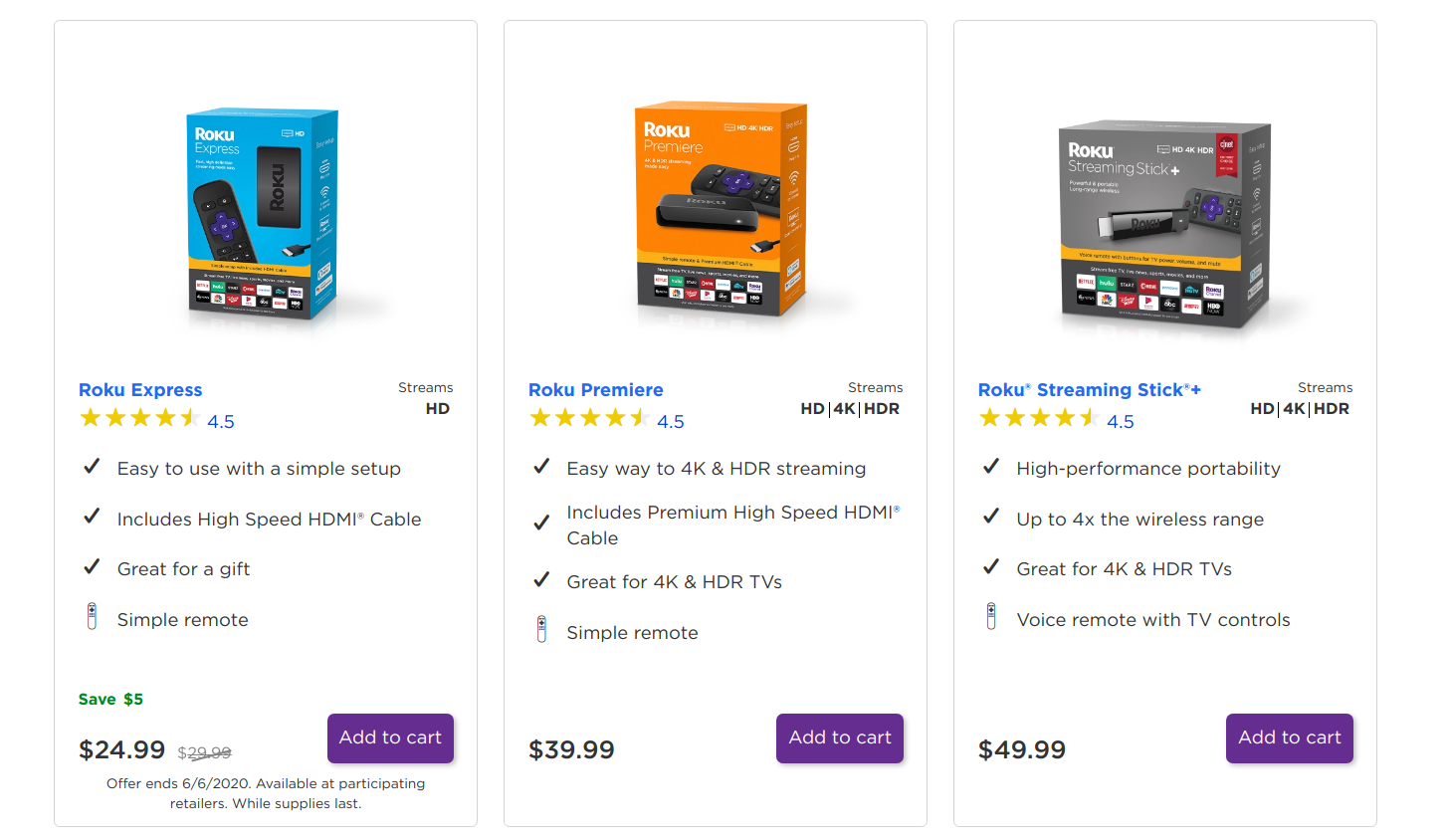 The Roku Express is the cheapest, costing only $24.99 on Amazon but supports only HD content. Roku Premiere is the second least expensive at $39.99. Unlike the Express, it sports 4K HDR Content. Roku Streaming Stick+, Roku Ultra support 4K HDR but with additional WiFi 5. The Ultra adds an Ethernet port and 2GB of RAM. You also get remotes with voice control. The Stick+ costs $49.99 while the Ultra will cost you $99.99.
In 2014, Roku starting partnering with TCL and Hisense TV vendors to ship Smart TVs with built-in Roku TV OS. The TCL line in particular has become very popular because of its budget-friendliness and features such as 4K HDR support that you would ordinary find in premium LG and Samsung TV models. The TVs are regularly updated as often as the streaming devices. Roku TVs are well-know for their support of over-the-air traditional TV through supported antenna.
Advertisement - Continue reading below
Armed with a wide selection of competitive devices, the Roku platform is the most open platform-agnostic streaming platform there is. There are well over 4,500 free and paid-for channels or apps on Roku including the big ones such as Prime Video, Hulu, Netflix, HBO Now, CBS Access, Apple TV+, and free ones such as Pluto TV, Tubi, Starz. Showmax is not available on Roku.
In 2017, Roku launched its own channel dubbed The Roku Channel which streams Ad-supported Free Movies. Its licensed content includes movies and TV shows from studios such as Lionsgate, MGM, Paramount, Sony Pictures Entertainment, Warner Bros., and Disney.
In light of geo-restriction, readers outside of the U.S should know most of these streaming services are not available unless you use a VPN. Roku will simply not show unavailable channels in the channel store, unlike Amazon's Fire TV Stick.
Mi Box S
There are plenty of Android TV streaming devices, but the Mi Box S 4K stands out of the crowd for a number of reasons; its slick user interface, impressive specs sheet, performance, and sweet price point. The Mi Box S is a streaming device launched in 2018 by Xiaomi, the Chinese company well known for producing premium products at affordable prices.
Related post: Xiaomi Mi Box S Review: Android TV on any TV for a decent price
Android TV is a Smart TV platform developed and maintained by Google. Android TV runs on select Smart TVs such as those from Sony, Sharp, Philips, Hisense, Xiaomi, and streaming devices or set-top-Boxes like the Nvidia Shield, Tivo 4K stream, Skystream Pro and of course the Mi Box S 4K.
Originally made for the Chinese market, the Mi Box S also has a global version. The Mi Box S sports a Cortex-A53 Quad-core processor, Mali-450 GPU, 2GB DDR3 RAM and 8/32GB eMMC storage. For connectivity, it comes with WiFi 5 and Bluetooth 4.1 wireless options, HDMI, Audio AUX and USB ports. This box ships with built-in Google Chromecast too. Additionally the Mi Box S ships with a remote that comes with a dedicated Google Assistant hot button. With this, you can control, search and navigate your TV with only voice commands powered by the Smart AI Assistant.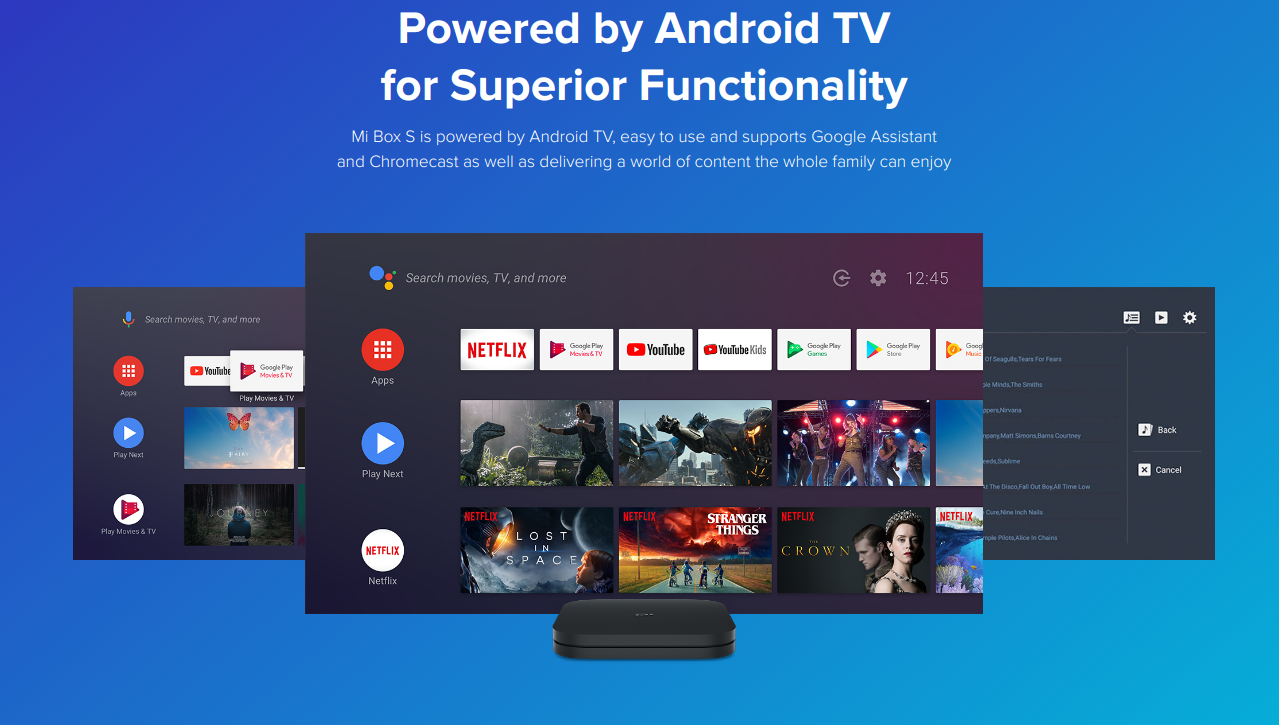 The User Interface is based on Google's official Android TV official theme. It's slick and modern. Apps can be downloaded from Google's Play Store. Most of the popular titles are available: Netflix, Showmax, Prime Video, Youtube, HBO Now, CBS All Access, Hulu, etc. Apple TV is not available on Android TV. You can side-load unsupported Apps from 3rd-party App stores in similar way you would on your Android smartphone. You can also change the official theme to another by third-parties. Generally, Android TV is more customizable or hackable than most of the other platforms.
Advertisement - Continue reading below
Other than content streaming services, you can play a wide range of games supported on Android using the Mi Box S. This is one aspect that Android TV boxes beat the other competitors. With a Bluetooth keyboard or gamepad that connects to the Mi Box S, you can enjoy games on your big screen TV.
In 2020, Xiaomi announced a much smaller, cheaper, slightly less performant streaming device they called the Mi TV Stick. You can think of it as the "Lite" version of the Mi Box S. It supports Full HD instead of 4K resolution, has less RAm and storage compared to the Mi Box. It sort of mirrors the Amazon Fire Stick in form-factor although the Fire Stick is slightly more powerful.
Read more: The Mi TV Stick vs Mi Box S 4K: What's right for you
The Mi Box S retails at $55.99 on Walmart or $54.99 on Amazon.
Chromecast
The Google Chromecast is kind of an outlier in streaming devices. First, it doesn't have a dedicated remote like other streaming devices. Also, it doesn't have a user interface with all the streaming apps or channels or services. Instead, the Chromecast must be used in conjunction with your smartphone or tablet, or PC. It's simply a way of casting or screen mirroring content from supported apps on your smartphone/tablet/PC to the TV.
Both Android and iOS devices are supported. Despite these constraints, Google's streaming device is extremely popular having shipped over 30 million units since launch. I personally have one at home.
Read more: Chromecast Review: Is it Still Worth It in 2020
According to Google, over 20,000 Google Cast–ready apps are available. Virtually every popular streaming service is supported by Chromecast. Coupled with Google Assistant, you can control your TV through voice commands.
Advertisement - Continue reading below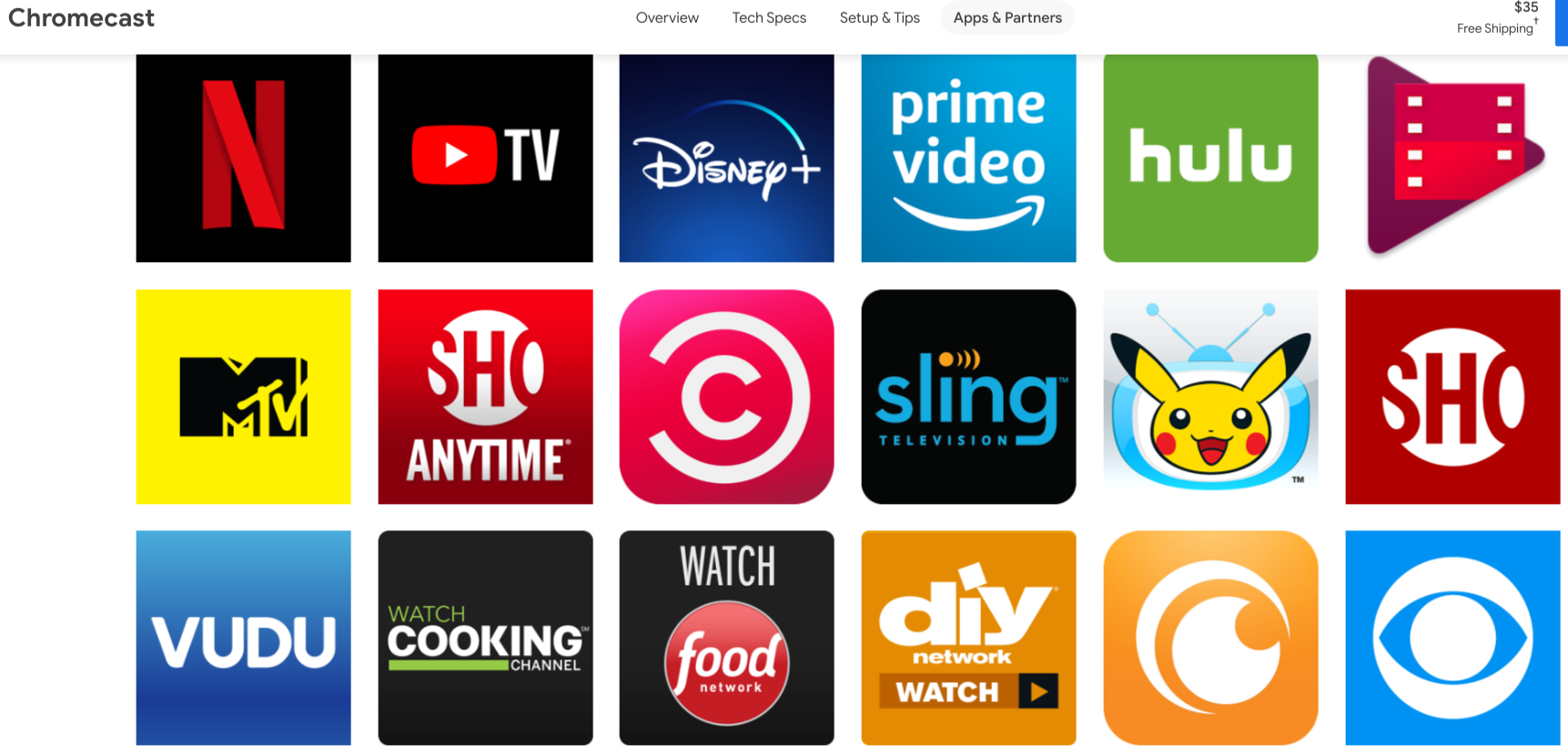 The device comes in two versions; the Standard Chromecast (3rd generation 2018) and Chromecast Ultra (2016). The Chromecast 3rd gen supports Full HD video at 1080p @ 60fps, comes with an HDMI interface for connecting to your HDTV and WiFi 5 for connecting to the internet. You can also connect to the internet through Ethernet but only through an optional USB Ethernet adapter bought separately. It has a Micro-USB which is used to power the device through USB port of your TV or USB power adapter.
The Chromecast Ultra, on the other hand, supports 4K Ultra HD with High Dynamic Range (HDR10, Dolby Vision) along with other features of the Chromecast. Early this month, Google is reported to be launching an Android TV powered dongle fully supported with a dedicated remote having Google Assistant support.
In 2020, Google released a new Chromecast that comes with a dedicated remote called the Chromecast with Google TV. It's essentially a Chromecast Ultra with a different user interface Google called Android TV and a dedicated remote. This device supports Google Stadia, comes with a dedicated remote, is charged via USB-C and connects to your TV via HDMI.
---
Read More: Chromecast With Google TV vs Chromecast: Which one should you buy?
---
The Chromecast retails at $35 which rivals the $24 Roku Express while the Ultra is at $69 on Amazon. And if you live in Uganda, you can get one from Odukar store at Ugx 220,000.
Amazon Fire TV
Amazon is a huge e-commerce behemoth but also an on-demand video streaming service provider. Through its massive e-commerce empire, Amazon has effectively marketed millions of Fire TV devices that connect to users' existing TVs and stream online content through Prime Video, Amazon's own subscription service, Netflix, Hulu, YouTube, Apple TV, HBO, Spotify, and over 4,000 apps and games from Amazon Appstore across more than 100 countries. The Fire TV platform also has a number of popular games like Hungry Shark Evolution, Pac-Man 256, Crossy Road, Hill Climb Racing.
Related post: Beginner's Guide to Amazon Prime Video (For Uganda, Kenya, and Nigeria): It is worth it?
Amazon Prime Video members get unlimited access to Prime Video, including original programs such as The Grand Tour, Man in the High Castle, and American Gods. All this is tightly integrated into the Fire TV devices. Amazon has been criticized for fronting its own services at the expense of its competitors. So, if you don't mind seeing Amazon Ads promoting their own products once in a while, then you probably want to consider the Fire TV.
Advertisement - Continue reading below
Related post: Android TV: Chromecast with Google TV vs Fire TV Stick Lite (3rd Gen)
Amazon currently sells 3 different Fire TV devices; Fire TV stick, Fire TV Stick 4K, Fire TV Cube. Both Fire TV Sticks run on MediaTek processor, while the Cube runs an Amlogic processor. The Fire TV Cube includes in-built Alexa functionality akin to the Amazon Echo smart speaker. The Fire TV Stick supports Bluetooth 4.2 Low energy while the Fire TV Stick 4K and Fire TV Cube have Bluetooth 5.0. All devices support WiFi 5. There's a mic button on remote with Alexa support so you can control the TV via voice commands.
The Fire TV devices run on Fire OS, a heavily-tweaked version of Android run and maintained by Amazon. It has an App store with over 4,000 Apps and games according to Amazon. I've used it, but I was not happy with it. In fact, I don't recommend it if you live outside of the U.S as Amazon's own services are not even supported unlike you go around geo-restriction with a VPN.
---
Read more: Amazon fire stick: Don't buy if you're living outside the U.S
---
Fire TV Stick is priced at $34.99, Fire TV Stick 4K at $49.99 and the Fire TV Cube at $119.99.
Walmarts Onn Android TV streaming device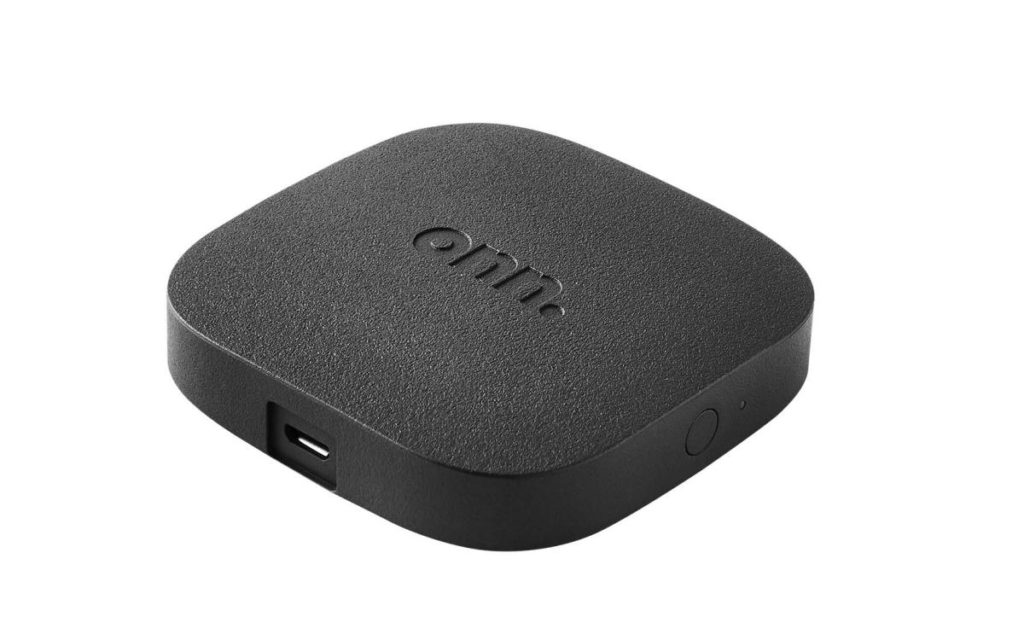 In 2020, retail giant Walmart launched its own Android TV-based streaming device called "Onn" as if to rival Amazon's Fire TV stick devices. The Onn streaming player supports 4K Ultra High-Definition resolution and Dolby Audio Support.
For just $30 on walmart, you get all the Android TV goodies including several hundreds of streaming channels or apps such as Netflix, Youtube, Hulu, Disney+, HBO, Sling, Spotify, Pluto, Tubi etc. You get to control your TV with your voice through the Google Smart assistant. You get the built-in Chromecast so you cast videos and music from supported services.
The Walmart Onn is certainly the cheapest 4K android-TV capable streaming device you can buy now. We haven't tried it yet, but I hope it has global support like its counterparts like the Chromecast Ultra or Mi Box S 4K.
Apple TV
Last but not least on our list is Apple TV. If you have already invested alot in the Apple ecosystem, that is, you own an iPhone, iPad and a Macbook, then by all means, adding an Apple TV is the natural choice. Apple has already done the heavy lifting for you, so expect everything to work quite smoothly unlike the other products.
The Apple TV is a streaming device fully loaded with most the popular titles including Apple's own streaming service called Apple TV+, Netflix, Amazon Prime Video, Hulu, Disney+, YouTube, Vimeo, HBO Now, Showtime, Sling TV, and DirecTV Now. In addition, users can also subscribe to music streaming services such as Apple Music, Pandora Music, Qello, and Vevo and access content that way.
Advertisement - Continue reading below
Siri, Apple's Smart assistant is now integrated in 4th generation Apple TV. With this, you can search and use voice dictation in text fields, including usernames and passwords. However, reviews indicate Siri is following behind Google's Assistant and Amazon's Alexa.
Mirror casting is supported via AirPlay which lets users stream or mirror content wirelessly from an iOS device or Mac to the TV. So you can share photos, videos or audio from their iPhone, iPad, or Mac to the Apple TV. This is similar to Google's Chromecast.
The Apple TV 4K is powered by A10X Fusion chip and has 32/64GB storage. For connectivity, it has HDMI 2.0 for connecting to your HDTV, Gigabit Ethernet for internet or WiFi 5, Bluetooth 5.0 for connecting to additional peripherals and IR receiver. It's powered by your wall socket power. The device is controlled through Apple TV remote which ships together with the streaming box.
Apple TV 4K (64GB version) is going for $205 on Amazon.
Nvidia Shield Android TV Pro
The Nvidia Shield is arguably the best Android TV box interms of performance. It delivers amazing gaming and streaming experience thanks to new Nvidia Tegra X1+ chip, 3GB of RAM and 16GB of storage. It has two USB 3.0 ports, and supports Gigabit Ethernet, dual-band AC WiFi and the latest Bluetooth 5.0 standard. If you are looking for serious gaming from and Android TV box, then we highly recommend the Nvidia Shield Pro. For this, you'll have to pay $199 on Amazon.
Final Words
I've provided a cursory look at streaming devices in 2020. This post is by no means comprehensive, but it's meant as a guide to help you quickly skim through the various major options in the market. I used most but not all the devices listed.
Summarily based on personal opinion, I would rank Roku devices first. It's open and most platform-neutral streaming device. Starting at just $24, Rokus are also budget friendly.
Coming in 2nd place is the Google Chromecast. With over 20,000 Google Cast–ready apps, you can virtually stream anything online with this $35 streaming device. The major drawback being lack of a remote and User interface which might be slightly harder for non-techie people.
Taking 3rd place would be the Xiaomi's much-acclaimed Mi Box S. High customization of Android TV and a wide number of games in the Play store makes this device great for super-geeks and gamers. The $55 price tag is also quite approachable.
Taking 4th place would be either Fire TV Stick or Apple TV. If you are an Apple Fanboy, then the choice is a no-brainer. But if you aren't, then Fire TV Stick might be a good choice — but only if you live in the U.S; I have had issues with my Fire TV Stick here in Uganda.