Do you have those family photos, wedding videos, vacation photos, your favorite songs and movies in digital form? Are you wondering how you can store them and keep referring to them every now and then? Just imagine how great it would be view these files on a big television screen or projector. This can be easily accomplished with a home media center.
With your home media center, you have access to watch HD television and also to stream web videos and music. You are also able to record live TV shows and movies on demand.
Advertisement - Continue reading below
Below are the basics of what you need to set up a home media center.
With a home media center, you will create a client-server setup. Your computer will act as the media server while the media extender will be the client. The media extender accesses content on the media server (your computer) and converts it so that it can be played on the television. You'll need one extender for every TV you want to connect.
The media extender can be connected using an Ethernet cable. Cables are simple to set up, and clean if you keep your computer and TV near each other. If you want to use a wireless connection, you just need a wireless adapter for your media extender.
Let's now discuss the components you will need to set up your media center.
Server
As explained earlier, this is a computer preferably a desktop computer because you're going to add television tuner cards and you'll need substantial additional storage.
You'll have to leave it on all the time so you can record and access video content.
Tuners
A tuner card is used to record programs that your computer receives. It is a device that plugs into your motherboard and lets your computer record television on your hard drive. You can get a card with two tuners on it, so then you can record or watch two programs at a time.
Advertisement - Continue reading below
Once you install a tuner card, your cable from the antenna will connect directly to your computer.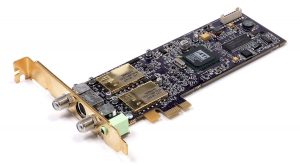 Storage
Depending on your usage, you will need to have a hard drive with a good storage capacity to store your media. A one terabyte drive can hold over 100 DVDs and many of hours of television. See What to consider before you buy an external hard drive.
Software
You'll need a media server software to catalog all of your digital content through a simple interface on your computer or television. A good example of such software is Windows Media Center.
Microsoft includes it in many recent editions of Windows. For Mac users, Plex media server is an ideal choice.
---
Related Article: Kodi Vs Plex, the ultimate media center showdown
---
Media Extenders
With your computer loaded with the hardware and software, you need to bring those files to your television. A media extender takes the data from the hard drive and displays it on your television. It also connects the remote control used to access content.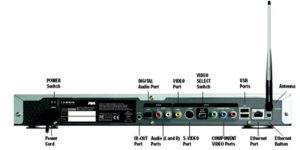 Connecting the Devices
The satellite dish connects to the tuner card in your computer with a coaxial cable between your media server computer and your media extenders, you can either use an Ethernet cable or set up a wireless network.
Advertisement - Continue reading below
You also need to make sure that the wireless system has enough capacity to transmit high-definition television. You can then connect the media extender to each television with an HDMI or RCA cable, just like you would connect a DVD player.
So before you set up your home media center, what must you consider?
Costs
Monthly fees are only considered when you are using PayTV. You also need to consider the initial costs of the new devices you'll need and also the costs for a fast and stable internet connection.
Technical Skills
Setting up a network is not really a huge technical challenge. The toughest task for most people is installing the tuner cards and hard drive for added storage. Fortunately, most hardware sellers usually do the installation. Alternatively, talk to your tech savvy friends or the people you're already buying equipment from for guidance.
With a home media center, you can't he worried about missing out on your favorite TV programming. Have you considered building your home media center, or have you already set it up? What software and hardware choices did you make? Share with us in the comments below