When I was in my teens, I remember we couldn't afford a VHS cassette video recorder. If we wanted to watch movies, we either had to crash at the neighbors that were lucky enough to own one or go to the movies. But eventually, as technology progressed, VHS was replaced with much cheaper, portable, sleeker optical DVDs. They were an instant hit because for the first time when my sister bought a Toshiba DVD Player, I was able to watch movies right at our home.
Fast forward to today, Full HD movies, Videos, music and photos are flooding my media library. What was once a game-changer — the DVD Player — can no-longer keep up with my ever-evolving media library which must be accessed from not just one, but a hoard of devices. My 4TB external Hard drive which I hook up to my home Windows computer is now home to my most cherished photos and videos taken from my smartphone camera and a collection of classic movies.
Advertisement - Continue reading below
My personal media library must be organized in a way that I can easily find what I want to listen to or watch at any time. This is where home media centers come in. While we have had a lot of them, such as the now-defunct Windows Media center created by Microsoft and first introduced in 2002 on Windows XP Media Center Edition, there is now just a handful that have managed to reign in home entertainment space. You might have heard of others like Home theater PC, JRiver Media Center, Western Digital Media Center, Universal Media Server, PS3 Media Server, Serviio, TwonkyMedia server, but the battle seems to be around just two giants; Kodi vs Plex.
Now, it's possible that you actually have not even used or heard about media center software I have mentioned. You are most likely already watching your Movies stored on your computer's hard drive or USB flash disk using Windows Media player or VLC on your laptop. If not, then you are probably subscribed to online streaming services such as Showmax, iRokoTV, Netflix, Hulu, Sling, Amazon Video or Youtube RED depending on which region of the world you live. Or, you might actually be just fine watching movies from one of the movie channels from your cable or satellite PayTV provider. That's fine. But for those who wish to take charge of their personal media, there are no options.
Newbies will often want to know the difference between Kodi and Plex and which one they should use for their own setups. If you don't have time to read through this post, here's a quick summary;
Plex is a ready-to-go media center that simply works out of the box with little room for customization. It's widely supported by multiple vendors, has support for multiple user accounts and streaming your content from anywhere in the world.
Kodi is like swiss knife media center. Highly customizable via different really cool themes and extensible through multiple plugins. It's compatible with various software and hardware platforms and so is more suited for users who want to build their own media center DIY style the way they envision it should be.
Released in 2004 under the name Xbox Media Center (XBMC) for the first-generation Xbox game console, XMBC renamed Kodi in 2014 became an instant hit among home Theater PC enthusiasts. Because of its open-source License, Kodi enjoys a wide variety of Operating System support including Android, Linux, BSD, Raspbian, macOS, iOS/tvOS, and Microsoft Windows. In fact, derivatives of the original XBMC software have been developed into competitors such as MediaPortal and Plex itself as well as Just enough operating systems like OpenELEC and LibreELEC.
Meanwhile, for Plex, nearly every major platform, from gaming consoles like Xbox and PlayStation to video-streaming devices like the Roku, Android TV, Apple TV, Chromecast and Amazon Fire TV have Plex in their stores. It also reaches mobile devices on Android, iOS, and Windows Phone.
Here's a quick comparison between Kodi and Plex between we dive into the details.
Advertisement - Continue reading below
Kodi vs Plex media center prizefight
Kodi
Plex
Platforms
 Android, Linux, BSD, Raspbian, macOS, iOS/tvOS, and Microsoft Windows.
Windows, macOS, Linux, and some NAS devices.
Client Apps
No
Clients available for mobile devices, smart TVs, and streaming boxes, a web app
Add-ons/Plugins support
Lots of third-party Add-ons
Limited
Customization
Highly customizable
Limited
Transcoding
Handled by Server
Handled by Client
Web interface
Yes
Yes
DVR support
Yes
Yes via Plex Pass
DLNA/UPnP support
Yes
Yes
Live TV support
Yes via Add-on
Yes via Plex Pass and a digital tuner
Online streaming
Yes
Yes
Media support
Videos(Movies, TV Shows, Videos), Music, Image and Photos
Videos(Movies, TV Shows, Videos), Music, Image and Photos
Subtitles support
No
Yes
License
Open Source
Proprietary
Cost
Free
Freemium ($5 per Client and/or Optional Subscription)
Media library organization
For starters, both Kodi and Plex have great indexing engines. So you can pull media meta-data such as album artwork, movie posters, ratings, synopsis, lyrics, subtitles etc off the Internet from sites such as IMDB, themoviedb.org, Opensubtitles.org once which is then stored on your local device for offline access. They are both good at organizing your media based on genre, artists, years, directors, actors etc. I like this because it makes content search and discovery really easy.

For instance, I tend to love Historic, Scifi and Action movies. So whenever I want to set myself up, I simply click on those particular genres and boom I can find what I will enjoy.
---
Related post: Building a home media center with a $35 Raspberry PI and Kodi
---
With both Kodi and Plex, you can organize your media into photos, music, movies, TV shows or series and other videos. You can create playlists, add favorites and pull album and movie artwork from online sources.
Truthfully, I find both media servers going toe-to-toe on this one.
DLNA/UPnP support
Both support DLNA/UPnP protocols, so you can stream your media from compatible devices as long as they are on the same network. For instance, I ran Plex server on NAS drive and I can stream my movies on the big screen TV. I've done the same with Kodi installed on a Raspberry Pi.
---
Related post: Stream your own home media: A complete guide to DLNA and UPnP
---
DLNA is a multimedia protocol that enables sharing and streaming of media between different devices such as game consoles, smart TV, smartphone, laptops and tablets. Multiple media players now such as VLC, BubbleUPnP, Windows Media player, Roku Media player and vendor-specific media players pre-installed on modern TVs widely support DLNA standard. This means your media is not locked to a single device but can be accessed by multiple devices connected to the same network.
Advertisement - Continue reading below
Vendor support and Licensing
Both have wide platform support although Plex enjoys a lot more support from commercial vendors. You will find plex on Windows, OS X / macOS, Linux, NVIDIA SHIELD, Netgear Nighthawk X10 router, Many popular NAS devices such as Seagate personal cloud, WD cloud, Drobo, Netgear, Synology, and more. Plex is free but not entirely Open source, unlike Kodi which is completely Open Source.
Kodi makes for a great DIY home media streaming and library platform compared to plex which has some proprietary components. It's completely open source and is widely compatible with several operating systems and several hardware platforms. Kodi is available for Android, iOS, Linux, Mac OS X, Windows and several other streaming boxes and devices such as;
Amazon Fire TV
Chromebox
Cubox-i
Google Nexus Player
Nvidia SHIELD Android TV
Raspberry Pi
WeTek Play
CompuLab Utilite
Intel NUC
ODROID
Razer Forge TV
You are however more likely to find Plex available in app stores of commercial vendors than you are Kodi. Plex is available in Roku TV channel store, Samsung Smart TV app store, Seagate and Western Digital NAS drive app store but you won't find Kodi. This makes Plex a great option for users who want a media center out-of-the-box instead of installing one.
Kodi vs Plex: Third party plugins and Add-on support
This is where Kodi clearly outshines Plex. Kodi has a wider variety of tens of third-party plugins you can install to extend the media center's functionality while Plex has a handful. Some of these plugins have a lot of content including TV shows and movies all divided into easy to find sections. Some popular Kodi plugins include Genesis Reborn, Neptune Rising, Placenta, Covenant XvBMC Repo, Incursion, Maverick TV, Supremacy, Project M, The Dogs Bollocks NEW, Elysium Lite.
However, Kodi's advantage has also landed it in trouble. Kodi has recently come under fire with law enforcement officers in the UK who are cracking down on some Kodi streaming set-top boxes that come preinstalled with plugins or Apps that infringe on content copyright and licensing. Kodi vendors preload their set-to-boxes with add-ons that enable you to stream TV shows and Movies that you would otherwise have to pay on other platforms.
Plex now supports plugins which it calls channels akin to Roku Channels. Some of the plugins you will find are BBC iPlayer, iTunes Movie Trailer, TWiT.TV, Vimeo, National Geographic, Fox, RT, Nickelodeon, Vice among others.
Customization
This is yet another place where Kodi clearly outshines Plex. Kodi has tens of themes or Skins you can choose from to customize the look and feel of your media center while Plex has none. You can choose from Aeon, Nox, Amber, Black Glass Nova, ReFocus, Eminence, Nebula, Xperience 1080 among several others. Each theme has a different way of organizing menus, navigation, button, content, system information etc while maintaining the underlying core functionality. You don't lose anything my switch between theme, just the look and feel.
Plex, on the other hand, has a standard theme that ships with the application. You can't change much in the look and feel which probably gives it that distinct look. Most users won't really care about tweaking how their media center looks, but if you do, then Kodi is what you are looking for.
Advertisement - Continue reading below
Plex Client Apps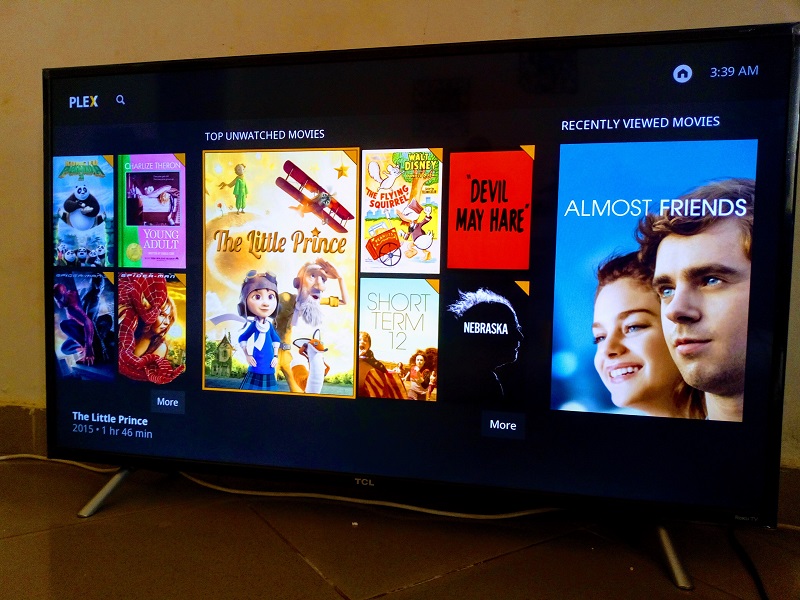 Plex has clients/app that talk to the Plex server as opposed to Kodi which has none. That's a very big differentiator actually. My TCL Roku TV supports Plex player which connects to the Plex server. Kodi doesn't have a "client". Instead, you rely on third-party vendor Players which can connect to Kodi via DLNA. This means you get inconsistent user experience across various platforms.
If you want to view Kodi with its interface, you have to connect a compatible device such as your laptop or set-top-box or Raspberry PI with Kodi directly to the TV via HDMI. This can be limiting if you have a crammed living room for instance with no space for a stand-alone Kodi box.
Transcoding
Plex support real-time transcoding or media conversion. So if your device doesn't support a specific media format, Plex will try to convert it to a compatible version. For instance, I have AVI movies on the drive, but the TV doesn't play .avi files, So Plex converts the file to maybe mp4 on the fly. This feature is only as useful as your device's CPU power because transcoding is a CPU-intensive process.
My Seagate personal cloud NAS drive running Plex server, for instance, can't handle on-the-fly transcoding because its ARM-based CPU isn't that powerful. However, there are capable NAS drives from QNAP with Plex Support and 4K transcoding like the QNAP TS-251+ going for about $466 on Amazon.
Read more: Best NAS devices that transcodes 4K and FHD videos for your home media devices
Kodi, on the other hand, doesn't do this. If target device doesn't support a specific media format, then it simply won't play it. You will have to use third-party video converting software to convert file formats beforehand before they can be played
Content access
Plex has the ability to give you access to your content from anywhere via an Internet connection if you have a "Plex Pass" account. It also supports multiple user accounts. I obviously don't find this useful given our Internet problems, but for guys in the western world, this is a big deal.
Plex pass account will give you Live TV directly on your device with an additional antenna and a digital tuner.
Plex DVR offers support for recording free HDTV digital channels to your Plex media server.
Mobile Sync offers syncing of your media across multiple devices for offline viewership.
Plex pass supports Lyrics for your favorite songs.
Multiple users and accounts are supported by Plex Home.
Kodi I believe (probably) has a similar feature, though not as smooth as Plex.
Advertisement - Continue reading below
What should you install: Kodi vs Plex?
The answer is it really depends on your needs. Both are really great media centers for organizing and streaming your personal media across home devices. For newbies or those who don't want to get their hands dirty or just want something that works out-of-the-box without much configuration and customization, then Plex is the best choice. If you also anticipate accessing your media outside of your home network such as when you travel overseas, then again with Plex pass subscription service, your media can follow you. But if you want a media center setup your way, your rules on hardware of your choice, then Kodi is truly the best option for you.