Roku TVs and streaming devices are some of the best Smart TVs and media players you can get today. Sure I love Roku platform. I have used my TCL Roku TV for more than 3 years thanks regular Over-the-Air updates and wide variety of streaming services supported. It feels like my TV is new every year.
However, the one thing I really do miss on my TCL Roku TV is the ability to effortless connect my Bluetooth headphones to the TV. Other platform such as Amazon's Fire TV or Google's Android TV do this so easily. That's primarily because Bluetooth is supported in most of their hardware ecosystem. Not so with Roku. Neither their streaming players nor supported Smart TV such as Hisense R8F series or TCL 6-Series support Bluetooth.
Advertisement - Continue reading below
However, there's a work around this problem. With a compatible Roku remote that comes with an 3.5mm audio headphone jack or AUX port, you can plug your headphones using AUX cable directly to the remote's headphone jack and listen to music or movies playing on the TV. Roku calls this "Private listening". But Bluetooth audio has now taken over the traditional headphone jack. In fact TWS earbuds don't even have this option. So what else can you do?
Using the Roku Mobile App
This is where the Roku Mobile App available on both Android and iOS comes in. Private listening is supported within the app. And if your phone still has a headphone jack, you can simply connect your headphones(if they also have a headphone jack) to the phone and listen to music or movies on the TV. First you'll need to connect the Roku App to your Roku TV or streaming device. Simply make sure your phone and Roku TV or streaming player are connected to the same WiFi network.
If your headphones don't have headphone jack or prefer cordless means, then you simply have to pair your Bluetooth headphones with your smartphone. Then turn Private listening from within the Roku App. Private listening is available from the Remote tab > headphone icon.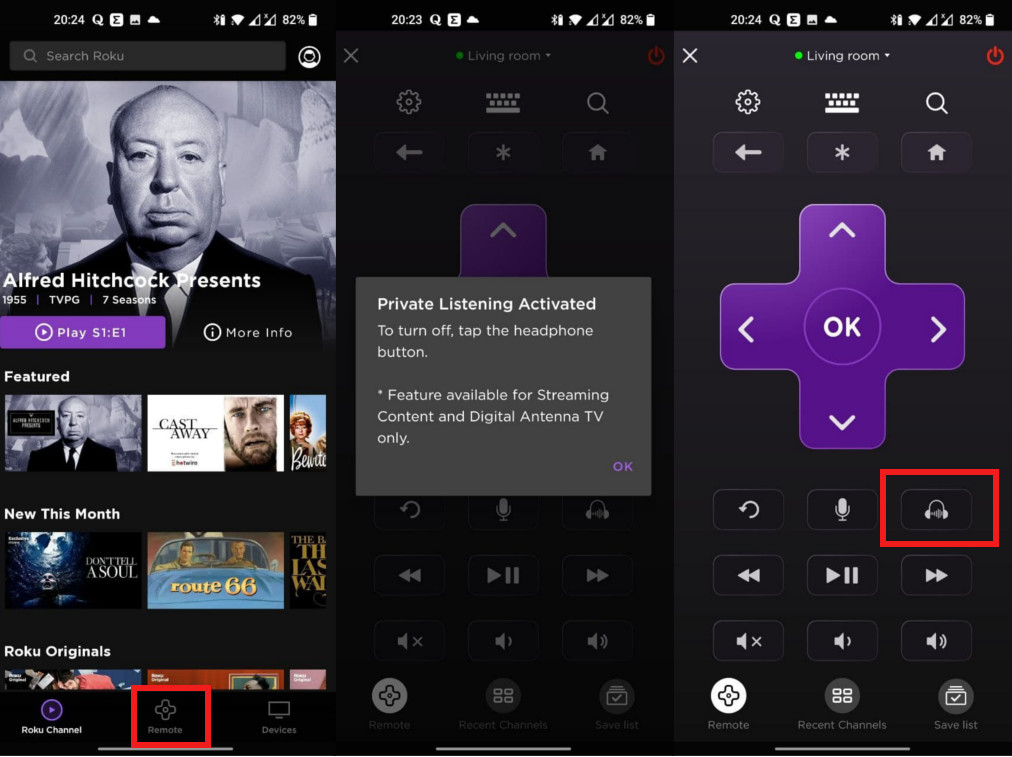 The bummer is that the Roku App is not available outside of the U.S. So you might have to use 3rd party app stores such as apkmirror.com to download it.
Using the Roku premium remote with headphone jack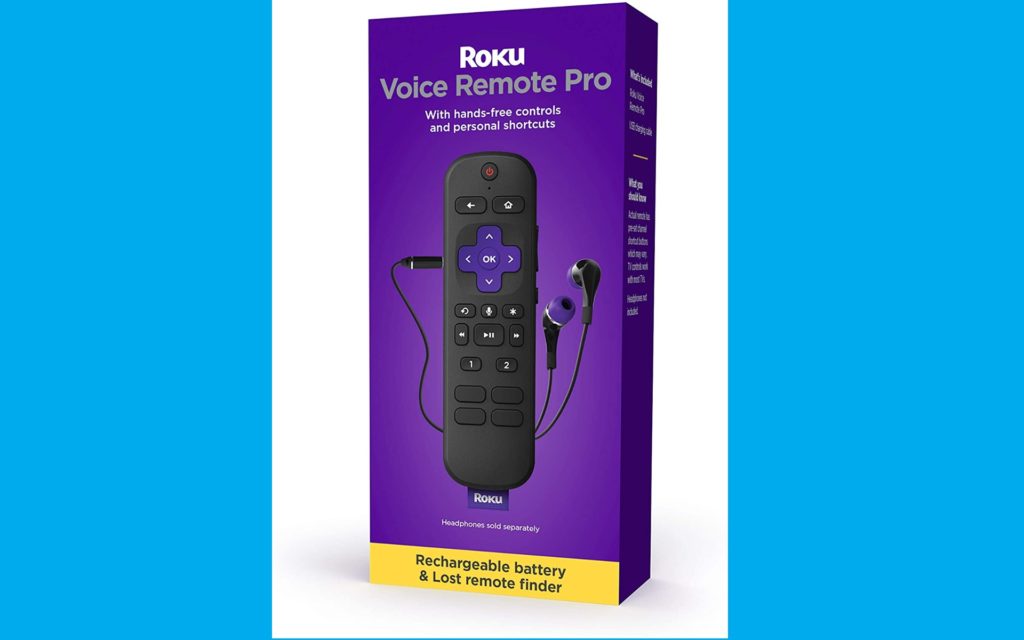 One of the ways you can connect your Roku TV to your headphones is through one of Roku's premium remotes that have a 3.5mm headphone jack. It's called the Roku Voice Remote Pro. But then again, NOT all Roku devices ship with this remote. Only the high-end Rokus such as the Roku Ultra, Roku Streambar, Roku Streambar Pro, or Roku Smart Soundbar come with it. If you don't have these, then you'll have to purchase it separately for about $30 on Amazon.
Then of course, your headphones must support a headphone jack too. However, Not every headphone nowadays has an AUX cable that connects to a 3.5mm headphone jack.
Advertisement - Continue reading below
So if you've the Roku voice remote pro and have bluetooth headphones with 3.5mm headphone jack, then;
Find the built-in headphone jack on the side of your Roku remote.
Then Plug in your headphones firmly. A headphone icon will appear on your Roku television screen to indicate private listening is active.
When you want to disable private listening, unplug your headphones completely from the remote. The Audio will automatically return to your TV speakers at the previous volume.
Here's our video tutorial on how you can connect your headphones to Roku Smart TV or Streaming Stick;
Using Bluetooth transmitter
Another way to connect your Bluetooth headphones to your Roku TV or streaming device is through a Bluetooth transmitter. The transmitter will give your Roku TV Bluetooth capabilities even though it doesn't inherently come with Bluetooth hardware. The Bluetooth transmitter can connect to your TV via optical audio (TOSLink or SPDIF) input or AUX or RCA audio jacks depending on the inputs/outputs that the Bluetooth transmitter and your TV support.
For my TCL Roku TV, it has both optical audio and Aux ports, so all I need is a compatible Bluetooth transmitter that has either optical audio or Aux ports. There are several of these, but good candidate is the Taotronics Long Range Bluetooth 5.0 Transmitter Receiver for TV(TT-BA014) you can buy for $54.99 from their website or this 1Mii B06 Plus Bluetooth Receiver at $27.99 from amazon.com.
All you have to do is pair your headphones or TWS earbuds with the transmitter via Bluetooth. The Roku TV will output sound to the Bluetooth transmitter which in turn sends audio via Bluetooth to your headphones. I wish Roku could start supporting Bluetooth audio instead of making customers pay for additional hardware.
Image: unsplash.com
Advertisement - Continue reading below