Keeping your Fire TV Streaming stick or Smart TV is critically important. The latest software updates usually come with performance improvements, bug fixes, better user interface and security updates. The Fire TV Stick and Smart TVs run on the Fire OS operating system. Fire OS is based on the Android Open source project which explains why most Apps available on Android/Google TV are also most likely found on the Fire TV.
Amazon is constantly making updates to its Fire OS platform. Major updates take time, usually a year or so, but minor updates are frequently being pushed in weeks or monthly intervals. Now the Fire TV devices and paired accessories automatically download software updates when connected to the Internet. So you don't have to manually keep checking for updates. However, you'll have to install the update by choice.
Advertisement - Continue reading below
Before you update your Fire TV
Here are a few housekeeping things to note before or during an update for your Fire TV device;
Be sure to have a stable fast internet connection. Unlimited internet package is preferable, but if you are using mobile internet bundles, then make sure you have enough MBs and GBs left. You don't want your data bundles to run out during an update. Also make sure your internet is fast. I prefer doing my updates at night because my internet speeds are usually fast at this time.
Close all open apps including those that might be running in the background. Current app version might not be compatible with the new software update or vice versa.
Don't unplug your Fire TV Stick from your TV or power off your Smart TV during an update. Make sure you don't do the update when you suspend you might have an outage such as during a heavy downpour or when your utility provider has scheduled load shedding.
Power your Fire TV Stick from the wall socket through the included USB Amazon power adapter. If it's powered through one of your TV's USB ports, you'll get a warning that USB Power might not be sufficient for a system update. I use USB Power for my Fire TV Stick Lite anyway without issues.
You might also want to take note of your current software version and device model. This will help you troubleshoot just in case the update doesn't go well.
How to update your Fire TV
Now to update your Fire TV, go to Settings from the main menu of your Fire TV. It's a gear icon. Then select My Fire TV, then select About and then Check for System Update. Clicking on this will check if there are any updates available for download. If there are, you will see the install update button. Updates are not very big. Most are in order of MBs really, so you don't need much data.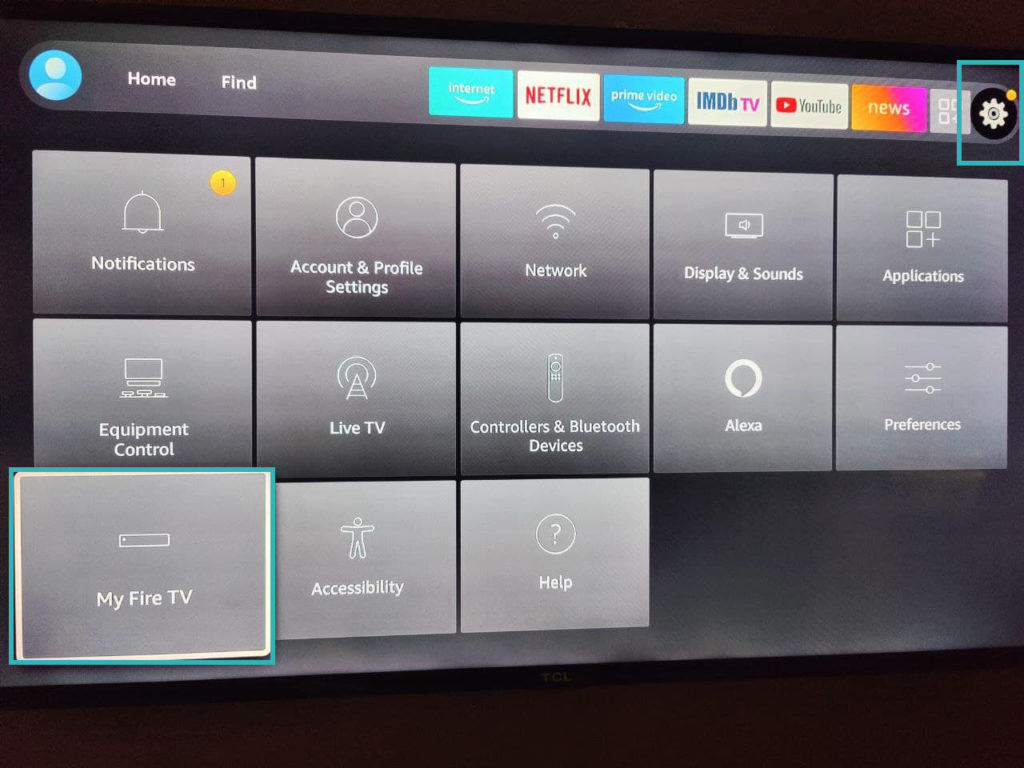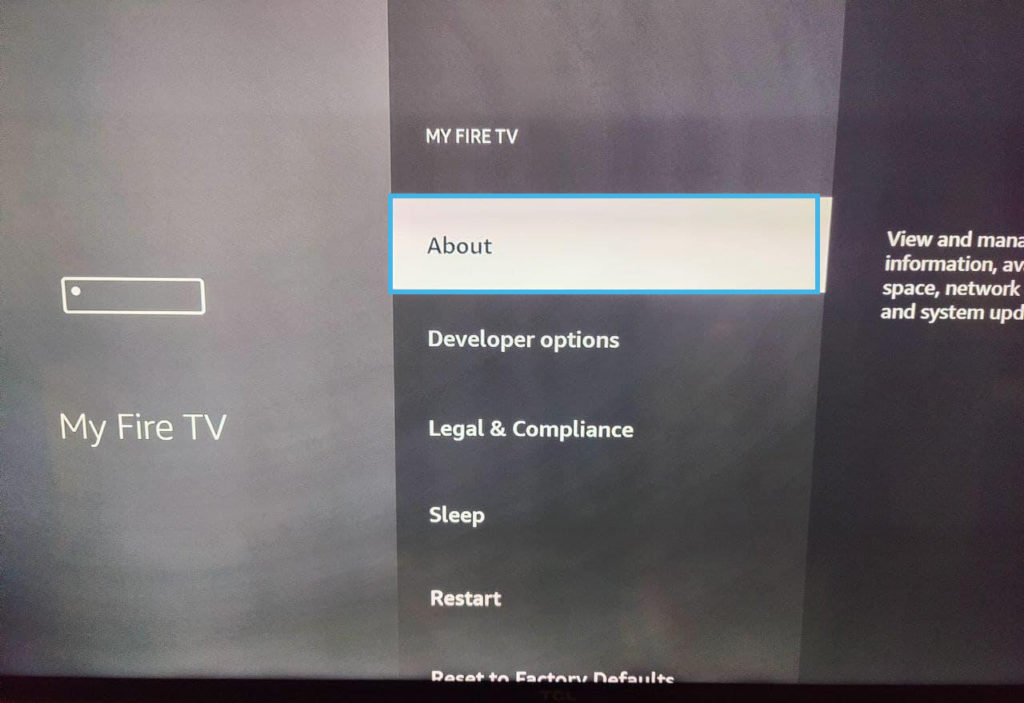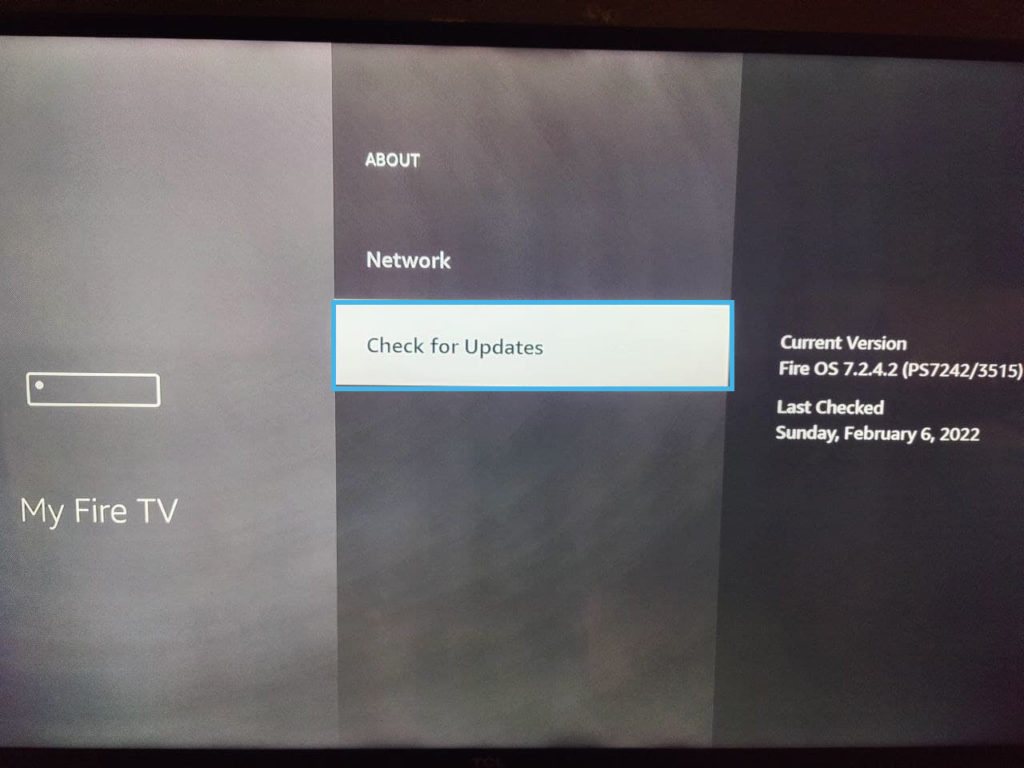 Keep in mind that older Fire TV devices don't get updates. Each device is updated until a certain period of time after which it stops getting software updates.
Below is a list of software versions of each Fire TV device as of Feb 7th, 2022. You can find the latest updated version numbers here.
Amazon Fire TV Cube (2nd Generation): FireOS 7.2.4.2 (21710617476)
Amazon Fire TV Cube (1st Generation): FireOS 6.2.8.1 (5940366468)
Fire TV Recast: FireOS 6.2.8.1 (5940366468)
Amazon Fire TV Stick 4K: FireOS 6.2.8.1 (5940366468)
Fire TV Stick 4K Max: FireOS 7.2.5.5 (21911675268)
Fire TV Stick (3rd Generation): FireOS 7.2.4.2 (21710617476)
Fire TV Stick Lite: FireOS 7.2.4.2 (21710617476)
Amazon Fire TV (3rd Generation): FireOS 6.2.8.1 (5940366468)
Amazon Fire TV (2nd Generation): FireOS 5.2.8.0 (672831220)
Amazon Fire TV (1st Generation): FireOS 5.2.7.4 (656639420)
Fire TV Stick with Alexa Voice Remote: FireOS 5.2.8.4 (672831820)
Fire TV Stick with Voice Remote: FireOS 5.2.8.0 (672831220)
Fire TV Stick (1st Generation): FireOS 5.2.8.0 (671761720)
Fire TV Stick Basic Edition: FireOS 5.2.8.0 (668694820)
Fire TV Auto: FireOS 7.2.4.5 (0021106242948)
Fire TV Smart Products
Fire TV Omni Series: FireOS 7.2.6.2 (0021978931844)
Fire TV 4-Series: FireOS 7.2.6.2 (0021978931844)
Pioneer PN50951-22U LED 4K UHD: FireOS 7.2.6.8 (21375000196)
Toshiba V35 Fire TV: FireOS Fire OS 7.2.5.1 (21509000836)
Toshiba Class M550 Series LED 4K UHD: FireOS 7.2.6.0. (PS7260/2643)
Toshiba 4K UHD TVs (2021): FireOS 7.2.6.7 (21240861060)
Toshiba and Insignia 4K UHD TVs: FireOS 6.2.8.6 (5873127044)
Toshiba and Insignia FHD TVs: FireOS 6.2.8.6 (5873127044)
Element and Westinghouse TVs: FireOS 5.2.8.5 (668733320)
Nebula Soundbars: FireOS 6.2.8.1 (5940174212)
TCL Soundbars: FireOS 6.2.8.1 (5940174212)
Advertisement - Continue reading below