Chinese TV vendor, TCL is mostly known for its quality and affordable Roku-powered Smart TVs. The Smart TVs aren't just good for their price, but they also have the ability to combine internet content streaming with traditional TV tuners and great features for your dime. I personally own a TCL 49" CLASS 4-SERIES 4K UHD HDR ROKU SMART TV – 49S425, so you can tell I am a big fan.
Recently, TCL launched an Android TV-powered version (of the above-mentioned TV) in the US market; although the series has been available in Europe for a while. If you are planing to get yourself a TCL TV, you'll have to decide between those powered by Roku and those powered by Android TV. The underlaying hardware is mostly the same with a few variations we shall discuss shortly.
Advertisement - Continue reading below
Therefore deciding between the two TVs is a lot more about understanding Roku and Android TV platforms.
TCL Smart TV comes in 5 different series:
3-series: 32 – 49-inch
4-series: 43 – 65-inch
5-series: 43 – 65-inch
6-series: 55 – 75-inch
8-series: 65 – 75-inch.
All the above are powered by Roku Platform. Android-powered TCLs are only supported in the 3-series at the time of launch in the U.S. However, TCL has other Android TV-powered series with bigger screens and specs sold in other global markets.
TCL Roku-Powered Smart TV
TCL Roku Smart TVs are powered by Roku's popular TV platform which also runs Roku's streaming sticks and devices. Roku in itself a very stable powerful Smart TV platform. It comes with over 1,800 free and paid-for Apps and Channels to stream online content including Netflix, Youtube, Hulu, HBO, Prime Video, Apple TV+, Plex, Showtime, Crunchyroll, Redbull among others. You get to have Free-to-air Live TV support through external Antennae, voice control through supported remotes, OTA software updates among other cool features. The Roku OS is solid stable TV operating that's regularly updated.
If you are looking for a great Roku 4K smart tv for starters, then TCL 50S425 50″ is a god option and it retails for just $270 on Amazon.
---
Read more: Roku TV OS Review: Smart TV and Online Streaming for Everyone
Advertisement - Continue reading below
---
TCL Android TV
Android TV is a Smart TV operating system built and maintained by Google. The platform is equally supported by a number of big-brand TV vendors like Hisense, Philips, Sony, Sharp, and TCL. With Android TV just like the other TV platforms, you have a great collection of online streaming services such as Netflix, Youtube, Prime Video, Hulu, HBO, Disney+, Plex supported. What's different about Android TV is Chromecast and Google voice AI Assistant for voice commands Built-in.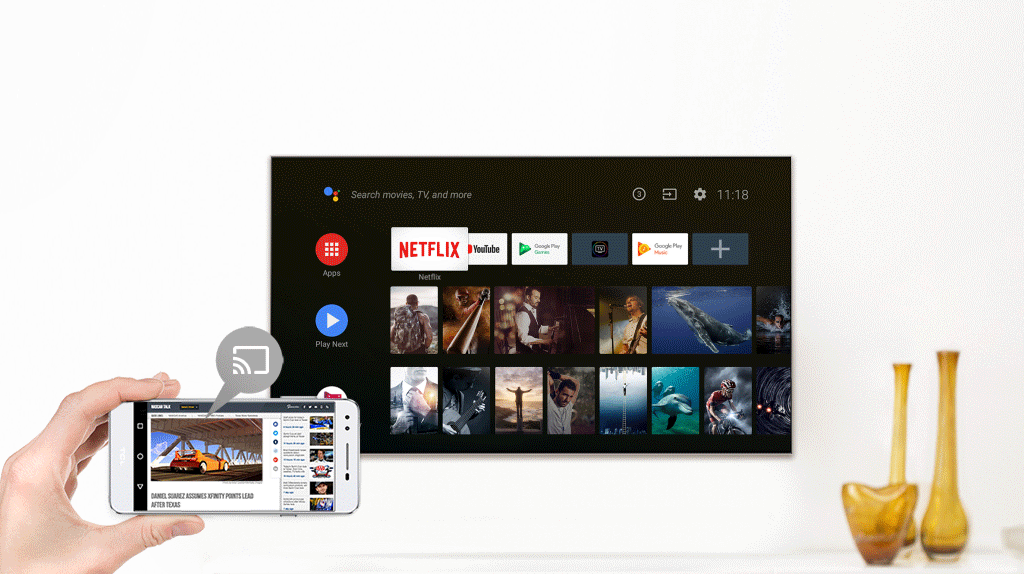 Android TV also has a universality that Roku TV notoriously lack. Most Android TV features almost work everywhere you can run your TV, but Roku's features are selective to certain regions. For instance Roku infamously geo-restricts it's App and voice features to mostly the U.S. So if don't live the U.S, you are more well off buying and Android TV over a Roku.
TCL Roku vs Android TV 3-Series Smart TVs
If you are specifically going to buy Roku Android TV in the U.S, then you only have the 3-series option. The TCL Android TV comes in two models; the $129.99 HD (720p) 32-inc 32S330 and the $199.99 FHD(1080p) 40-inch 40S330 model both sold on Bestbuy. Both come with Chromecast and Google Assistant built-in, WiFi, and Bluetooth wireless connectivity and digital tuner which you can pair with an HDTV antenna to watch dozens of local broadcast TV channels.
The TCL 3-series Roku Smart TV is available in 4 variations:
32-inch HD (720p) — $169.99
40-inch FHD (1080p) — $269.99
43-inch FHD (1080p) — $319.99
49-inch FHD (1080p) — $389.99.
Al the editions are available at Walmart and Amazon. There are bigger screen sizes to pick from with the Roku series. With the 3-series Roku Smart TVs, you get a built-in digital tuner, a remote (with no voice support), Wi-Fi but no Bluetooth. Chromecast isn't supported, but casting to Smart TV is supported on Netflix and YouTube apps.
Here's the full comparison between TCL Roku and Android TV 3-series Smart TVs.
Roku 3-series Roku vs Android TV Comparison
3-Series
3-Series
Model
S330
S325
Smart TV
Android TV
Roku TV
Screen Class
32", 40"
32", 40", 43", 49"
Network Connection
WiFi
WiFi
Backlight Technology
Standard LED
Standard LED
Resolution
HD 720p (32"), Full HD 1080p (40")
HD 720p (28", 32"), Full HD 1080p (32", 40", 43, 49")
High Dynamic Range
Wide Color Technology
Motion Performance
120 CMI, 60 CMI (32")
120 CMI, 60 CMI (32")
HDMI, USB Ports
2 HDMI, 1 USB 2.0
3 HDMI, 1 USB 2.0
Sound Technology
Dolby Digital
Dolby Digital
Game Mode
yes
yes
Free Mobile/Tablet App
yes
yes
Private Listening
With Bluetooth headphones (not supplied)
With Roku mobile app
Cast from mobile to TV
Chromecast
Cast from Netflix and YouTube
Voice Control
Google Assistant Built-in
Works with Google Assistant, Amazon Alexa, Roku Voice
Remote
Enhanced remote with voice control
Easy-to-use Remote
Digital TV Tuner
With program guide and live TV pause (with optional USB drive)
With program guide and live TV pause (with optional USB drive)
Design
Premium gloss black
Premium Gloss Black
Final Words
Personally, if I were to pick between the two TCL TV platforms, I think I would go with TCL's Android TV series. The Android TV versions have Bluetooth support which means you can pair a number of Bluetooth devices such as headphones with your TV directly. You also get voice control via the built-in Google voice AI smart assistant which is absent with the Roku versions. However, the higher models of Roku TV come with a remote with voice control. Lastly, there's also built-in support for Chromecast. This means you can just cast any supported online streaming service or App directly to the TV. When it comes to price, there's only a slight price difference between the two models. So I would go with the TCL Android TV 3-series.
Advertisement - Continue reading below