If you have noticed, Smart TVs now park more connectivity ports than ever before in similar ways to your computer. And this is no mistake. TVs aren't those self-contained boxes which you just sit and watch. That was TV in my Dad's generation or while I was growing up. Now TVs connect to devices around the home and to the internet to make your entertainment experience just more than watching old school television.
To do that, Next generation of TVs come with a park of ports which allow for both cable and wireless connectivity options. These series of inputs and output channels are meant to give you the best sitting room entertainment experience via sharp images and crisp sound from across multiple devices.
Advertisement - Continue reading below
Lets see what your TV ports are and what they do.
HDMI: One cable to rule them all
Short for High-Definition Multimedia Interface, HDMI has become the default for digitally delivering uncompressed audio and video data between devices all through a single cable. Almost all modern consumer-electronic brands now ship with one or more HDMI ports. You'll not only find HDMI ports on your TV, but it also on AV receivers, DVD players, DVR, Blu-ray Disc players, and set-top boxes or decoders.
HDMI standard has really evolved. It started with HDMI 1.1 which supported only DVD audio and then evolved to HDMI 1.3 which increased speeds to bandwidth to 340 MHz (10.2 Gbps). HDMI 1.4  added 4K Resolution and HDMI Ethernet Channel support. The latest Standard HDMI 2.0 aka HDMI UHD supports total bandwidth of 18Gbps and 4K resolution support.  It's important that you find out which standard is supported by your TV to take advantage of its capabilities.
---
Related post: How to connect your decoder to your TV screen via HDMI cable
---
It's also important that you know the different HDMI connector plugs. These vary depending on the device that you own and they include; Type A (standard), Type C (Mini), and Type D (Micro).  Your TV most likely uses the standard HDMI connector.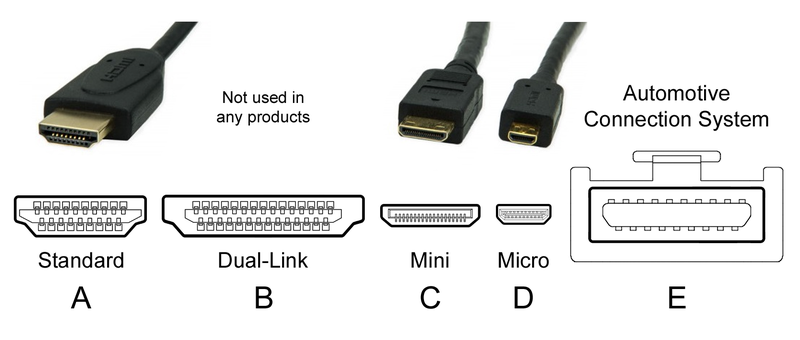 Advertisement - Continue reading below
To connect to the HDMI port of your flat screen or smart TV, you need an HDMI cable which come in different shapes and colors. There are about 5 different kinds of HDMI cables ;
Standard HDMI Cable – up to 1080i and 720p.
Standard HDMI Cable with Ethernet.
Standard Automotive HDMI Cable.
High Speed HDMI Cable – 1080p, 4K 30 Hz, 3D and deep color.
High Speed HDMI Cable with Ethernet.
You will most likely be fine with a standard HDMI Cable for your flat screen or smart TV. But if you want one which enables you to share internet with connected devices, then you will have to go with a standard HDMI Cable with Ethernet.
HDMI cable prices start from as low as $3  to as much as  $19.99 online on Amazon, Newegg or you can get one from Ugx 30,000 to 45,000  at Game Luggogo or electronics shops down kampala.
USB: Bring multimedia to your TV
It might seem a bit odd to have a USB (Universal Serial Bus) port on your TV, but when you need to watch a movie or play music from a flash disk or external drive, you quickly know why you need a USB port on your TV.  Most people are unsurprisingly familiar with this standard coming from the PC world. It has evolved from USB 2.0  with transfer speeds of 480 Megabits per second (Mbps) to the latest USB 3.0 which boasts speeds of 5 Gbps. 
---
Related: The difference between Micro USB and USB type C 
---
Most TV support USB 2.0 standard with only the most recent cutting edge TVs having a few USB 3.0 ports.
The other important thing to know is the USB interface connectors. They are about 5 different types of USB connectors/cables and they include;
USB Type-A: Rectangular connector Used in most peripherals (such as keyboards and mice) and Personal computers, power adapters and TVs.
USB Type-B: Square connector less commonly used but found in printers.
Mini-USB: Used in some cameras.
Micro-USB: current standard for mobile and portable devices.
USB Type-C: Next generation reversible connector.
Your Flat screen TV is most likely supporting the standard USB Type-A similar to the one on your laptop. And most TVs come with one or two standard USB ports. That means you can hook up your external Hard drive, flash disk to your TV where you can watch video or play music or even charge your phone with your TV. Pretty neat.
Advertisement - Continue reading below
Composite/Component AV: Back to the future
Do you remember the CRT-Tube TV you grew up watching as a kid? The memories of our Sony Trinitron is still fresh in my mind. Vintage TV screens used to use analog means to transmit data from speakers, DVD players, decoders to the TV via composite AV connectors.
Composite AV has 3 cables — one for video and the other two for audio left and right. While this was the standard with old TVs, newer flat screen and some smart TV still come with them. Component AV on the other hand is similar to composite except it comes with 5 cables — 3 for video and 2 for audio left and right. However, only the latest HDTV support this standard.
Composite av cable : 3 cables (1 for video and 2 for audio).
Component av cable: 5 cables (3 for video and 2 for audio)
When buying a flat screen/Smart TV, you want to make sure it supports one of the standards because you might still have that old DVD player, speaker,  or satellite decoder that only accepts analog inputs. Older DSTV decoders and all GoTV decoders surprisingly don't have HDMI ports and only support composite AV interface.
Headphone Jack
Typically TVs don't come with headphone jack. I mean why would you need one? And wouldn't it be such as inconvenience to be close to the TV so you can plug in your headphones and listen? Well, that's relative. If you have some people around who don't wish to be distracted by sound from the TV, then a headphone jack should do the job.
Some TVs come with a headphone jack allowing you to connect your normal headphones through the standard 3.5mm audio connector. Obviously you will have to change the sound output of your TV to send audio through the headphones. Some TVs which don't come with headphone jack  provide similar functionality through remote control. RokoTV remotes for instance are popular for having a headphone jack.
Digital Optical Audio Output
Have you noticed that very distinct trapezoidal port at the back of your TV you barely use? Trust me, you'll notice it because it's like one of those very unique kids in your high school classroom. It's called digital optical audio output also known as TOSLink and S/PDIF. It's a connector that carries audio data via an optical connection as opposed to conductive wires used in HMDI, USB and composite AV links. It's important to note that optical audio output only carries audio signal and nothing else. Video data will require a separate connection just like with composite/component cables.
Developed by Toshiba back in 1983, TOSLink is capable of carrying up to 7.1 channels of very high-resolution audio. However, the standard has since been replaced by the immensely popular HDMI standard because of HDMI's simplicity, wide adoption and ease of use.
LAN Ethernet
Your smart TV might already come with a Wireless LAN which enables you to hook up your screen to the home WiFi. However, WiFi has its limitations; its prone to interference and slightly slower. Your Videos might buffer on the TV if you are streaming full HD or 4K resolution media.
Advertisement - Continue reading below
The solution is having a dedicated LAN ethernet port similar to the one you have on your computer.
LAN ethernet is much faster than WiFi. If your smart TV has Gigaethernet, then you can be rest assured that you'll stream full HD or  4K video from a set-top box, media server or the internet without buffering. All you have to do is connect your TV to one of your home router's ethernet port via standard RJ45 ethernet cable. Usually it's a plug-and-play affair here as your TV will automatically pick a dynamic IP from your router.
RF Antenna Input
Because most people still have those old TV antennas around, RF or Radio Frequency connector still come with modern TV sets. After all, this is what makes TV the good-old Television. Using coaxial cable, TV radio frequency signals are sent from the antenna to the TV set. Normally, these cables have screw-in heads to help keep the connection secure and stable, so most RF antenna inputs look like small screws protruding out of the TV.
So there you have; a complete guide to smart TV connectivity. Chances are that your TV has 60% or all the ports mentioned here. However, we are more likely to see more ports completely deprecated from TV as is the current trend with smartphones and computers. Eventually, your TV might have only one or no port at all as most data transmission functions might be done wirelessly via Bluetooth or WiFi. That's very likely because Smart TVs are getting thinner. Secondly modern TV are mostly wall-mounted which does not give enough room to fixing connections via ports usually located at the back of the TV.