When picking up a new TV for your place, there are usually a lot of factors to put into consideration before making the big money investment for an electronic device. Some of such factors include the size of the display, its features, support for internet connectivity and streaming apps, display resolution, quality of content it supports, as well as the number, position, and types of compatible wired and wireless connectivity options.
Of all the ports a TV could sport in this era, the High Definition Multimedia Interface (HDMI) is arguably the most significant. When you read about the HDMI technology, how it works, its uses and many of its invaluable applications across several devices, you'd understand why. However, sometimes, there's always the question of "How many HDMI ports you need on your TV?"
Advertisement - Continue reading below
How many HDMI ports does your TV need?
While there is no one-fits-all answer to this question, the number of HDMI ports you'll want your TV almost always depend on the number of devices you have in your home entertainment system. We live in a time where the types of inputs on TVs have reduced but the number of devices to connect to the TV are increasing. In a typical home theatre setup of the average 'smart home', you most likely would find set-top boxes (e.g Apple TV, Roku etc.), cable TV, TV dongles, DVD/Blu-ray player — all of which have HDMI output.
Ideally, you'd want your TV to have as many HDMI ports as the number of devices in your entertainment setup. Or as many devices as you plan to connect to your TV via HDMI. It is, however, recommended that you count the number of [probable] devices you could possibly want to connect to your TV in the future before you purchase the TV.
Make a list of your HDMI devices and check it twice before you shop.
Majority of the TVs out there have at least two HDMI ports — which is decent enough. But as mentioned earlier, the number of devices using HDMI ports out there in the market is on the increase. So having a TV with two (2) HDMI ports is just as good as having one. However, if one of the ports is an HDMI ARC, it's just as good as having three HDMI ports on your TV as it supports the simultaneous (downward and upward) transfer of audio signal i.e allows you send and receive audio signal using the same HDMI cable. So in lieu of connecting your game console (or any HDMI ARC compatible device) directly to your TV, you can hook it up with your Soundbar instead.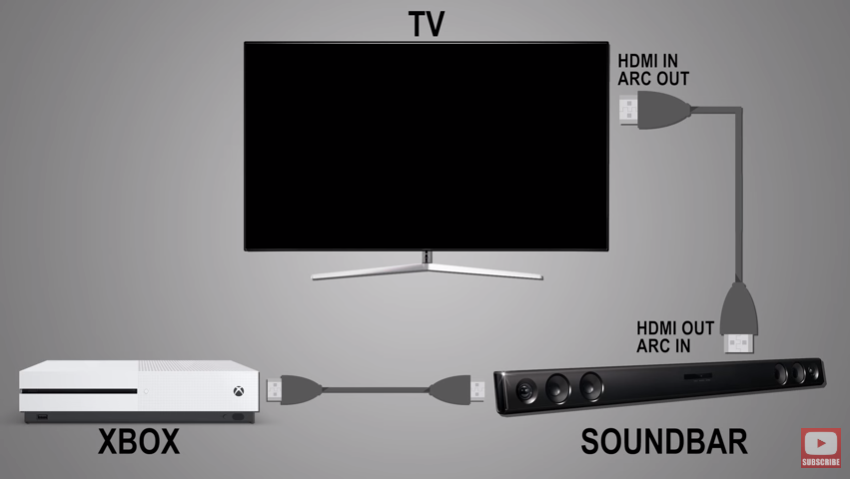 The best thing, however, is to have three or more HDMI inputs on your TV, with one or more supporting the HDMI ARC protocol of course. This allows you to connect as many devices in your home theatre setup to your TV. Having 3 HDMI ports is also ideal as it allows the flexibility of keeping at least one additional HDMI port free should you need to hook up an additional device later on.
Advertisement - Continue reading below
But whatever you do, try as much as possible not to have just one HDMI port on your TV. Two isn't the best either but it sure is better than one. However, if your present TV set has just one HDMI port, there's no need to panic. You can use HDMI splitters, switchers, or hubs to increase the number of HDMI ports on your TV.
Additional tip
While you are on the search for a TV with at least two (or three) HDMI ports, make sure you also pay attention to the position and placement of the ports; make sure to meticulously preview product images.
If you intend mounting your TV on the wall, ensure that at least one of the HDMI ports is either on the side or front of the TV where it can be easily accessible without having to unmount the TV if you need to connect an additional device. If, however, you prefer your TV on a stand, the placement of HDMI ports might not be a big deal.