Mirror, mirror on the wall, who's the fastest of them all? Content creation on smartphones is at an all-time high. Every few seconds, terrabytes of content is being created and saved locally, and as such nothing beats viewing your photos, videos, apps and what not on the big screen.
Screen mirroring/Screen sharing brings to mind Apple's Airplay, Samsung's AllShare Cast, LG's Smart Share, and a few others. To their detriment, these features are often proprietary and as such work best in the exclusive cocoon of their own eco-system. Not much help for someone who doesn't buy the same brands across the board. But there's hope.
Advertisement - Continue reading below
Hooking up your smartphone to your TV using an MHL (Mobile High-Definition Link) cable is well and good if you have the cable in question, to begin with. But let's not forget the compatibility, procurement and cost implications.  With that in mind, the other option would incidentally be wireless screen mirroring from smartphone to Smart TV.
Miracast
The current crop of devices from Android smartphones/tablets (Android 4.2 Jelly Bean and later), Windows PCs (Windows 8.1+)  to WiFi enabled Smart TVs come with an inbuilt albeit often unadvertised wireless feature called Miracast.
Miracast is a Wi-Fi certified, high-definition wireless protocol which uses WiFi Direct to connect wirelessly between other WiFi Direct enabled devices, like a smartphone or PC, without having to connect to a wireless router. Acting like a wireless, HDMI cable, Miracast mirrors everything you see on your Android to your PC or Smart TV in HD + audio (screen mirroring).
The only exception to the rule is incidentally any Google-branded device running Android 6.0 Marshmallow and later. The likes of Google Nexus and Pixel phones took a different tack, choosing Chromecast over Miracast. On that point, device manufacturers are not required to brand screen mirroring on individual devices as 'Miracast'.
Matter of fact, very few do if any. The likes of Sony, Samsung, LG, HTC and the rest often baptize Miracast with another terminology. The underlying technology remains the same though. Here are a few:
AllShare Cast
Cast
Display Mirroring
Share and Connect
Screen Mirroring
Screen Casting
HTC Connect
Screen Sharing
SmartShare
Smart View
Quick Connect
Wireless display
---
Related:
Advertisement - Continue reading below
---
Screen Mirroring on Android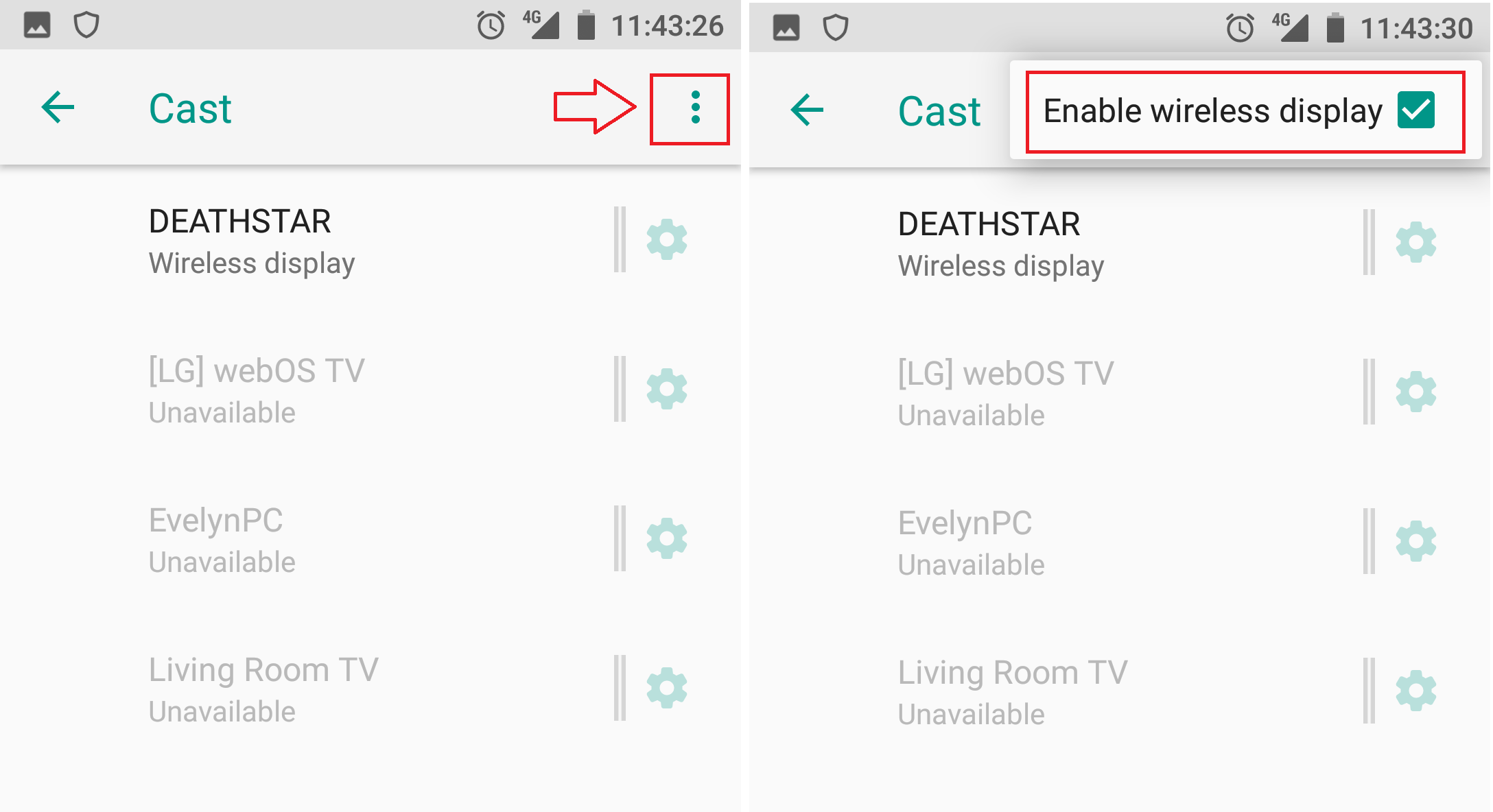 Screen Mirroring apps on the Play Store are legion but very few actually work as advertised when you're not being bombarding with ads galore. You don't actually need them for the most part. Let's see how you can do it yourself with a few taps.
Android devices are varied and thus there isn't one-guide-fits-all. You're bound to encounter some challenges finding the settings that apply to your exact device. However, the steps below should be able to toss you in the right direction, after which you can positively find your way around.
There are two ways we have observed to get Screen mirror or Screencast to work, depending on your device. Our device at the moment is the Infinix Note 5 (Android One) which uses Miracast dubbed which simply goes by the name 'Cast'. You should probably point out that Screen mirroring only works with compatible devices which are on the 2.4GHz spectrum. (5GHz is not often supported).
Method 1
Go to Settings.
Select Connected devices
Select Cast
Tap the hamburger menu on the top right corner (the 3 menu dots)
Tick Enable Wireless Display
Tap the name of your Smart TV
On your Smart TV, Allow [name of device] to mirror screen
NOTE: We found this method to be the quickest way to connect to a Smart TV/PC. We have so far tested it with the Lenovo K3 Note, Infinix Note 5 and the Redmi Note 5 on Samsung, LG and a Roku TV. Make sure that you are not using a VPN otherwise it will interfere with the process, as our EIC David Okwii found out the hard way.
Method 2
Go to Settings
Go to Network & Internet 
(You can simply drag down the notification bar and long press on WiFi)
Click on WiFi
Tap WiFi Preferences
Select Advanced
Tap on WiFi Direct
Tap the name of your Smart TV
On your Smart TV, Allow [name of device] to mirror screen
NOTE: Method 2 comes with a few wrinkles. For the most part, the connection failed between devices. This method only made sense when we used a Samsung Galaxy J7 Prime and coupled it with Samsung's Smart View. We shall more tests in the interim.
The process might be different depending on the device. A few smartphones/tablets only require you to drag down the notification bar to locate the Miracast app (branded as Smart View/AllShare Cast, e.t.c). Once you tap on it, you can start screencasting to your Smart TV, plain and simple.
Screen mirroring on Smart TVs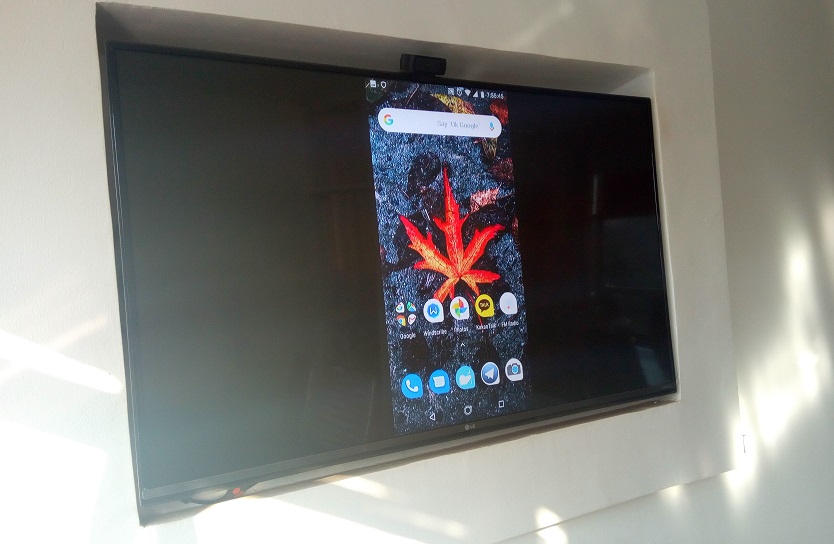 Advertisement - Continue reading below
As stated earlier, Miracast the screen mirroring technology rides on the wave started by WiFi Direct. For its part, WiFi Direct is tethered to WiFi itself. You should know that smart TVs have one thing in common: they all connect to WiFi. It could be on the internet or even a local network, but that's beside the point.
Most Smart TVs have Miracast built-in. And by default, WiFi Direct is always on behind the scenes. How you can tell is that your Smart TV is discoverable and it appears as a WiFi network. On most devices, there's no button to toggle WiFi direct on/off. You often don't have to do much other than accept the Android device to synchronize with your Smart TV.
How to Allow/Block Screen Mirroring request on Smart TVs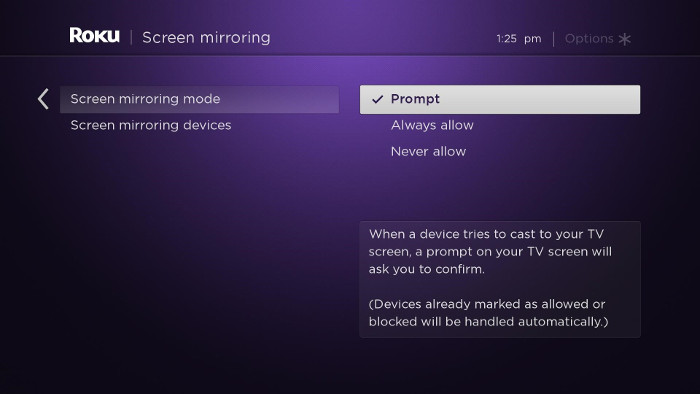 As is the case with PCs, Screen Mirroring does not forcefully hijack your screen at gunpoint. There are options to always allow the connection, prompt you to accept it or downright decline to synchronize your devices.
Similar to our old Samsung TV, the Roku TV which we used when writing this post gives you 4 options: Always Accept, Accept, Ignore, Always Ignore. These options appear whenever you are writing to screen mirror your PC/smartphone unless modified otherwise.
These options can be modified in settings, depending on which Smart TV you have. You can set your TV to always allow a connection from a certain device, prompt you or always ignore it. You can also set a list of Allowed devices which you don't have to prompt you before connecting. If you don't want a certain device to connect, you also have the prerogative to add it to your list of Blocked devices.