Most ordinary computer users are already familiar with WiFi, the wireless network you connect to when you want internet on your phone, laptop or tablet. But few conventional users know what WiFi Direct is and it's not their fault. That's because WiFi Direct is still a new standard promoted by the WiFi Alliance, the same body behind WiFi.
WiFi Direct is a quick way of connecting two WiFi-Direct compatible devices without connecting to the same network or wireless router. It's also called WiFi Peer-to-Peer networking or WiFi P2P and its similar to WiFi "Ad-hock" mode but with easier setup and device discovery.
Advertisement - Continue reading below
Because WiFi Direct makes it easy for two WiFi devices to connect to each other, it's become one of the best ways of sharing large files such as music, videos, pdfs, app Apks between devices. File sharing Apps such as Xender, Flashshare, Google Files app, Xioami file sharing app all take advantage of this standard to enable two phones to share and transfer files without using the internet.
Related post: The updated guide to WiFi wireless network connectivity
Screen mirroring or Miracast, a way of displaying your smartphone screen to a bigger display such as Computer monitor or Smart TV is yet another application that's taking advantage of WiFi Direct protocol. Since WiFi is already fast, you can view your HD  photos or stream FHD and 4K videos stored on your phone on the bigger TV.  Several smart TV vendors have different names for this feature; Hisense calls it Anyview cast, Samsung terms it Allshare, Apple calls it Airplay and Google calls it Chromecast.
---
Related post: What is miracast: A complete beginner's guide
A guide to Screen Mirroring from Android to Samsung, LG, Sony and Roku TVs
---
How does WiFi Direct work?
WiFi Direct does not require devices to connect to a central Hub which acts as an Access point or a router.  Instead compatible devices negotiate among themselves which one should become an access point. Once one of the devices takes the role of an Access Point, then the other device can connect to it. This is all done automatically without the user's intervention.
Advertisement - Continue reading below
You will see Roku TV for instance advertise their Access point with SSID of the form DIRECT-roku-XXX. So when you want to cast your Smartphone screen, it'll automatically connect to TV without entering any extra passwords.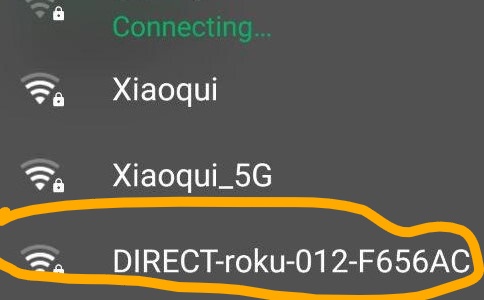 This is achieved without needing to enter WiFi passwords the conventional way using another protocol called Wi-Fi Protected Setup(WPS).  WPS simplifies the process of connecting to a network without the hustle of typing complicated passwords (WPA/WPA2 encryption key).
How is it different from Bluetooth?
So Bluetooth and WiFi Direct are actually similar in the way that they connect devices. Both use wireless technologies and both don't need a central hub to which devices must first connect to. Instead devices directly "pair" with each other via peer-to-peer networking.
---
Related post: Bluetooth 5 vs WiFi Direct: Which is the best for sharing files between smartphones
---
The difference is WiFi direct is way much faster than Bluetooth. You can hit speeds of up-to 2Gbit/s with WiFi while Bluetooth can only afford to go as  fast as 50 Mbit/s. So when it comes to peer-to-peer offline file sharing, WiFi Direct is a much preferred method.
However, Bluetooth beats WiFi  Direct when it comes to power consumption which is a big deal for mobile portable devices with small batteries. Bluetooth Low-energy consumes as low as 0.01 Watts of power while WiFi can take as much as 20 Watts.
As more WiFi devices roll-out in the coming years, WiFi Direct will pay a big role in sharing content between various kinds of devices such as smart tvs, tablets, smartphone, Monitors and projectors.
Advertisement - Continue reading below