This is for those who have ever owned or used a Wi-Fi router, and that's a good percentage, given the prevalence of portable affordable MiFis on the market today. Confused already? Don't sweat it, head over to our post [MiFi and WiFi, here's a very simple way of telling the difference] and educate yourself. To be clear, we are talking about the WPS button present on most Wi-Fi routers/MiFis. Let's break it down for you:
WPS button. What does it do?
WPS stands for Wi-Fi Protected Setup. The WPS protocol is a popular network security standard used to create a secure wireless home network. The WPS button simplifies the process of connecting to a network without the hustle of typing complicated passwords (WPA/WPA2 encryption key). You can use the WPS button to connect a laptop, wireless printer, smartphone, wireless extender, e.t.c to your network. Once a connection has been made, WPS will turn itself off.
Advertisement - Continue reading below
Related post: The updated guide to WiFi wireless network connectivity
How to use the WPS button/Wi-Fi Protected Setup

There are several ways to use Wi-FI Protected Setup. These include the Push button method, the PIN method and also via NFC (Near-Field Communication). In the PIN method, a user has to enter the PIN displayed on the router. This could either be a sticker on the router or generated on the router display. As for using NFC, the client has to be within reach to effect a near field communication between the two devices in question. Being the more popular method with MiFis or WiFi routers, we have detailed the Push button method below.
Firstly, make sure you are within range on your WiFi router/Mifi and you know the network name (or also known as SSID).
Secondly, locate the WPS button on your router. Usually, that will be at the back or side of your device. Be on the lookout for either the [WPS] initials or a symbol (similar to the recycle symbol).
Push the WPS button on your Wi-Fi router/ MiFi. Locate the network name on your laptop or smartphone and click to connect. Voila! You will not be asked for a password when you use the WPS button.
---
Related: How to extend your MiFi's WiFi signal using a strong WiFi router
---
Is Wi-Fi Protected Setup secure?
In all honesty, WPS isn't up to scratch when it comes to security concerns. WPS is fair game to both online and offline attacks via brute force methods. For further reading, please check out Brute-forcing Wi-Fi Protected Setup [PDF].
Let's for a moment forget the geeky brute force attacks. What is to stop anybody from helping themselves to your network (and internet) by pushing the WPS button to get connected? Similarly, once pushed, anybody can connect to your network before the WPS protocol expires. Those are gaping security loopholes or vulnerabilities.
Advertisement - Continue reading below
The nail in the coffin is that once connected via WPS, you can simply lookup the network password in Wireless Properties in Network and Sharing Center. And all it takes is a few clicks. For all it's convenience, those are some gaping security holes, if you ask me.
The most insecure of these methods is the PIN-based authentication method. You should prefer the Button-push method if you are to use WPS instead of PIN-based version.
How to Disable Wi-Fi Protected Setup
For the reasons above, security analysts suggest you disable WPS if at all you are very concerned about wireless security. This is not an option for sensitive networks such as Banking halls. Much as it's often enabled by default, it doesn't take much to undo this. As there are countless Wi-Fi router/MiFi brands, we can't possibly write a step by step guide. However, the first thing to do is to access the router control panel. To do this, open your browser and enter the appropriate IP address.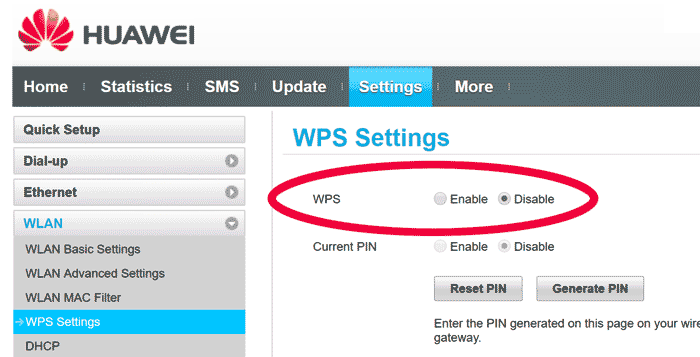 Related post: How to access your Mifi/router's web management interface
The first thing to do is to access the router control panel. To do this, open your browser and enter the appropriate IP address. Usually, the IP address is written on the router or the box it comes in. The IP could be 192.168.1.1, 192.168.8.1. 192.168.0.1, or 10.0.0.1, e.t.c.
Once you're in, go through the settings until you find the WPS configuration. Please do the needful, if you so wish.
Advertisement - Continue reading below