For some of you, internet has become a utility.Yeah like water or electricity. You simply can't do without it and that's true for us too. That's why we are eager to try out every option out there. Tangerine has been a silent player in the market, but don't be deceived by their unassertiveness.
I've had a Tangerine MiFi for a month now. It's currently what we use at home as primarily internet service provider and that's majorly because I wanted to get a good feel of it. Tangerine probably has the cheapest internet packages among all providers in Uganda. However, it comes at the cost of a mediocre MiFi, coverage and reliability.
Advertisement - Continue reading below
Tangerine Data Bundles
Probably what attracted me to Tangerine was their affordable data bundles. Tangerine offers majorly monthly data bundles that range from Ugx 50,000 to Ugx 150,000 for 15GB and 50GB respectively. Now if you are to compare that with the competition, it's easy to see why that's a generous offer. For instance on Airtel Uganda, for Ugx 50,000 you get only 2GB per month and 15GB for UGX 225,000.
| | | | | | |
| --- | --- | --- | --- | --- | --- |
| Tangerine Uganda monthly data plans and prices | | | | | |
| PLANS | SPEED | USAGE ALLOWANCE | EXCEEDING UA | DURATION | PRICE |
| LITE | 1 Mbps | 15 GB | 256 Kbps | 30 Days | UGX 50,000 |
| ELITE | 2 Mbps | 30 GB | 256 Kbps | 30 Days | UGX 90,000 |
| PRO | 4 Mbps | 50 GB | 256 Kbps | 30 Days | UGX 150,000 |
For introductory offers, Tangerine is offering you a MiFi with 15GB at speeds of 1Mbps for Ugx 150,000. Ideally they are selling their MiFis for Ugx 100,000 which is pretty high figure for a MiFi. The good thing is that recurring monthly charges relatively aren't that high.
Internet Devices
When it comes to internet devices from Tangerine, things get a bit murky. Suddenly my initial excitement with Tangerine quickly faded to the background. Tangerine offers a 4G LTE MiFi as a way of accessing their internet. The MiFi supports 4G LTE FDD and therefore requires a Simcard. So be prepared with your ID for registration once you make a decision to purchase a MiFi.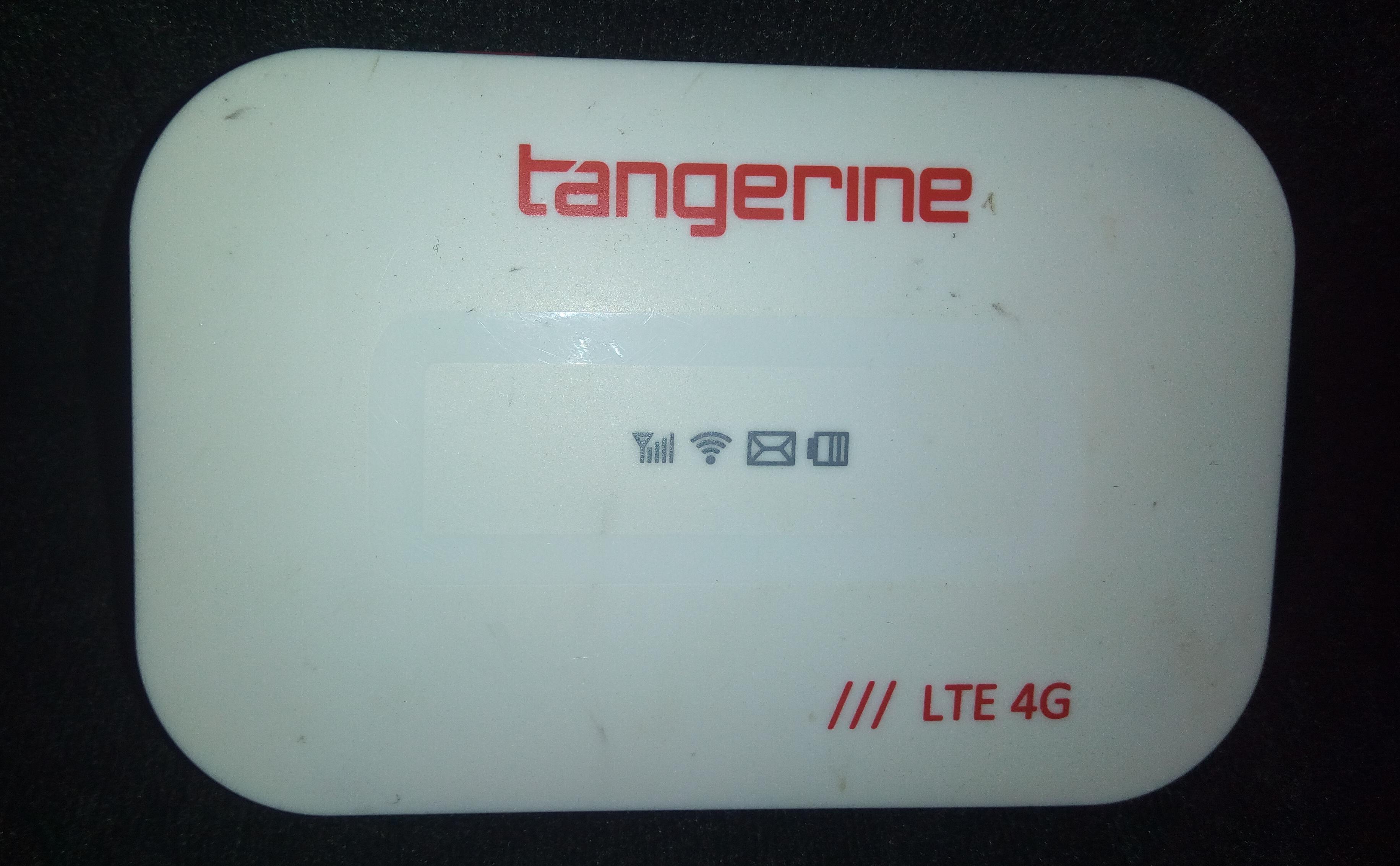 It also supports WiFi 802.11b/g/n modes so you can hook up more devices to the internet. The bummer is that it supports a maximum of 3 clients at a time compared to other MiFis in the market that carry up to 10 different devices. Also the MiFi signal is very weak. When I tested the WiFi signal between my two different rooms 5 meters apart, i consistently had just one bar (20/70) which degraded my browsing experience. We also tested the MiFi battery and according to our preliminary tests, it takes only about 3 hours on battery.
Speed and reliability
Internet speeds are highly variable, so you can't take our word for it. Internet speed tests depend on several factors such as weather, concurrent users connected to the network, your location, buildings, trees and vegetation. None the less, speeds are very important when choosing an internet service provider and this won't stop us from sharing our own experiences.
Advertisement - Continue reading below
Tangerine touts its internet service as 4G LTE which should be faster than your ordinary 3G connection on your phone or MiFi. But simply having a 4G LTE label on your MiFi won't guarentee fast internet speeds because of the factors mentioned above. In my case the speeds where I stay in Najjera aren't anywhere close to impressive presumably because my area is not on the coverage map. At most I hit about 2Mbps on a good day otherwise I was always below 1Mbs usually 500Kbps which for advertised 4G LTE network is unthinkable. However, my other friends in other location like one in Ntinda reported good speeds of about 3Mbps. Another friend in Najjera still told me they were achieving just about the same speeds. Still not 4G LTE standard, but good enough for smooth browsing experience.
Coverage
Tangerine has coverage in Kampala, Mukono and Entebbe according to areas listed on their website. They have coverage in Bugolobi, Bukoto, Entebbe town, Kajjansi, Kampala city itself, Kiira town, Kololo, Lubowa, Muko, Munyonyo, Nsabya, Wandegeya, Naalya, Ntinda among other locations. So Tangerine is definitely not for upcountry dwellers.
So there you have it; a user's review of Tangerine internet service. We think the service is great for Kampala residents in select areas where coverage and signal strength is great and for individual or small families with at most 3 devices. So be sure to test that out using a friend's MiFi before you commit to buying one for yourself. Do you already use Tangerine, please share with your experiences in the comments below and send screenshots of your speed tests.