Imagine a table that knows about your devices and wirelessly connects to them. It charges your phone, can connect to the TV, plays music to wireless bluetooth speakers and even chills your water bottle. That's just cool and that's what SoBro is all about.
Launched at the International Home + Housewares Show 2017, held in Chicago mid March, Sobro is a 43 x 23 inch coffee table with a tempered glass top. It comes with a 24 bottle refrigerated drawer enhanced with a compressor, to cool and chill drinks and food at a user's desired temperature; 2 smaller drawers on the right side for storage of small items, such as the TV remote and any short cables for connection; Bluetooth speakers that could play music from a nearby source; 2 USB charging ports alongside dual integrated 110V power outlets for convenient power supply to devices such as laptop, smartphone, percolator (for tea or coffee); and LED lights on the underside.
Advertisement - Continue reading below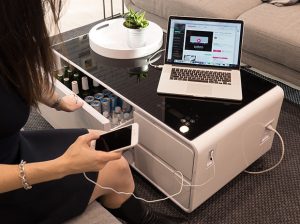 It has a touch control interface on the right corner of the table top for which one is able to adjust the cooler's temperature within a range of 37 to 41 degrees Fahrenheit.
Not forgetting that it can wirelessly connect to a Television set via Bluetooth, making your prime time programming worthwhile. So, you can set your living room to be a kitchen, dining and even entertainment room. It is designed to be plug-and-play, so a user should expect a long cable to run over to the main switch, but with the convenience of not missing a TV moment at the expense of having to run to the fridge to quench a thirst, or looking over to the wall to watch a charging phone.
A summary of SoBro coffee table specifications:
A 24 bottle refrigerated drawer
2 smaller drawers
Bluetooth powered speakers
Bluetooth connectivity to TV
2 USB charging ports
2 power outlets
LED lighting on the underside

This smart furniture goes for a low disclosed price of $499 up to $600 on indiegogo.com for crowd funding and on this site with shipping expected for September this year. Otherwise, later purchases will go for a retail fee of $1500 which makes the former deal one worth chasing.
Advertisement - Continue reading below
The future of furniture is defined.
Photo Credit: Indiegogo