I love my HP Spectre x360 13 2-in-1 laptop, but there's one thing that I don't like about it: the webcam. It's a 720P camera that often produces overexposed and grainy images. It's not something you'd expect from a $1,699.99 laptop. But yet again, it's not unique to HP or my laptop. Most laptops generally don't have good webcams whether premium or budget.
Now you see, I don't want to buy a separate webcam. I mean, I could, but is it really worth it, when I have something better already? I am talking about my smartphone. Smartphone camera quality has improved by leaps and bounds where laptop webcam quality has stagnated. For this reason, it makes sense to turn a smartphone camera into a high-quality webcam. It works with both Android and iOS devices, and it's super easy to set up.
Advertisement - Continue reading below
While there is a bunch of apps you can choose, we will go with Camo Studio, a freemium software that lets you use your smartphone as a webcam for your PC or Mac.
Using Camo Studio to turn your phone into a webcam
First, you need to download Camo on your phone and your laptop. With that done, you need to connect your phone to your laptop using a cable or WiFi. From experience, I'd recommend using a cable for the best video quality and stability. It's a much easier process and besides, I had a choppy experience using it wirelessly and while not that bad, I still wouldn't recommend it.
In order for a wired connection to work, you need to enable Developer Options on your Android phone. Once you connect your phone, you can launch Camo Studio on your laptop and select your phone as the video source. You'll see a live preview of your phone's camera on your laptop screen.
You can choose which camera to use: the front-facing or the rear-facing one. As for me, I prefer to use the rear-facing camera on my Pixel 6, because it has a higher resolution and better optics than the front-facing one.
You can also adjust the resolution and frame rate of your video. The higher the resolution, the sharper the image, but also the more bandwidth it will consume. The higher the framerate, the smoother the motion, but also the more CPU power it will use. I usually go for 1080P at 30fps, which is good enough for most video calls and streams.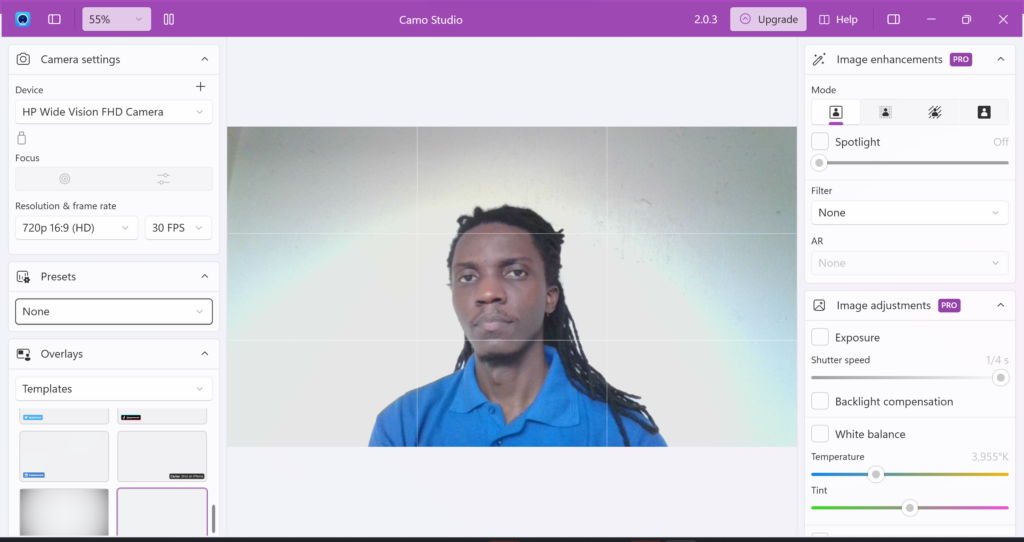 You can also tweak the focus and exposure settings of your camera. You can either let Camo Studio auto-adjust them for you, or you can manually set them to your liking. I usually leave them on auto, unless I want to create some artistic effects with depth of field or lighting.
Advertisement - Continue reading below
One of the cool features of Camo Studio is that it lets you add overlays to your video. You can add text, images, logos, or even animations to spice up your video. For example, you can add your name and social media handles, or you can add some stickers or emojis to express yourself. You can customize the size, position, and opacity of each overlay element. Considering I mostly use Camo for meetings, this doesn't apply to me, but it might for you.
Another feature that I like is the framing option. You can zoom in or out, pan left or right, rotate or flip your camera to get the best angle and composition for your video. You can also crop your video to fit different aspect ratios, such as 16:9 or 4:3.
Camo Studio also offers some image enhancements and adjustments, such as filters, brightness, contrast, saturation, and more. You can use them to fine-tune your video quality and style. You can also save your settings as presets for future use. I will be the first to admit that I rarely tinker with these. I prefer a simple fix for my laptop webcam without going into complicated settings. But if you know a thing or two about tweaking these settings, have at it.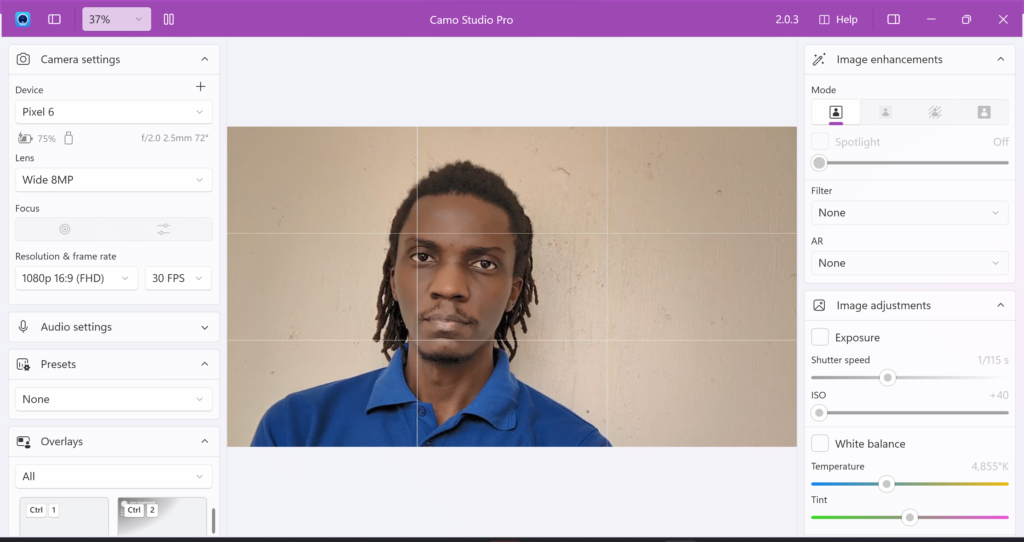 I've been using Camo Studio for a couple of years now and I am yet to see anyone with better video quality in my meetings. There is a plethora of features to use, although I don't use them personally because my meetings are of a more serious nature. If you want to unlock all the features and remove the watermark, you can upgrade to Camo Pro for $39.99 per year or $4.99 per month.
I'd have to say that Camo Studio is a great alternative to buying a separate webcam, especially if you have a high-end smartphone with a great camera. Camo receives regular updates to ensure a smooth experience. I normally use Camo for my Google Meet video calls, but it's supported by dozens more apps.
Camo Studio supported apps
Supported Apps
Supported browser-based apps
Zoom
Facebook Workplace
Meet
Zoom
GoToMeeting
Discord
BlueJeans
Microsoft Teams
OBS Studio
Streamyard
Streamlabs
Slack
Twitch
Jitsi
Twitch Studio
Whereby
mmhmm
BigBlueButton
Houseparty
Zoho Meeting
Descript
MeetButter
Ecamm Live
Flipgrid
ScreenFlow
Stream.club
Capto
vMix
TGuple
Attend Anywhere
Final Cut Pro
LiveWebinar
QuickTime Player
VooV Meeting
Photo Booth
Warm Welcome
Keynote
Vidyard
iMovie
WeVideo
Microsoft Teams
Rumevideo
Snap Camera
Airmeet
Skype
BigMarker
Skype for Business
mimoLive
Camtasia
Kino Live
Discord
Be.Live
Webex Teams
Clipchamp
Slack
Screen.so
Amazon Chime
HighFive
TeamViewer Meeting
Vidrio
Photo by Jonas Leupe on Unsplash