Smartphone users are conditioned to be flexible. From the application upgrades, to the device reforms; the interest that comes along with use makes it all worth following. The latest technology in a USB-C smartphone, including its fast charging, stands out on this.
The challenge with this, though, would be running low on your battery while away from home, yet all that is available are Micro-USB chargers with no direct affinity to your device. Here is how you can charge and sync your USB-C mobile devices using a Micro-USB cable.
Advertisement - Continue reading below
Firstly, you ought to know that USB-C and  Micro-USB ports are different. This literally means that a Micro-USB cable can not fit into a USB-C smartphone port; and thus you should not try to force it in.
Related: The Difference between Micro USB and USB Type C
With that knowledge, then an adapter is necessary. In this case, you are to use a USB-C to Micro-USB Adapter which has a male USB-C port to connect to your device and a female Micro-USB port to connect to the plug-in power adapter or any other power source.
Simply insert the adapter's USB-C connector into your mobile device. Then, plug your Micro-USB cable into the adapter's Micro-USB port and connect the cable to the USB-A port on your computer or USB-A wall charger. This adapter is portable enough to move around with, and it limits you from carrying cables to charge your smartphone.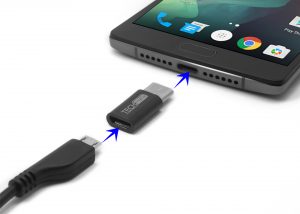 Advertisement - Continue reading below
The disadvantage that comes with this option is that your phone will charge slower. Yes, USB-C charging can handle up to 100 watts which is more than enough to charge a laptop. And the Quick Charge standards boost it even further with the ability to gain a high charge percentage in a few minutes.
So, using a Micro-USB charger via an adapter can slow down the charging speed; but that is better than having no charge on your smartphone at all.