Before Android 5.0 Lollipop software update came on the scene, the android setup and restore process was terrible. It only required you to sign in your Google account credentials and then told it to restore, though one had no idea where it was restoring from, which apps are being downloaded automatically (which could sometimes cause havoc for your smartphone), and spending more time uninstalling apps you don't really need and freshly installing only those you need after the restore process.
But with Android 5.0 and the recent versions, you only have two options that have been so greatly improved, you can't even think of a word to describe them.
Advertisement - Continue reading below
So what is NFC tap and go?
Also known as Android's tap and go, is a relatively new addition that came with the Android 5.0 Lollipop software update which allows you to transfer data from your old phone to your new phone with a simple tap, without the need for wires and cables. It also means you won't have to spend a lot of time reinstalling apps that you use on the daily.
While it's a fantastic way to setup a new device, there is a good chance you will use this other method more often especially if you find that you need to factory reset your device from time to time or own other Android devices. With this, Google is finally allowing you to specifically choose the device you want to restore from. It could be the phone you just factory reset a moment ago, a tablet used for work, or a lost phone that you no longer have on-hand. To get you started, there are two options.
Option one
First, make sure NFC on your old phone is activated. Just go to settings, scroll up until you find NFC and flick it on.
When setting up your new phone, you will come across an option called "tap and go." Don't skip because that's what you're looking for.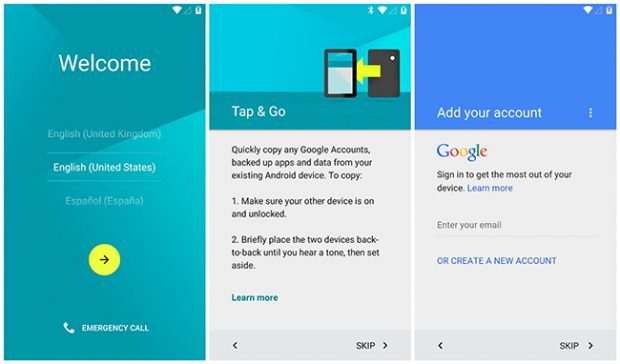 Tap the back of the phones together to start the transfer-you will hear a tone or feel a vibration letting you know that it has worked.
Advertisement - Continue reading below
You'll be asked if you want to continue with the transfer and if you do, tap continue.
Sign in to your Google account on the new phone.
Head to the Google Play Store and make sure all your apps are queued up and waiting to be downloaded. It's recommended to be connected to a Wi-Fi hotspot before you start the download so you don't use up all your data.
Option two
If you don't want to commit to transferring data during setup and prefer to poke around your new phone, then this works best.
After you've skipped the setup screens, you will need to log into your Google Play account.
After this, you'll be prompted to restore your phone and to choose from a previous Android device from a drop-down menu.
After selecting the device, select which apps you want to bring across from the drop-down menu below it.
Head to the Google Play Store and make sure everything is queued up. Also recommended to use Wi-Fi.
Advertisement - Continue reading below
Very simple steps to follow and it won't even require you to write all your apps down on a piece of paper and later go to the Google Play Store to search for them manually. But if you wish not to "Tap and Go", Google still has the option for you to "Set up as a new device" to let you start afresh. Let's Tap and Go,